Niko Cacos | Blue Sky Uranium: Developing a Massive Uranium District Starting with a Positive & Robust PEA
Niko Cacos is the President and CEO of Blue Sky Uranium Corporation.  In this interview, Niko shares regarding Blue Sky's investment value proposition and about the positive results of their just-released preliminary economic assessment on their Ivana Uranium-Vanadium deposit at their Amarillo Grande Project in Argentina.  Blue Sky Uranium Corporation holds a massive land package in the Rio Negro province which includes a 145km trend with known near-surface uranium mineralization.  Blue Sky Uranium is a Mining Stock Education sponsor and trades on the TSX-V as BSK and on the OTC as BKUCF. To learn more go to www.BlueSkyUranium.com.
Mr. Cacos brings over 25 years of management and advisory expertise in the mineral exploration industry. He has worked with Grosso Group since inception and serves as senior level executive for all the member companies. Mr. Cacos' career includes administration and strategic planning for public companies. He currently serves as an officer and director of a number of TSX Venture Exchange listed companies. He holds a Master of International Management degree from Heidelberg, Germany and a Bachelor of Science degree from the University of British Columbia.
To read the PEA released on 2.27.19 discussed in the interview click HERE.
BEGIN TRANSCRIPT:
Bill: You are listening to Mining Stock Education. Thanks for tuning in. I'm Bill Powers, your host. As many of you know, one of the commodities with the strongest fundamentals for a rising price is uranium. In the past three months on this show, I've had several commentators that are extremely bullish on uranium, not only over the next several years, but also potentially even this year. So you'd be a wise investor to pay attention to quality uranium investments.
Well, I have a uranium CEO on the line with me today. I'll be talking to Niko Cacos. The CEO of Blue Sky Uranium Corp regarding Blue Sky's investment value proposition, and about the positive results of their just released preliminary economic assessment and their Ivana uranium-vanadium deposit at their Amarillo Grande Project in Argentina. Blue Sky Uranium is a Mining Stock Education sponsor and trades on the Venture Exchange in Toronto under the ticker BSK and on the OTC as BKUCF and their website is www.blueskyuranium.com. I encourage you to go check that out as well as listening to this interview. Niko, welcome to the podcast.
Niko: Bill, thank you for having me on your program.
Bill: Well, you just released this morning the specifics of your preliminary economic assessment (PEA), but before we talk about that, I'd like you to share about the discovery of the Ivana deposit because Jorge Berizzo, your technical advisor, worked for the Argentinian government for decades and he knew that there was something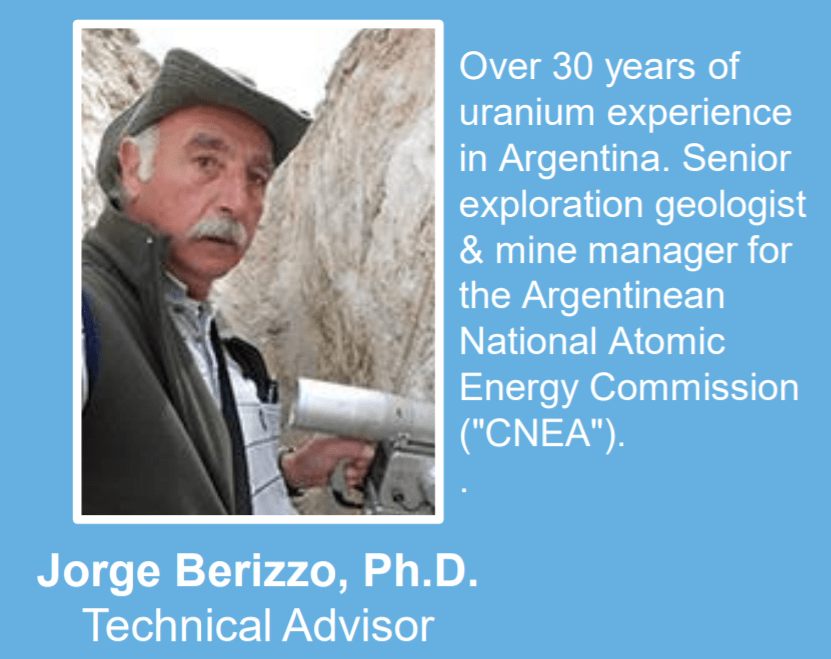 out there, didn't he?
Niko: Yes, he did. During his time working there, what he did is, he basically strapped a spectrometer on his car and he drove around the country of Argentina. Argentina is a big country. It's eighth largest country in the world. He drove around areas and wherever the spectrometer kind of went off, he'd stop and make a note of it. During his tenure with the Argentine Atomic Energy Organization, there wasn't much that happened with that information because the government at that time simply didn't have the funds to acquire and develop these kinds of uranium prospects. Subsequent to that, he retired and came to work for us as an advisor and basically pointed us in the right direction. What we did is we flew a large airborne survey that would detect any kind of background anomalies radiation in the ground, and this was a huge survey. It was the largest ever flown in Argentina. Put that into perspective, Bill, it's half the size of Switzerland.
We flew that, and lo and behold, this vast area began to light up on this survey. So we staked a large amount of land and it's a very flat lying area, all gravel roads there. We sent our technical team down to see if what they're seeing on the survey truly can be seen on the ground. As the team was driving there with their truck, ahead them was a gravel grader fixing up the road and it was throwing off all these pebbles. As soon as the spectrometer went off in the car, it was a matter of minutes when our geologists popped up and said, "Yup. Found this rock, we found the radiation, it's here." That's what basically got us going.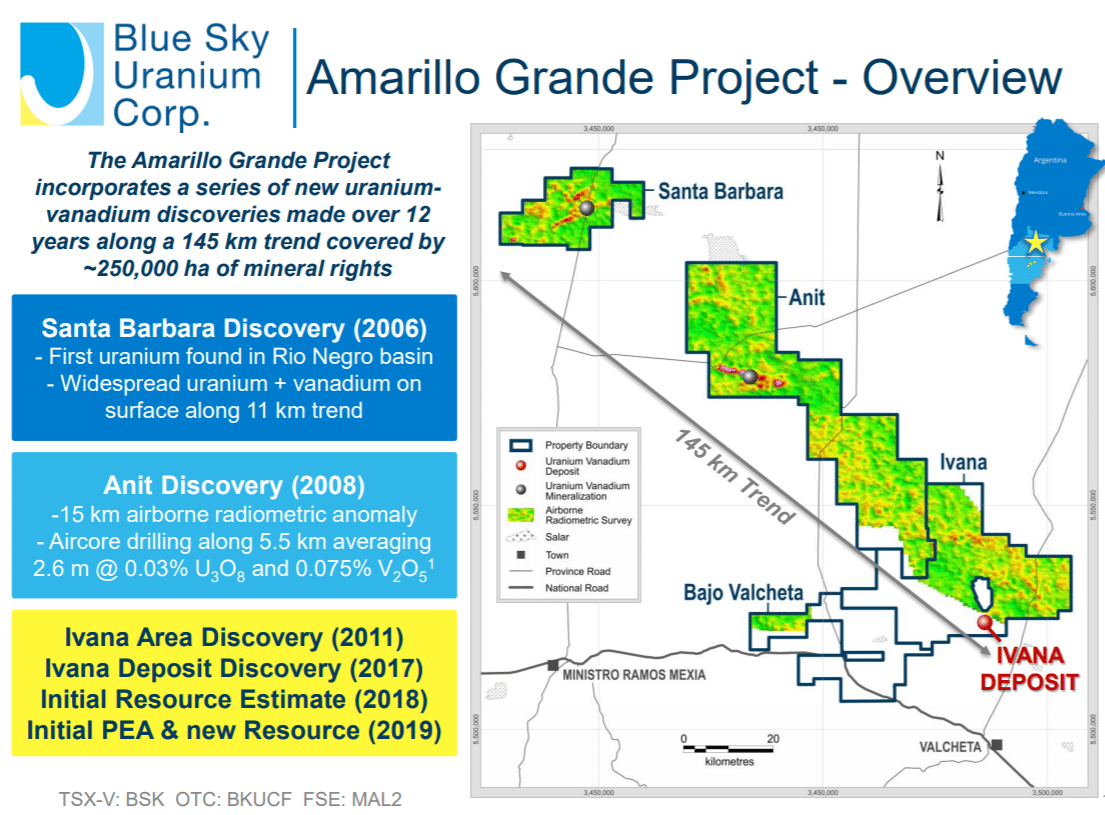 Bill: You have defined initial resource, which is intrinsic value as investors when we look at a company, but then you have, per your name, a lot of "blue sky" or speculative potential. Can you talk about your uranium district?
Niko: This area, what we have isn't just a single a deposit or occurrence. It is a massive area. It is an entire district. It spans 145 kilometers in length by 50 kilometers wide and we own all the land in that zone. And we've done work over the last while over the entire zone. We know there's uranium and vanadium mineralization throughout this entire area; not just at surface.
We've also drilled certain areas and then like anything when something is so big, you gotta plant your pole and one spot first, and we started at the southern end, where it was more obvious and that's where we have our 43-101 compliant resource, which is just under 23 million pounds of uranium. This is just the beginning, but we know that this has the potential to grow and grow double, triple, quintuple. There's potential here for over a hundred million pounds of uranium. So this is what the real upside is for Blue Sky. This is what's really exciting, the huge amount of potential and the second thing, it ties in with the news that we put out today. It's because the deposit sits right at surface and it doesn't go too deep, goes down about 25-30 meters. What that means it's going to be really, really cheap to extract and to get out of the ground. So we have the potential here to have one of the largest and lowest cost uranium districts in the world.
Bill: Are there any analogs or other deposits worldwide that you compare to your deposit?
Niko: There are. These kinds of things occur around the world. In fact, these types of sandstone-hosted and surficial uranium deposits, they actually are economic in this current uranium environment and they produce about 60% of the world's uranium, and you see them in Yeelirrie deposit in Australia, the Langer Heinrich deposit in Namibia or the Inkai deposit in Kazakhstan. The deposit there in Kazakhstan is very, very similar with what we have; only one difference. One of the main differences is that our deposit sits right at surface. It's expected to become even cheaper to extract. And that deposit there's over a hundred million pounds.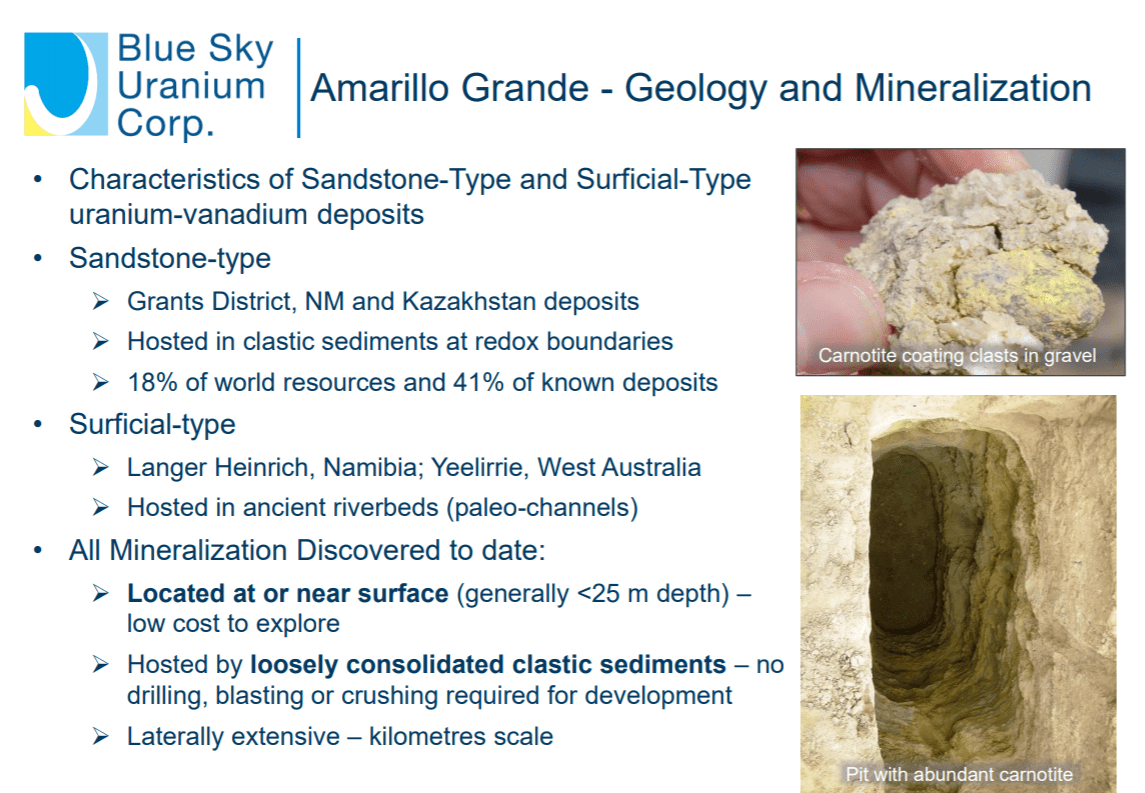 Bill: Your Ivana deposit is contrasted with a lot of the Athabasca Basin deposits, which are in, I believe, hard rock and a lot deeper.
Niko: Well, yes. And therefore you need a lot higher grades there to make that economic. You're seeing the high numbers in Athabasca, but if you're going to have to dig two or three kilometers underground under frozen hard rock and blasting, it's a whole different type of mining operation than if you've got a scooper, and you laying it on the leach pad and you basically extracting the uranium out with baking soda.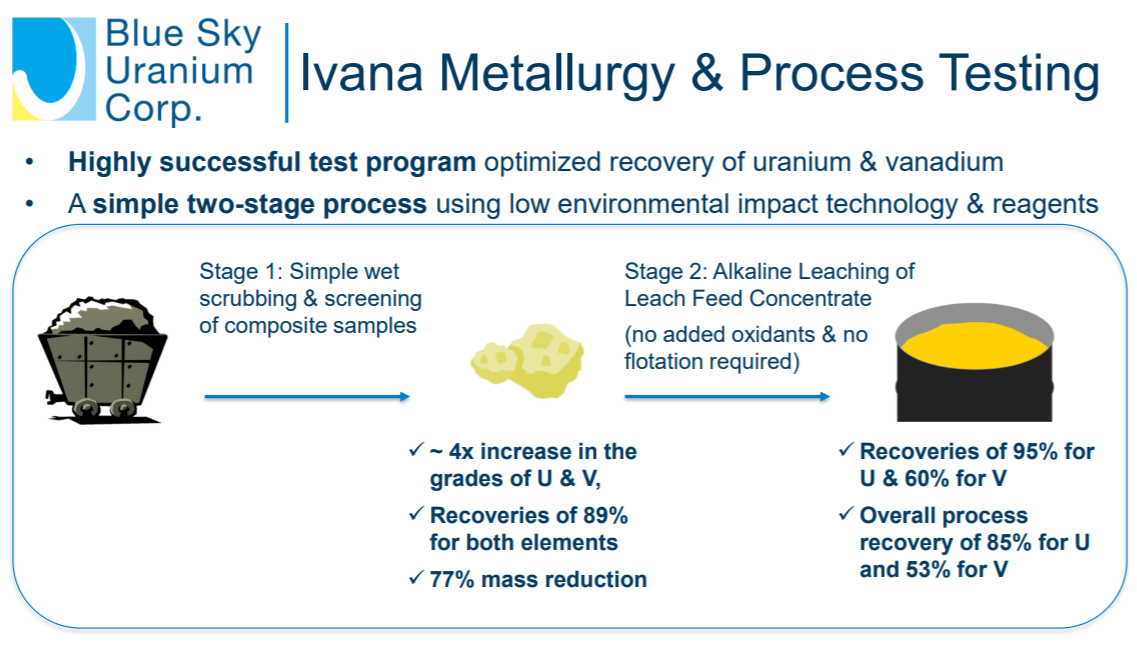 Bill: Can you go over some of the PEA highlights to give us an overview of economics, what you know of the project so far?
Niko: Well, yes, and we did the PEA, Bill, basically because we've got a lot of people that are asking us, "Your grades how do they compare with Athabasca?" Our grades don't compare with Athabasca, they compare with some of the other deposits I mentioned earlier. And the PEA today basically confirms that. It shows that our all in cash costs are basically just over $16 a pound of uranium. When you can have a contract to produce uranium to sell, you're in for around $50 to $60 a pound, that's a healthy margin in there. The other thing is we've got, there's got an internal rate of return of just under 30%.
Bill: And that's after-tax.
Niko: That's after tax. Yes. And the life of the mine, we're looking at 13 years of continuous production, processing about just under 6,500 tons per day of rock. So this is a substantial operation and this is based just on this initial Ivana deposit. We're gonna focus our next six months now on growing this deposit and these numbers are going to do nothing but get better.
Bill: You chose an 8% discount rate for your net present value, which was a net present value of 135.2 million US dollars. How did you settle upon the 8% discount rate?
Niko: 8% is a pretty standard in the PEA. As you move closer to production, you should do pre-feasibilities and feasibility studies, then that 8% drops down to 5% and lower. So we discount the potential cash flows quite significantly here because it is a preliminary and there's a lot of assumptions being made in putting this PEA together.
Bill: A couple of the assumptions I'm looking here, uranium price at $50 a pound and then vanadium price at $15 a pound. Vanadium, as you know, was I believe $5 about two years ago. Can you talk about why you believe there'll be that sustained $15 vanadium price?
Niko: Yes. Vanadium has had, like you stayed quite a significant move in the last couple of years and vanadium right now, it's basically all the rage in terms of, like lithium is another one of these metals that are used for construction of the storage batteries. Vanadium is a better store of energy than lithium, but it's heavier. They create these batteries that are the size of city blocks and they're excellent. They're stores of energy. But that's not the main driver though for the price of vanadium. That's an additional demand. The real use of vanadium is as a steel hardener. And it was about a couple of years ago that … Just over a year ago rather, that in China there was a mandate to increase the vanadium content in steel production so that the steel that's manufactured is stronger. Because of that, we've seen the demand for uranium go up substantially and that's why I feel that this price of vanadium is going to be sustained.
Bill: And the price of vanadium, the assumption of $15 is critical to the all-in-sustaining-cost, net of credits at $18.27 per pound. Because obviously if the vanadium price would go down, then your cost of production would go up.
Niko: The cost would go up. Yes.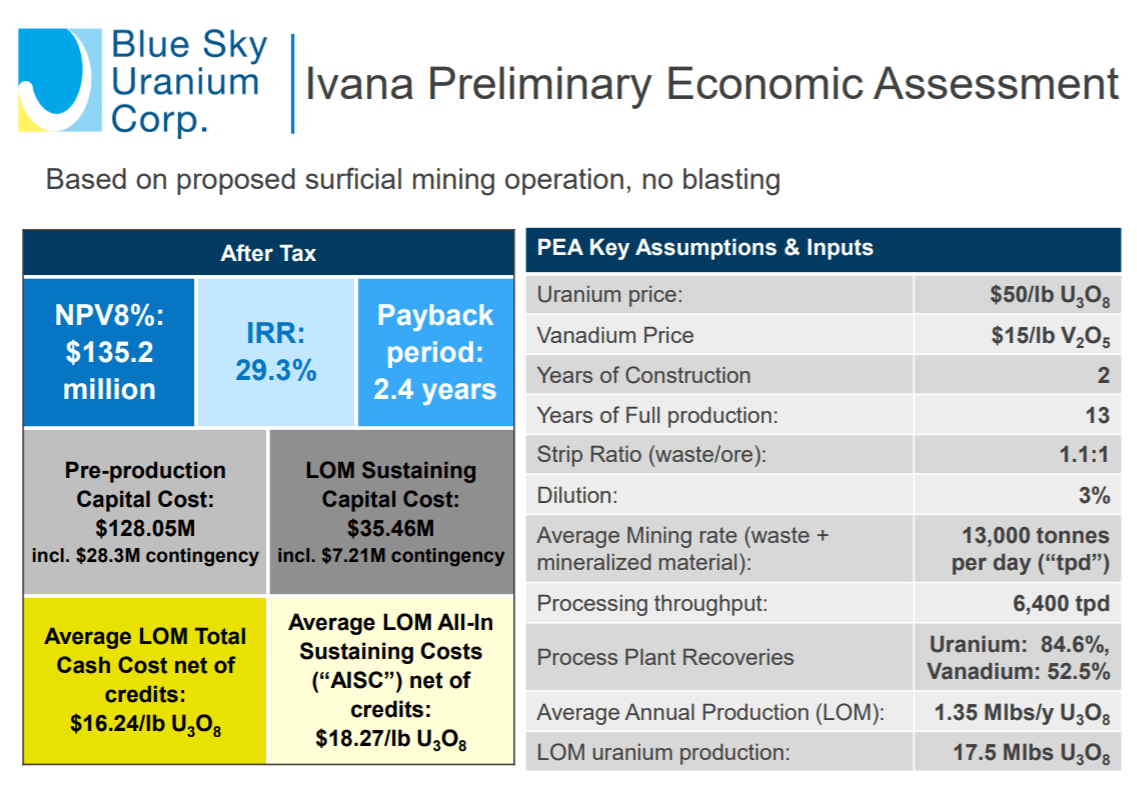 Bill: But it's still a very economic initial assessment. I'm looking here versus your market cap. Your market cap is about one tenth of the NPV of this project alone. How does that compare to other uranium explorer/developers that have a net present value in some of their projects?
Niko: Right now, we're definitely very, very much undervalued for what we've got and the reasons for that is the state of the market that we're in right now. Uranium has been trading at lows for the last seven or eight years. And investors have been chasing other kinds of opportunities. In the last year we've seen the price of uranium begin to turn. This had at least a 50% move from $16 now to $28/$29 a pound.
And as this is happening, what typically happens in a market cycle is you see the larger companies like Cameco begin to attract investment first to become properly valued. So if you look at the chart of Cameco, you'll see that they've had quite a significant move in the last year and they continue to do well. As those larger companies begin to become fully valued, investment typically trickles down to the next order, juniors and developers like our company, and I think as long as uranium and vanadium stay sustained and continue to move up, I think, and we start to get the story out about how economic this project can be, I think we're going to see this year is going to be a very pivotal year for Blue Sky. We're going to see a evaluation that's going to be in accordance with this PEA.
Bill: In the last uranium bull market, as you would know, the developers did particularly well. I believe the developers even outperformed the other types of uranium companies, didn't they?
Niko: Absolutely. Because with developers, you don't know how big it can get. There's a lot of speculation there how big it can be. And this is exactly the case with Blue Sky. As uranium price moves up, I think Blue Sky's excellently positioned to take advantage of any spike in the price of uranium. There's not that many companies that are at this stage right now. Almost the last decade, there hasn't been a lot of exploration in the uranium space. And Blue Sky definitely stands out. I think here we're onto something very, very significant that has the potential to become truly world-class.
Bill: So the PEA released today is based, I'm reading here on inferred mineral resources. Those, of course, have to be converted to measured and indicated and then to reserves. What's your plan for a pre-feasibility and a definitive feasibility study?
Niko: What we're going to do is, over the next six months, we're going to continue to add pounds to this deposit. I'd like to see this grow from 22 million pounds, double, triple or whatever it may be. We're going to do that for the next two quarters and in then the last quarter we're going to begin to partake in the pre-feasibility study and start moving this project in towards production.
Bill: So there'll be a lot of catalysts then with your drilling results over the upcoming year?
Niko: Absolutely. And because the project sits right at surface and it doesn't go terribly deep, the holes are typically 50 meters deep, 5,000 meters buys you a lot of holes, so it'll be relatively inexpensive and relatively quick to get news out and results out and to increase this deposit quite quickly. We're very bullish on that.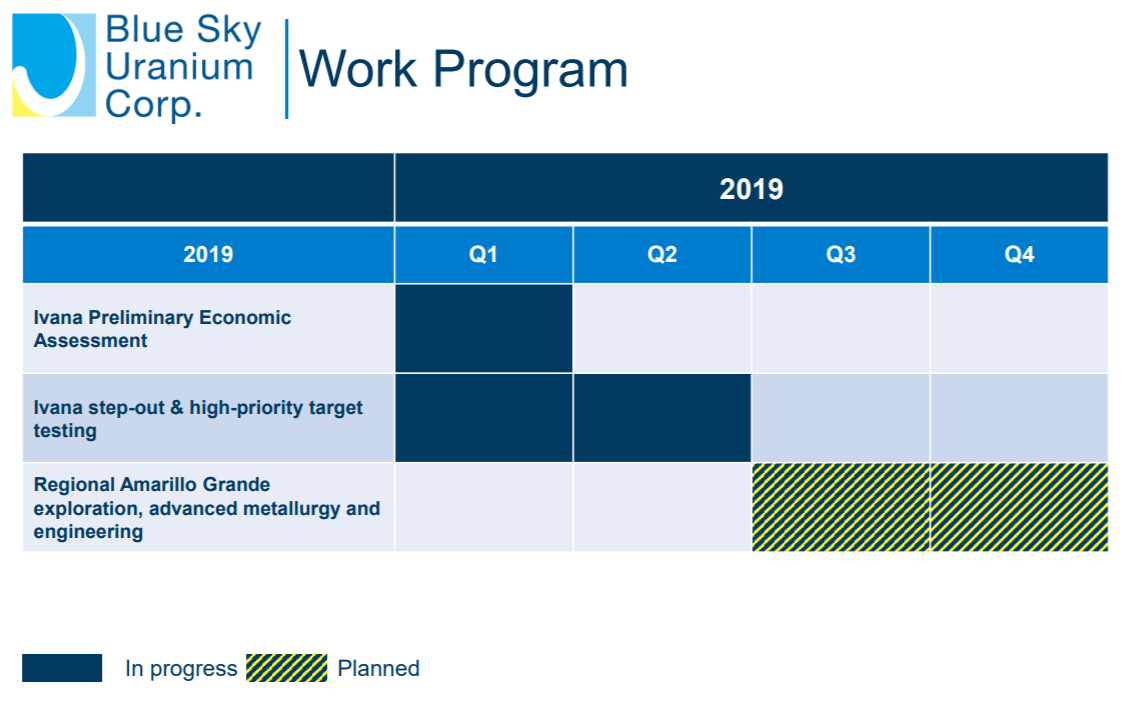 Bill: And that would be reverse circulation drilling?
Niko: That's correct. It's reverse circulation, drilling and there's like a siphon on top that make sure it captures all the dust, 'cause a lot of the uranium is found in all the fine dust that gets blown around.
Bill: Argentina as a mining jurisdiction, you're located in Rio Negro province. And my understanding is that the mining friendliness of the government varies from province to province. Is that right?
Niko: That's right. It's very much like in Canada where the provinces have their domain over their mineral reserves. So some provinces are friendly sometimes, some provinces are less friendly. It still turns out that Rio Negro is probably one of the best provinces in Argentina, where our deposit is found for mining. It is also indicative that beyond mining, the province itself owns a nuclear reactor manufacturing facility, research and development, they also manufacture and export around the world, these small, portable nuclear reactors, and they're actually quite well regarded.
We've been working, of course, very closely with this organization and Argentina as a whole has got three nuclear power plants currently in operation right now. They've got another one that's in construction. They've got two more in planning. They're looking to increase their electricity being generated using nuclear reactors. They need to decrease the fossil fuel dependency. They're looking right now, because they import all their uranium, they're looking to have a domestic source of uranium and Blue Sky is positioned to be the domestic supplier.
Bill: Blue Sky's part of the Grosso Group family of companies. And the Grosso Group has already experienced several discoveries, even seeing discoveries going to production. How is the permitting in Argentina?
Niko: We've been active in Argentina, and I've been with the Grosso Group for 26 years now, and we've never, ever had a problem to have a permit denied or anything. Argentina, especially the current government, is looking to attract and increase the mining component of their economy. They're very pro-business and they have indicated that if we encounter red tape or delays, they could bend over backwards to ensure that, of course, we undertake all the correct environmental safety precautions, but they don't want to see any red tape holding back our permit. So we have full confidence that we're not going to have any kind of hiccups along that line.
Bill: And how is your project dealing with potential infrastructure and any problems with indigenous peoples?
Niko: No, we have a very active community relations team in Argentina. In Río Negro where the project is located, it's a very, very sparsely populated area. In fact, that part of the world is less densely populated than some parts of Siberia. So we are in full contact. We work together with the community. We address if they have any concerns or any fears. Currently right now we have the support of the community and a lot of people have jobs with us 'cause it's also one of the poorer parts of Argentina and we're there to help to train and to provide jobs for them. We're close to a small town there called Valcheta and that seems to be a base where a lot of our workers come from.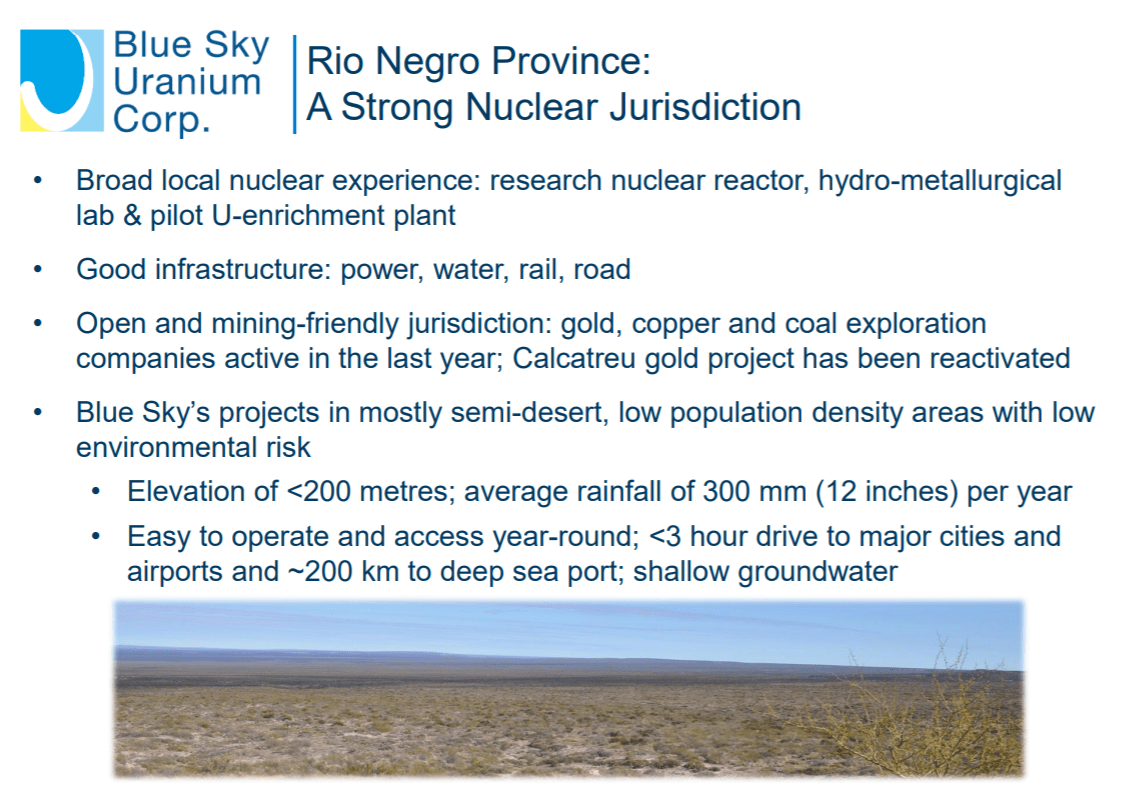 Bill: In a best case scenario, how soon could you see the Ivana deposit come into production? Five years from now?
Niko: No. I think in three years or less. It'll be very quick.
Bill: Niko, before you go, as we conclude, what are your thoughts on uranium in 2019? Do you think we're going to see a move from $30 to $35? What are your expectations for this year regarding the price per pound of uranium?
Niko: I think uranium is going to definitely turn around. I'm seeing not just from the amount of investors that are beginning to contact our company, but also looking around the world, the number of new nuclear reactors that are being built, especially in a lot of emerging market countries. There's a big demand for uranium that's building up and I think we're going to see uranium as a way of the future to produce an efficient, reliable, and safe and secure source of electricity. Uranium has got a large role to play. We're going to see higher prices for sure.