Javier Orduña | "What We Found Was Pretty Exciting and Unexpected" (16.45 g/t Au grab samples)
In this interview Aton Resources' exploration manager, Javier Orduña provides an update on two recent prospective gold discoveries as mentioned in Aton's June 20, 2019 press release.  Twelve selective grab samples were taken at Safaga South during a first-pass reconnaissance programme. The programme returned very encouraging results with half the samples having gold grades greater than 5 g/t Au, up to a maximum of 16.45 g/t Au. These 12 samples returned a mean average grade of 5.29 g/t Au. Sampling confirmed the presence of gold in both the quartz veins as well as the altered, weathered and in places sheared host rocks.
TRANSCRIPT:
Bill: You recently released some news about some grab samples at two prospects in your Abu Marawat concession, can you review that for us and give us the significance?
Javier: Yeah, well it's very early work at these two new prospects. It's the Safaga South and Wasif areas, now these are two new areas which we only recently discovered. Again, we identified from reviewing satellite imagery and we picked them out as places to go and visit. They're at the far end of a license from Hamama, so it takes a long time to get out there but we've had crews out there, we've been doing some preliminary work on the ground, only a couple of days so it was really very very preliminary, early sort of stuff, but what we found was pretty exciting and pretty unexpected- certainly in the Safaga South area we found a whole mass of veins and ancient workings which as far as we could tell going through the data and the records that we have- again it's another one of these sites that's not been previously recorded anywhere in the literature. So it was good to get out there and there was a photo of it and a press release so there's clearly some significant workings there and, again it came as a pleasant surprise to us.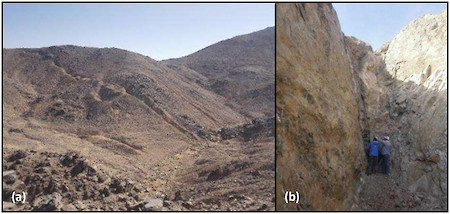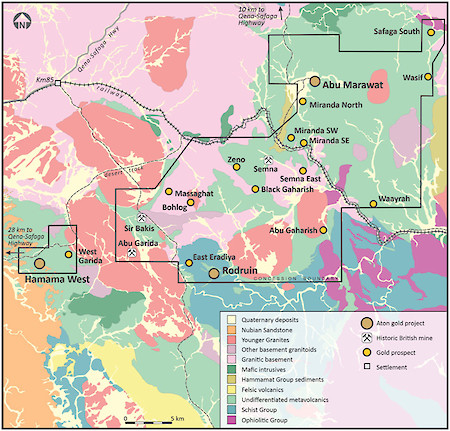 Bill: Your Rodruin project, you identified that via satellite imagery where you saw the trails going up to the mountain. With this particular prospect did you also identify that via satellite?
Javier: Yeah, it was a similar approach, and as we've talked about it's very effective in this part of the world, where we do have exposure, we don't have a lot of rainfall and features generally don't get eroded or weathered away like they do in most parts of the world. So it's a very effective technique, there wasn't an abundance of strong paths like we saw at Rodruin which was significant. We don't have the archeological remains which had been identified at Rodruin where we had the ancient processing site, but what we did find was these ancient villages. You could see remains of the ancient villages and wadis and as I've said before on other forums, people didn't live out in these places for no reason. It's not a holiday camp in these places. So pretty much always where you find these villages, these concentrated settlements in these sort of areas the Eastern Desert in Egypt, it means people are mining gold, so it was a sign. "Let's go and have a look", so that was really the main driver, plus looking at the satellite imagery in terms of what we could identify from what the rocks look like. That was what took us in there in the first place.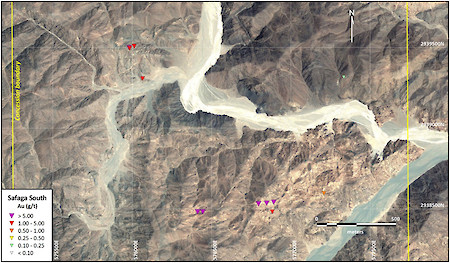 Bill: And you sampled via grab samples up to 16.45 grams per ton gold, which is obviously very high grade, especially at surface. What's the significance of this, and if we're looking at your concession, generally speaking, what would be an economic grade for an open pit mine?
Javier: Well we went out at Safaga South we took 12 samples I think it was, they averaged at 5 and a half grams, above 5 and a half grams. Half of them were above 5 grams. They were selective samples, we're not trying to say they could be representative of any potential future or a resource of course but when you have quartz veins which are averaging upwards of half an ounce then that's pretty attractive of course. It's very early days, we identified dozens of quartz veins there with some of our workings done and some that didn't have, so some of them were exploited not in even the olden days by the ancients. Again, that is generally pretty indicative that you're looking at pretty high grade, so just as a very first pass evaluation, when you find gold mineralization at surface it's only a positive.
In terms of potentially economic grades, we've done the resource at Hamama West, we did our preliminary studies on the Hamama West oxide cap which we submitted to EMRA, which was the basis for us declaring commerciality, which is again an unusual Egyptian concept, but nonetheless we did the studies which submitted to EMRA and the resource I guess you could call it, looking at the potentially minable resource. That had a gold equivalent grade, so gold plus silver, of 1.2 grams, of which that was about 0.8 grams per ton gold. The preliminary economic studies we did on that is a tidy little return on that, so if we can economically mine gold, hopefully, at Hamama West at 0.8 grams per ton gold at surface, if we're sampling quartz veins which are going half an ounce or potentially more, that can only be a good thing.
Bill: So we've shown over a large area that there's prospectivity over your whole concession. What are some people saying about Egypt right now? We've on this show talked about Egyptian mining reform and how that will be a positive impact for not only Aton but other gold companies as well. What are people saying about Egypt right now?
Javier: I think- we talked quite a bit just before Christmas last year there was quite a lot of noise on the mining reform, the government was coming out saying quite a few things and it certainly looked like things were starting to move. It's kind of gone quiet in the last 6 months since then, it's frustrating but it's probably not a huge surprise. Again, we're hearing – and we hear different things from different sources so who knows what the truth is actually going to be – that things are moving forwards at a pace and we expect to hear things moving towards some sort of clear resolution relatively soon, but whether that's 3 days or 3 months or who knows, but things are certainly moving in the right direction with regards to reform.
Clearly when we talk about Egypt there's 2 issues really regarding Egypt. It's – I believe, and I think a lot of people believe – it's a very attractive destination and it's certainly under-explored from an exploration perspective. But there's two main issues: one is the fiscal and the legal regime which is problematic, everyone is aware of that, Mark's talked about this, and there's no need for me to go into that but in terms of a geological perspective it remains a massively under-explored and very prospective part of the world.
It was interesting when I was at PDAC when we met in Toronto in March, there was a very interesting session by Howard Bills from Toro Gold and he'd got together a bunch of- a group of pretty serious generative geologists and asked them a bunch of hypothetical questions about Africa under various scenarios, and one of the questions he asked was "where in Africa do you believe the biggest potential for big – greater than 5 million ounce – gold deposits actually is?" And if you take out all the fiscal regime and so on and so forth, in terms of the most likely countries to discover big 5 million ounce gold deposits, the consensus amongst this group of guys that he got together was Egypt and Sudan. So, Egypt remains, I think everyone is aware, certainly in the exploration industry, that Egypt remains highly prospective. It's not the geology and the potential that's holding it back, it's legislative issues.
Bill: A few months ago Aton offered a financing and then a couple weeks ago Aton announced that part of that private placement had been enclosed, can you give us an update on the financial situation of the company and any further plans for this year?
Javier: Yeah, it's been frustrating, as you would appreciate for us and for a lot of people. We went out in January and we didn't raise the finances we'd been – we had some high net worth individuals who indicated that they were going to come in, unfortunately it wasn't possible at this stage so we haven't been able to move it as forward as quickly as possible, we're close, we're very close I think Mark's the person to talk to. He deals with the financing, obviously I deal with the geology, but I believe we're pretty close now. It's been a frustrating time but hopefully we're going to close this round very shortly and then we will be able to crack on.
Bill: So then perhaps after the closing of the private placement, a drill program would be announced but as of right now you're on the ground doing surface samples with the team.
Javier: That's right, yeah. Obviously we have to- we can't commit to a major capital program like drilling at this stage until we have the financing closed and put away and we know how much we got to play with. That remains the intention, obviously we haven't talked about Rodruin here, the intention is to get back to Rodruin. We have a lot of potential all over our license area and again I think these new discoveries certainly show that, but that doesn't detract from the fact that Rodruin remains our absolute number 1 target and our intention is to plan up another drilling program and get going back down there again, but clearly we're an exploration company, we don't dig gold, we don't make any money so it's dependent on us spending other people's money, so until that money comes in we don't know how much we've got and once we've got it put away then hopefully we will be able to get back on the ground drilling at Rodruin again.
Bill: Excellent, well thank you for the update Javier. If you're interested in learning more you can go to atonresources.com, there, if you click on the recent press release from June 20 you can see some of the visual depictions of the prospectivity of these new prospects that Javier and I have spoken about in this interview. If you have questions you can email Mark Campbell the CEO direct, his email is mcampbell@atonresources.com, you want to engage the show you can reach me at bill (at) miningstockeducation.com. Well Javier, thanks for coming on the show and I look forward to touching base with you after those drill rigs get going.
Javier: Yeah, sure Bill. It's good to catch up and I hope we'll have some more positive news for you in the short term coming out shortly.