AODocs Recognized as a Strong Performer in Cloud Content Platforms by Independent Research Firm
Analyst Firm Credits AODocs with a differentiated rating in five criteria, including intelligent services and transactional content
ATLANTA–(BUSINESS WIRE)–#ECM—AODocs, the only business process platform tightly integrated with Google Drive, announced their recognition as a "Strong Performer" in The Forrester New Wave™: Cloud Content Platforms (CCP) — Multitenant SaaS, Q3 2019 report by Forrester Research, Inc., a leading global research and advisory firm.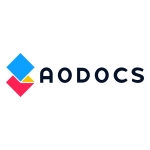 According to the report, "Traditional enterprise content management (ECM) vendors are rearchitecting their platforms to be cloud-native, while vendors with heritage in cloud enterprise file sync and share have pivoted to broader content repository services." Due to the evolving industry, two markets came together to form the cloud content platform segment.
The report recognizes AODocs as "provid[ing] a well-integrated set of collaborative, process and intelligent services" as well as being "a good fit for companies that want ease of deployment and robust reporting." On the customer side, the report notes that AODocs allows them "to spin up content-rich applications quickly and easily."
Forrester's evaluation of the emerging cloud content platform segment looks into 13 of the most significant providers in the category. Each vendor was scored against 10 criteria and how they compare in relation to each other. The report intends to provide enterprise architects with the information and knowledge they need to identify the right partner for their cloud content management needs.
"I am proud to see AODocs recognized as a 'Strong Performer' in this report," said AODocs CEO Stéphane Donzé. "Because it was built from scratch in the cloud, AODocs can deliver a more agile, integrated and collaborative platform, which allows our customers to redesign the way they implement business processes."
To download a copy of the Forrester New Wave™: Cloud Content Platforms — Multitenant SaaS, Q3 2019 report in its entirety, please visit info.aodocs.com/forrester-new-wave. For more information on the AODocs product platform, please visit aodocs.com.
About AODocs
AODocs is the only business process platform tightly integrated with Google Drive's collaborative, user experience-focused platform, allowing organizations in all industries to easily implement their business-critical processes, control their documents and meet compliance requirements without burdening users. Headquartered in Atlanta, with offices in San Francisco, Paris, London and Milan, AODocs was founded in 2012 by software veterans with decades of experience at organizations including Exalead, Actelion and Logica. Built to automate business workflows in full compliance with various regulations, AODocs' patented content services platform is a Google Recommended Partner Solution for G Suite. For more information, visit www.AODocs.com or follow @AODocs.
Contacts
Media

Hannah Goodwin

aodocs@blastmedia.com

317-806-1900