Compass Minerals Declares Dividend
OVERLAND PARK, Kan.–(BUSINESS WIRE)–The Board of Directors of Compass Minerals (NYSE: CMP) has approved a quarterly dividend of $0.72 per share. This dividend is payable Sept. 13, 2019, to shareholders of record as of the close of business on Aug. 30, 2019.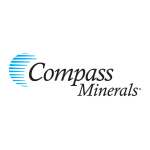 About Compass Minerals
Compass Minerals is a leading provider of essential minerals that solve nature's challenges, including salt for winter roadway safety and other consumer, industrial and agricultural uses, and specialty plant nutrition minerals that improve the quality and yield of crops. The company produces its minerals at locations throughout the U.S., Canada, Brazil and the U.K., operating 21 production facilities and employing more than 3,000 personnel worldwide. Compass Minerals' mission is to be the best essential minerals company by safely delivering where and when it matters.
This press release may contain forward-looking statements within the meaning of the Private Securities Litigation Reform Act of 1995. These statements are based on the company's current expectations and involve risks and uncertainties that could cause the company's actual results to differ materially. The differences could be caused by a number of factors including those factors identified in the "Risk Factors" and "Management's Discussion and Analysis of Financial Condition and Results of Operations" sections of our Annual and Quarterly Reports on Forms 10-K and 10-Q. The company undertakes no obligation to update any forward-looking statements made in this press release to reflect future events or developments.
Contacts
Investor Contact

Theresa Womble

Director of Investor Relations

+1.913.344.9362

InvestorRelations@compassminerals.com