Idaho Gold Developer Demonstrates Post-Tax 53% IRR | Craig Lindsay & Alan Roberts Interview
Otis Gold Corp. is focused on the acquisition & development of quality precious metal deposits in the Western USA. The company is currently developing its flagship Kilgore Project and exploring at its Oakley project, both of which are in Idaho.  Agnico Eagle is a key strategic investor owning 9% of the company and management owns 27.7%.  Otis recently announced a positive preliminary economic assessment for the Kilgore project and the company is looking a number of potential catalysts over the next six to twelve months.
Craig Lindsay has in excess of 20 years of experience in corporate finance, investment banking and business development in both North America and Asia. Craig was President and CEO of Magnum Uranium Corp. until its sale to Energy Fuels Inc. (TSX:  EFR) in July 2009, and prior thereto was a Vice President in the Corporate Finance and Investment Banking Group at PricewaterhouseCoopers LLP. He was a founding Director of Malasapina Capital Ltd. and led its merger with Miranda Mining Development Corp (a Mexico-based gold producer that was subsequently acquired by Wheaton River Minerals in 2003). Craig was a Founder of OneAsia.com (Holdings) Ltd. and helped develop the business from inception to the establishment of offices in Hong Kong, Taipei, Mumbai and Vancouver, and was instrumental in the sale of the business to Hutchison Whampoa Limited in 2001. He is currently a Director of VR Resources Ltd. (TSX-V), Alianza Minerals Ltd. (TSX-V) and Philippine Metals Inc. (TSX-V).
Alan Roberts has over 25 years global experience at various exploration and resource development projects throughout North America, Central and South America, China and Africa. He was most recently the Exploration Project Manager for Newcastle Gold at the Castle Mountain epithermal gold project, California, USA. His experience includes drill program design and implementation; resource and geologic model development and technical reporting; pre-feasibility study project supervision; geologic mapping and sampling; site logistics and management, and program budgeting. His education includes a Master of Science degree in Mineral Exploration & Geophysics (1992) from the Royal School of Mines, London, United Kingdom. Mr. Roberts is a Certified Professional Geologist with the American Institute of Professional Geologists (AIPG).
www.OtisGold.com     TSXV:OOO      OTC:OGLDF
0:05 Introduction
0:58 Kilgore Project overview
2:20 Kilgore PEA valuation at $1,500/oz gold
2:55 What attracted Alan Roberts to Otis Gold Corp.
4:14 Round Mountain as a comparable to the Kilgore project
5:03 Idaho as a mining jurisdiction
8:44 Resolution of a complaint against the U.S. Forest Service
10:24 Otis Gold Corp.'s valuation and investment opportunity
11:49 Oakley project's exploration potential
13:35 Catalysts for next 6 to 12 months
TRANSCRIPT:
Bill: You are listening to Mining Stock Education. This is Bill Powers, your host. I am in not the Swiss Alps, although it feels like it. I am in Beaver Creek, Colorado at the Precious Metals Summit. The benefit of coming here is that I get to meet with many mining executives, learn the stories, see where good investment possibilities lie. I'm with a CEO and a Vice President of Exploration of one of those investment possibilities. I'm talking about Otis Gold Corp. This is an Idaho-focused, Agnico Eagle-backed company. It is a developer and exploration company in Idaho. Craig Lindsay (CEO) and Alan Roberts (VP Exploration), I'd like to welcome you to the program. It'd be good to start off, Craig, if you could give us an overview of your flagship Kilgore project.
Craig: Sure. Kilgore is based in Idaho. It's a volcanic-hosted epithermal gold system. There's about a 960,000-ounce gold resource on the property. We just came out with a preliminary economic assessment at Kilgore. It's about a five-year mine life, 112,000 ounces of gold a year. The capex on the project is about $81 million US dollars. The net present value on the project is $110 million US dollars, using a $1,300 gold price.
The IRR in the project is about 34% after tax. People should keep in mind, we're talking about a $1,300 gold price on this PEA, and we're sitting at a $1,400 gold price. So, the economics on that project are substantially enhanced at higher gold prices. But we've used a conservative number. But what's really exciting about Kilgore, we own 100% interest in this project. There are no royalties on the project, and most importantly, there are significant opportunities to grow the deposit beyond the existing 960,000-ounce resource. As we move forward with this company and aggressively explore, we think there's a significant opportunity to enhance the economics of the PEA with a longer mine life and potentially higher production numbers as well.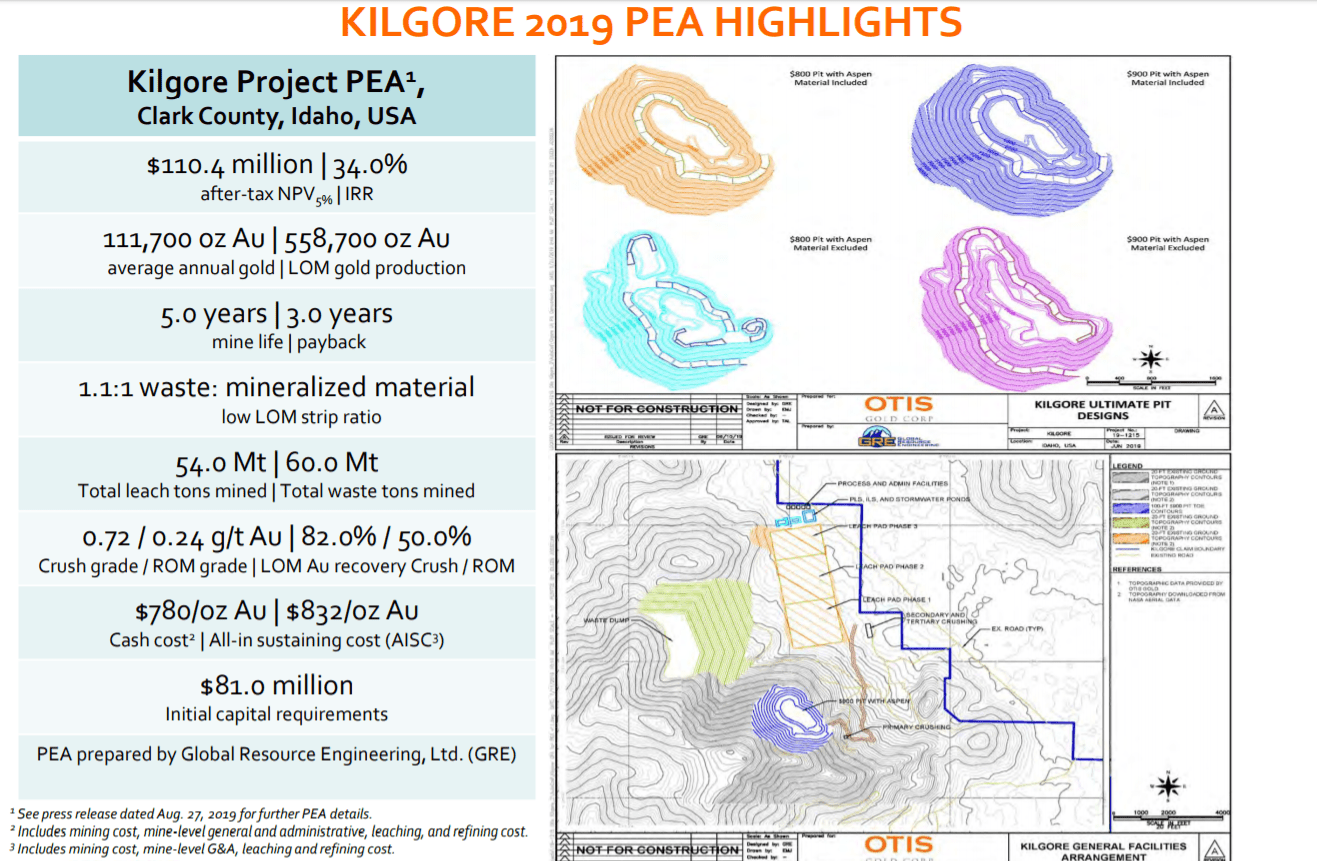 Bill: When you're looking at a $1,500 gold price, what would be the IRR at a $1,500 gold price on this project?
Craig: We are over 50% at $1,500 and the NPV goes up to about $185 million.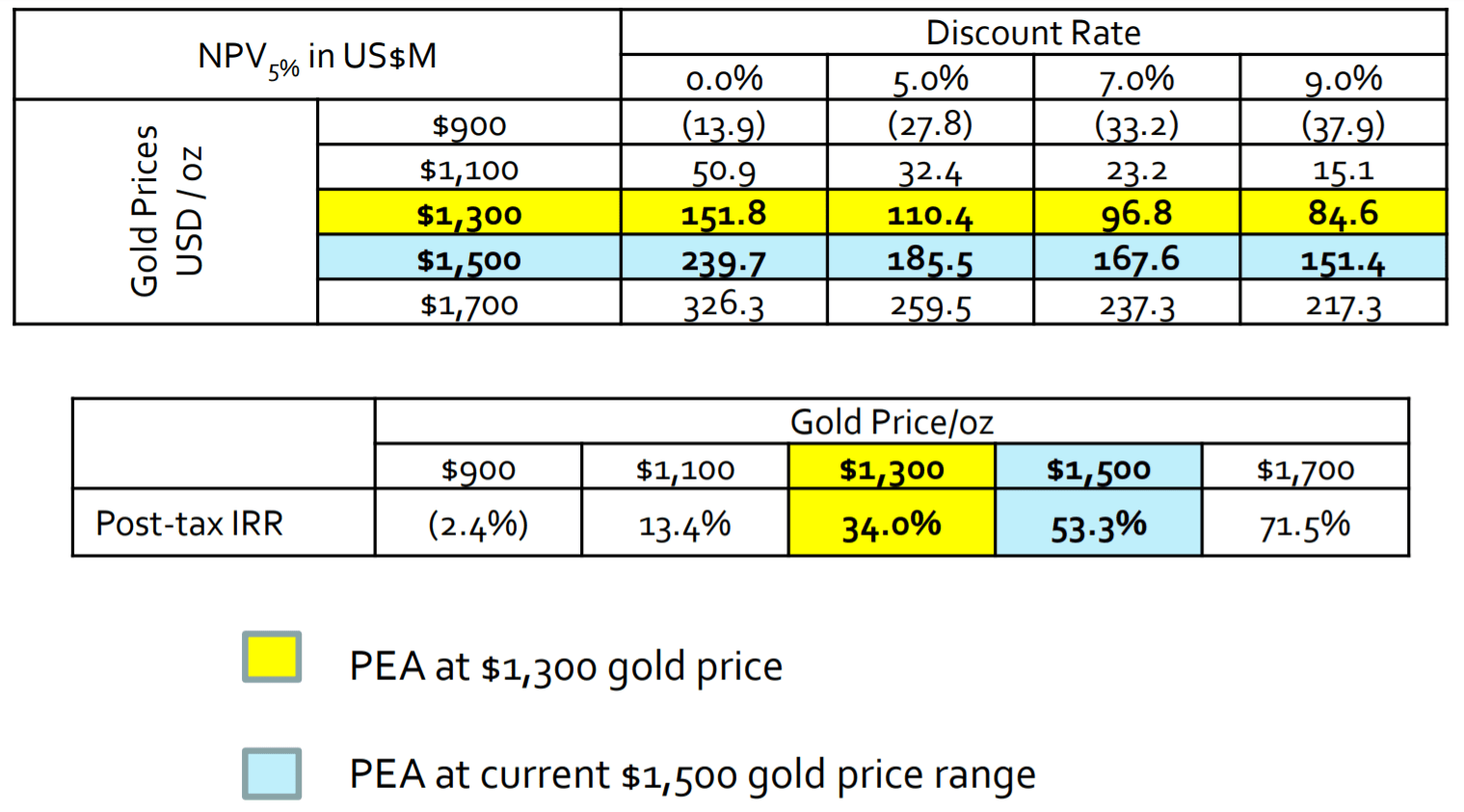 Bill: Are you going to be testing the exploration potential this year?
Craig: We're testing extensions of the existing deposit this year, with step-outs off of the Kilgore deposit. Next year is going to be a big year where we plan on testing some of the satellite targets that exist on this 12,000 acre project.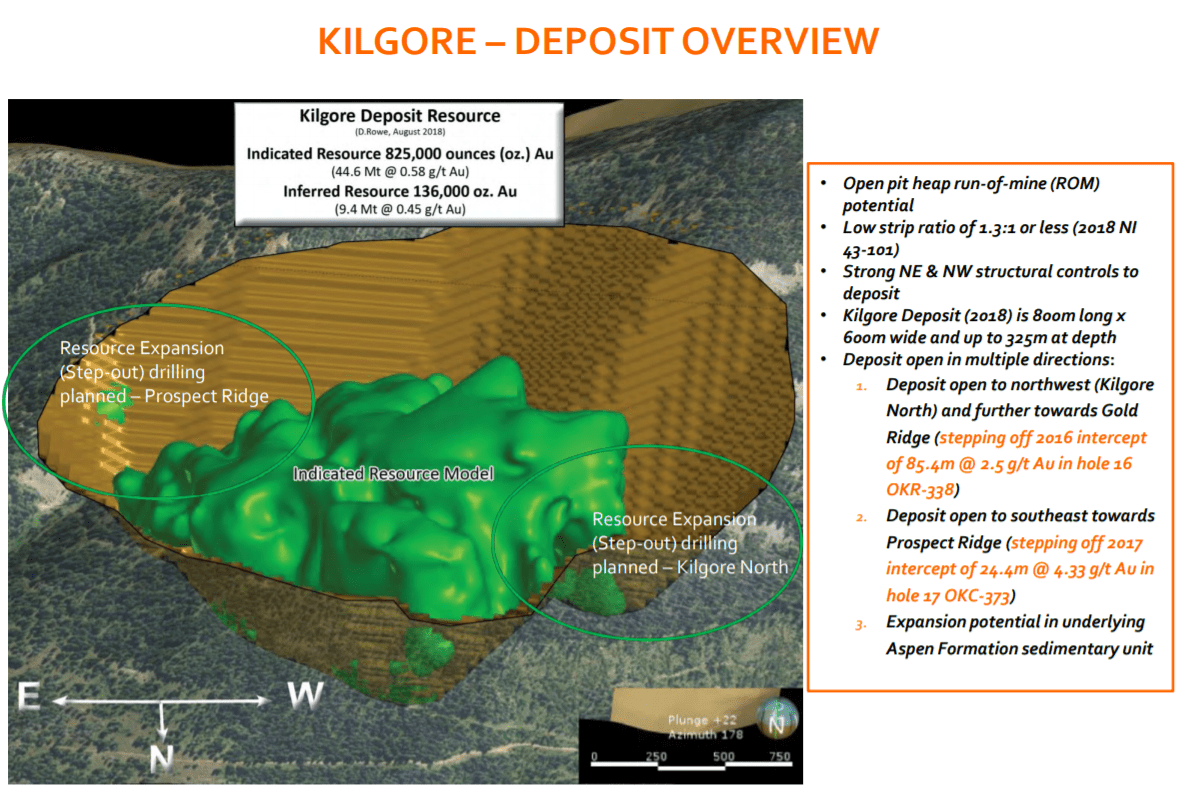 Bill: Alan, what brought you to Otis Gold Corp? What were some of the key things of the company and also this Kilgore Project?
Alan: A colleague of mine, when I was working at Castle Mountain where I was the Expiration Manager, drew me to Otis Gold Corp. and then I read the previous 2012 resource statement. I was attracted to the potential size of the Kilgore deposit because of its overall geologic setting.
Bill: What are some of the comparables? When an investor is looking at this project, what should they compare it to in terms of its potential and operating mines?
Alan: That's what really drew me to the Kilgore deposit, because it's really a unique setting in the North American geologic environment. It doesn't really have a correlative deposit. The closest you could really come to is probably Round Mountain in Nevada.
Bill: What are some of the average grades or production rates of that project there?
Alan: I can't give you the detailed numbers, but from my point of view in terms of exploration, geologic setting, caldera-hosted, hydrothermal alteration are the things that really attracted me to it. The overall exploration potential rather than being a specific grade and tons type number.
Bill: Craig, is there anything else that investors should know about the potential of this project?
Craig: Well, one of the things you just mentioned I brought up was Round Mountain. What's interesting from a comparative point of view is that Round Mountain was originally developed by a company called Echo Bay Mines. In the 1990s, Echo Bay was the one that originally started developing the open pit heap bleach potential at Kilgore. So they saw some direct comparisons to Round Mountain, and Round Mountain has really been one of the most successful volcanic-hosted epithermal gold systems in not just the United States but the world in terms of its historic production, its current production profile. There's some really fascinating comparisons to that story. I really think in many respects we've got a mini Round Mountain and a Round Mountain in the making going forward.
Bill: Tell us about Idaho as a mining jurisdiction. What should investors know and what are the positive things that are occurring in Idaho right now?
Craig: Well, when I first got involved in Idaho in 2008, it was a bit of a "have-not" state. There's a long history of mining in Idaho, going right back to the 1800s. Silver's a very big commodity in the state as well as base metals, and gold. There's been a long history of gold production. Phosphate, which is a fertilizer material, has been produced for years in the state, and it's one of their biggest mined commodities that are produced from an open pit perspective.
There's a strong history of mining in the state. It's the number five industry out there. We've got a Republican government in the state right now, and for many years, which has been very supportive of resource and extractive industries, not just mining, but forestry, agriculture, that sort of stuff. They're extremely supportive at the state level. Our permitting authority at Kilgore is the U S Forest Service. They control all of the surface permitting at our particular project. They've been fantastic to work with.
That's one of the critical things in terms of developing a mining project in Idaho is how well you can actually interact with the specific local office that's doing the permitting at your project. That's one of the things, a box that we've tapped at Kilgore. Our previous exploration team developed a very solid relationship with the forest service. When Alan joined us two years ago, he's continued developing and growing that relationship. When you can have a very good level of trust with those permitting authorities, you haven't made any errors in any of your past conduct out at the project, which we haven't at Kilgore. If you're projecting a very positive image in terms of how you plan to approach the development of a mine out there, and sharing with the local community how important taking care of the environment, things like that are, that goes a long ways to getting your permitting people on board with you. We've certainly got that at Kilgore, specifically with the forest service.
I think in general, since I've been involved in the project in 2008, we've had a whole influx of companies coming in and starting to redevelop Brownfield gold mines, competitors, friendly competitors like Revival Gold, Liberty, Gold, Integra Resources, Midas Gold. All of these people are conducting themselves in a very good way in the state, developing a good reputation with the permitting people. As a result of that investment dollars, institutional investment dollars, number one. The institutional investment funds are coming into the state. Strategic investors, for instance at Kilgore, Agnico Eagle Mines Limited, took a 9.9% position in our company. Paulson and Company out of New York has a very large investment position in Midas Gold. These kind of events in terms of capital flowing into our state are a very clear indication that the state is supportive of the resource development and extractive industries.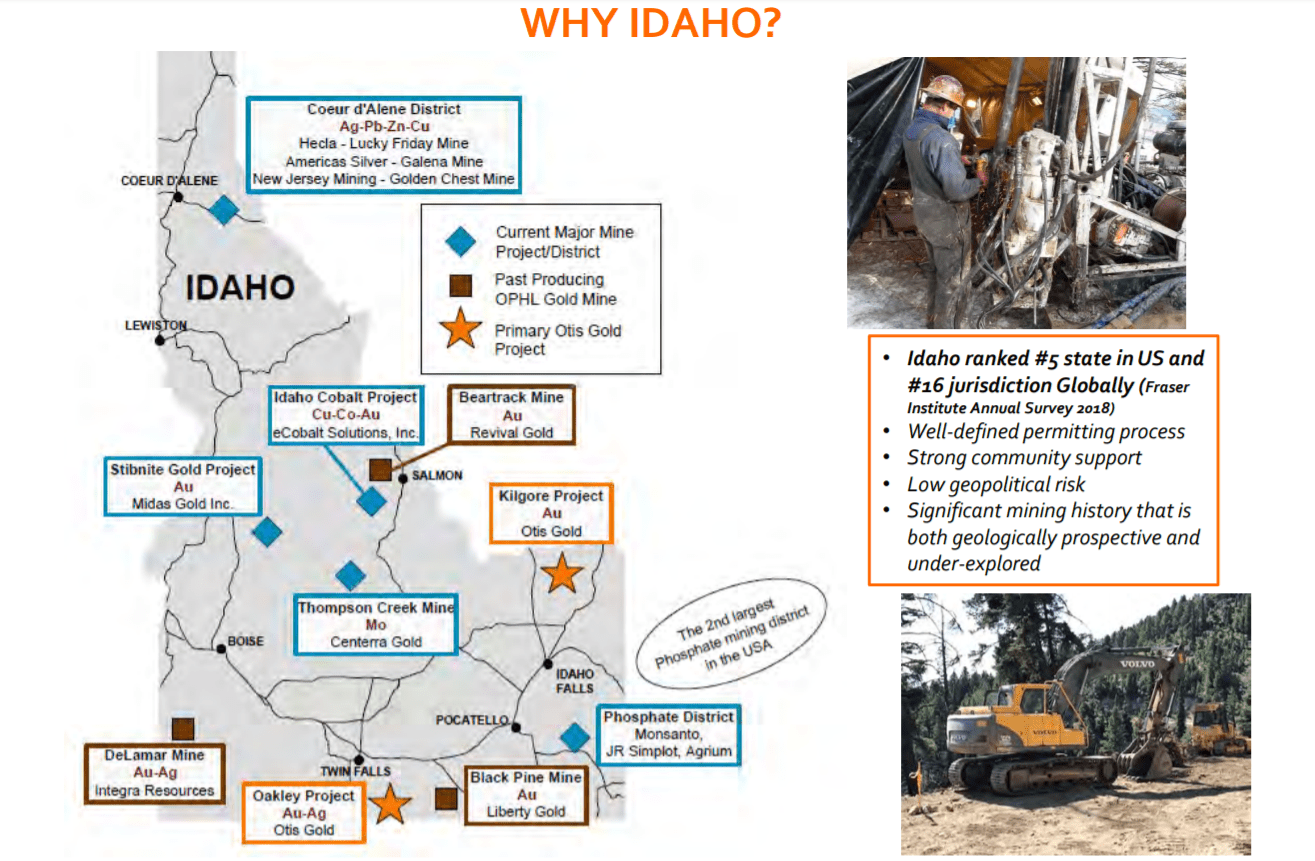 Bill: There's a lot of positive momentum going on in the money flowing in, like you said. But there's also a court challenge. Can you talk about this core challenge that doesn't specifically deal with Otis, but it affects Otis?
Craig: Sure. What you're referencing for your listeners is the fact that an environmental group has filed a complaint against the U.S. Forest Service with respect to how they have approved the last exploration permit that Kilgore was issued in August of 2018…basically, a year ago. That complaint is going through a process and we hope to have it resolved. It certainly created some challenges for us as a business from an operating perspective, because its created some uncertainty around our permit. But at the same time, our legal counsel, the U.S. Forest Service and the Department of Justice who are dealing with this case are very confident that they'll reach a resolution of this. It will be in our rear view mirror, and we'll be able to advance happily with this project.
At the same time, the fact that an environmental group has come out and raised this issue makes it clear to me that I, as a guy who's running one of these companies, has to work that much harder to get the community involved in what we're doing, get them to understand how we plan to develop a mine in the future and start to address some of the concerns that people have so that we can get some of these folks more on board with what we are doing as a company.
Bill: It could be argued that it's a buying opportunity because your shares are significantly less than previous years. Could you talk about your company from a valuation standpoint? How do you perceive your valuation and what's the opportunity here for investors?
Craig: Well, I think it's a pretty compelling story. So yeah, there is a real opportunity there. When we get through this court case, there's going to be potentially a significant reevaluation in the company. We're trading at about 10 cents Canadian a share, so a $16 million Canadian valuation, $13 million U.S. Per ounce in the ground, we're trading at about $13 US an ounce in the ground. The median in the Western U.S. Is about $50, $55 an ounce in the ground.
So, there's some significant upside. When you look at the fact that we've got this new PEA in place that has some very strong economics and you stand on the edge of our deposit and you look out on that 12,000 acres and you see the fact that there is alteration throughout this project. There's gold in the soils, there's gold on pretty much every rock you pick up. You really get the feeling and you could see that, this story is going to grow. If you buy into that, there is a real unique investment opportunity, I believe, in Otis today at these levels.
Bill: You also have the Oakley Project. Alan, could you talk about the exploration potential with this project please?
Alan: Well, the Oakley Project is part of a, I hesitate to call it a mining district, but with the Black Pine Mine to the east, the old Vipond Silver Mine to the South. Was certainly an environment that can and probably will host reasonable exploration prospects with downstream development potential. Our Oakley project is one of those areas where we see widespread surface expressions of gold mineralization, which for me as an exploration geologist is extremely encouraging. But more than that, it's the scale of what I see at the surface.
Many years ago, one of my professors at the Royal School of Mines suggested that the days of finding surface mineral deposits was over, and we were going to be looking for blind deposits. But what makes Oakley so exciting is to walk up with anybody at any level and show them the rock that hosts the gold and the silver at surface and basically say, this is a virgin exploration prospect. It's been tested with some drilling, but there's a lot more to test. There's a lot more to understand, and it's got some real scale potential.
Bill: Are you going to be drilling it upcoming?
Alan: I hope to be drilling it early next year. I would like to have drilled it this fall, but we have this issue of the complaint, and to raise some money to get that done. We've had a lot of site tours. We had a lot of excitement from mid-tier mining companies looking at the Oakley prospect. I believe that a next season will be a very, very busy drill season on the Oakley prospect.
Bill: Excellent. Craig, as we conclude here. Can you recap for investors, we've laid out the case but recap the upcoming catalyst for the next 6 to 12 months.
Craig: Sure. Well, number one is going to be a fall drill program at Kilgore, with step out drilling and a potential to increase the resource. Number two, in 2020 a significantly larger exploration program, which is going to start testing some of the exploration targets at Kilgore. Number three, at Oakley, as Alan referenced earlier, we are looking to bring in a partner to advance that project. I'm fairly confident we'll see some developments on that front in the near future, which is going to lead to a significant drill program on that project in 2020. A resolute resolution of the complaint that was filed at Kilgore later this fall is also going to be a significant driver of the valuation of our company.
Bill, one of the interesting things about being here at Beaver Creek in Colorado for the 2019 Precious Metals Summit, and this is my third year in a row of coming here. It's great to see a bunch of new names in terms of investors; institutional investors, high net worth investors. There's pretty much every major mining company is here looking for projects. That tells me that we're on the cusp of a pretty interesting move in the gold market. That alone is going to create some amazing opportunities for investors who want to get into this space, which has been downtrodden for a number of years.
Gold is really under-invested from a portfolio perspective in the United States. When people start to move back into this space, and based on what I'm seeing here this week, you're going to start seeing some significant revaluations of not just the producers, not just the developers, but also the exploration company. As a guy who's running one of these companies, who's heavily invested as an owner and a founder of Otis, it's a pretty exciting time for me and it should be for investors as well.