Midland Energy America LLC Launches $10M Equity Capital Raising
LAS VEGAS–(BUSINESS WIRE)–Management is pleased to announce the launch of the companies' new global investment opportunity. Midland Energy America LLC, registered in Nevada on May 22, 2019 by its Australian affiliate company (Midland Energy Pty Ltd) has the right to acquire up to 40% of the Australian common stock as it transitions to become Australia's newest coal miner exporting to Asia and India.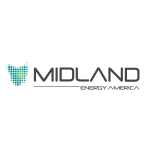 The capital raising plans to issue up to 12,738,854 Class A shares at $0.785 to raise a maximum $10,000,000 under Regulation D, 506 (c). To obtain a copy of the Private Placement Memorandum, please visit: www.midlandenergyamerica.com
Background
Midland Energy Pty Ltd, a Private Australian company co-founded in 2011 by Daniel Macri and Luke Marshall, holds two advanced exploration tenements in the Australian island state of Tasmania. These two tenements contain a resource of 89 million tonnes of export quality, clean coal with future exploration upside.
Proceeds from the raising will be deployed to fast track mine planning and gaining relevant statutory approvals for an initial 1.1 million tonne per year coal mine to supply growing Asian and Indian markets. An extensive drilling campaign is also planned to further prove extra tonnage within the tenement areas.
In 2018 Coal was Australia's #1 export product representing 15% of GDP, demanded for its high quality and proximity to rapidly growing energy markets.
Co-founder and Managing Director Daniel Macri said, "After years of successful exploration and feasibility studies, the time is right to embark on the next phase of development to build a privately owned, Low CAPEX, High Profit Margin coal mining business. It was an easy choice to seek equity capital in the U.S. since we are planning to use mining methods first pioneered in the coal fields of America and our close working relationship with great American companies like CATERPILLAR here in Australia."
These securities are being offered under an exemption provided by SEC Regulation D Rule 506(c). Only accredited investors who meet the SEC Regulation D 501 "accredited investor" accreditation standards and who provide suitable verification of accredited status may invest into this Offering.
Any historical performance data represents past performance. Past performance does not guarantee future results;
Current performance may be different than the performance data presented;
The Company is not required by law to follow any standard methodology when calculating and representing performance data;
The performance of the Company may not be directly comparable to the performance of other private or registered funds or companies;
The securities are being offered in reliance on an exemption from the registration requirements, and therefore are not required to comply with certain specific disclosure requirements;
The Securities and Exchange Commission has not passed upon the merits of or approved the securities, the terms of the offering, or the accuracy of the materials.
Contacts
Midland Energy America LLC

Daniel Macri

1-702-964-1917

www.midlandenergyamerica.com

danielmacri@midlandenergy.com.au