Northstar Gold Corp. Provides Initial Public Offering Update
Tickers: XCNQ:NSG
Tags: #Mining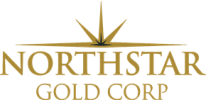 New Liskeard, Ontario – TheNewswire – September 23, 2019. On Sept 20th, 2019 the Northstar Gold Corp. (the "Company" or "Northstar") Board of Directors and Management Group elected to withdraw its Prospectus dated June 28, 2019. The Company intends to shortly file a new preliminary prospectus in connection with a minimum offering for $2,300,000 and a maximum of $4,000,000 at $0.30 per share (the "Offering"). The Offering remains co-sponsored by Haywood Securities Inc. and Canaccord Genuity Corp., provides for general working capital and a $1.1 million Phase I exploration and drill program on the Company's flagship 100%-owned, historic resource-stage Miller Gold Property, situated 18 km southeast of Kirkland Lake Gold's Macassa South Mine Complex (SMC) in the prolific Kirkland Lake Gold Camp.
IPO Marketing Activities to Date
Northstar originally filed a final prospectus dated June 28, 2019 with the Ontario Securities Commission (and all other Canadian jurisdictions, except Quebec) and had 90 days to close the Offering, which expires on September 26, 2019. The marketing campaign proved challenging over the summer months and this deadline did not provide adequate time to close the Offering, despite an increasingly positive response and improving market conditions. In light of this, management decided it was in shareholder's best interest to withdraw the prospectus. Northstar is currently preparing a new preliminary prospectus which is expected to be filed shortly. If a final receipt is issued by the Ontario Securities Commission, Northstar will have an additional 90 day distribution period from the date of a final receipt to close the Offering.
NorthStar management wishes to thank those who have already indicated a desire to participate and hope you will renew your interest by contacting your investment advisor once the new prospectus is approved and available.
About Northstar Gold Corp.
Northstar has operated for the past 10 years as a private company focused primarily on gold exploration in the prolific Kirkland Lake District in northeastern Ontario (>24.5M oz gold produced from 7 mines since 1915). During this time, the Company raised nearly $10 million to acquire and advance 3-100% owned gold and base-metal properties in the Kirkland Lake region. Prior to the IPO, in early 2019 the Company consolidated its share structure, augmented and restructured the Board of Directors and Management Group with a number of highly experienced and accomplished mining, exploration, corporate development and investment banking professionals and raised $650,000 by way of Private Placement to provide for on-going exploration, the IPO and a public listing on the CSE.
For additional information on the Company or Offering please visit the Company website at www.northstargoldcorp.com. Please click here to view the Company's investor presentation, fact sheet and Miller Gold Property NI 43-101 Technical Report.
On behalf of the Board of Directors, For further information, please contact:
Mr. Brian P. Fowler, P.Geo.
President, CEO and Director
(604) 617-8191
Derek Wood
Conduit IR
(403) 200-3569
Cautionary Note Regarding Forward-Looking Statements
This news release contains certain forward looking statements which involve known and unknown risks, delays, and uncertainties not under the control of Northstar Goldcorp. which may cause actual results, performance or achievements of Northstar Goldcorp to be materially different from the results, performance or expectation implied by these forward-looking statements. By their nature, forward looking statements involve risk and uncertainties because they relate to events and depend on factors that will or may occur in the future. Actual results may vary depending upon exploration activities, industry production, commodity demand and pricing, currency exchange rates, and, but not limited to, general economic factors. There is no certainty that a preliminary or final prospectus will be filed with the Ontario Securities Commission (or any other Cdn. jurisdiction) and there is no certainty that if a prospectus is filed that a final receipt will be issued by the Ontario Securities Commission for a prospectus.
Copyright (c) 2019 TheNewswire – All rights reserved.