NAI Ohio River Corridor's Custer Is Very Bullish on Petrochemical, Chemical and Derivative Products
BOLIVAR, Ohio–(BUSINESS WIRE)–#AppalachianBasin–Royal Dutch Shell has invested between $7 – $9 billion in the first world-class polymer complex in the Appalachian Basin. PTTGC is going to invest at least that amount in its Ohio complex. Adding to these two cracker facilities is the rumor of a third world-class polymer complex within the Appalachian Basin.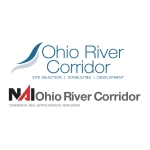 "The investment opportunities are significant with two complexes in the valley, but now the prospect of a third world-class facility indicates the attractiveness of low cost natural gas, proximity to market and better resilience from natural disasters in the region," commented Bryce Custer, SIOR, CCIM, and principal of NAI Ohio River Corridor (NAI ORC), local affiliate for NAI Global and subsidiary of Ohio River Corridor, LLC.
The Ohio River Valley will see unprecedented petrochemical, chemical and derivative product investment in the region over the next five to fifteen plus years. The investment in the Appalachian Basin will dwarf the investment of years past in steel and manufacturing, which has been the backbone of the region for decades.
These potential investment opportunities will be identified and discussed at The Inaugural Appalachian Basin Real Estate Conference, which will be held on December 11th and 12th at Oglebay Resort in Wheeling, West Virginia.
NAI Ohio River Corridor, the region's leading commercial and industrial site selection and real estate consultation group is the presenting sponsor of the Appalachian Basin Real Estate Conference.
"Our NAI ORC team has seen an influx of national and international companies inquiring about the area over the past couple of years. This is just the beginning of a major re-industrialization of the region. With existing rail, river / barge and road infrastructure, the area offers superior logistics and supply chain advantage for national and international companies looking to participate in this petrochemical hub," said Custer.
The conference speakers will include Adam Bruns, managing editor, Site Selection Magazine; Matt Kelley, principal at Novogradac, the leading Federal Opportunity Zone accounting firm in the nation; Tom Gellrich, principal at TopLine Analytics, an internationally recognized petrochemical expert; Dr. Charles Zelek, Senior Economist, Department of Energy Fossil Fuels and Mark Locker, Maritime and Freight Project Manager with ODOT.
Conference sponsorships are available by contacting Joe Barone, [email protected].
About Shale Directories
Shale Directories (www.shaledirectories.com) is the leading online directory in the Appalachian Basin and conference producer including Utica Midstream, Upstream PA 2019, Midstream PA 2019, and the Appalachian Storage Hub Conference.
About NAI Ohio River Corridor
NAI Ohio River Corridor a full-service commercial real estate specialist in Southeastern Ohio and West Virginia (Utica and Marcellus Shale). As an NAI Global affiliate, we provide access to the single largest, most powerful network of commercial real estate firms with 6,000+ brokers in 375+ offices across 55 countries. To find out more, please visit www.NAIOhioRiverCorridor.com or www.OhioRiverCorridor.com.
Contacts
Joseph Barone, President

610-764-1232

[email protected]
Bryce Custer, SIOR, CCIM

330-418-9287

[email protected]