Nordic Gold Announces Restructuring Fee
Tickers: XTSX:NOR, PINX:FIEIF
Tags: #Mining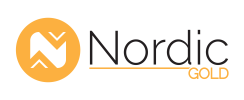 October 21, 2019 – TheNewswire – Vancouver, B.C. – Nordic Gold Inc. ("Nordic" or the "Company") announces it will issue an aggregate of 26,612,000 common shares in the capital of Nordic at a deemed price of $0.05 per share to B & A Wesson Pty Ltd and C & C Wesson Pty Ltd, associated entities of Brian Wesson and Clyde Wesson, two directors and senior officers of Nordic. The shares are being issued in recognition of the costs incurred and work carried out by Lionsbridge Capital Pty Ltd. ("Lionsbridge") before assuming management of the Company and the subsequent execution of a settlement agreement (see Nordic's press release of October 7, 2019) resulting in the Pandion debt being reduced from its value of CDN$63.4 million (as valued at September 30, 2019) to USD$24.56 million. The common Shares are being issued as a restructuring fee payable pursuant to a services agreement dated July 2, 2019 between Nordic, Lionsbridge and Westech International Pty Ltd, as approved by Nordic's shareholders on August 28, 2019. For further details, see Nordic's management information circular dated July 24, 2019.
The share issuance constitutes a "related party transaction" as defined under Multilateral Instrument 61-101 Protection of Minority Security Holdings in Special Transactions ("MI 61-101"). Nordic is relying on exemptions from the formal valuation and minority shareholder approval requirements provided under MI 61-101 on the basis that participation in the private placement by such insiders will not exceed 25% of the fair market value of Nordic's market cap.
The common shares once issued will be subject to a four month hold period. The issuance of the common shares is subject to the approval of the TSX Venture Exchange.
For further information, please contact:
Brian Wesson
President and Chief Executive Officer
300 – 1055 West Hastings St.
Vancouver, B.C. V6E 2E9
www.nordic.gold
For up to the minute news, industry analysis and feedback follow us on Facebook, LinkedIn and Twitter.
About the Company
Nordic Gold Inc. is a junior mining company with a near production gold mine in Finland. The Laiva Gold Mine is fully built, fully permitted and was previously financed to production via a gold forward sale agreement provided by Pandion Mine Finance. The Laiva Gold Mine is currently not in production and is on 'care and maintenance'.
Neither the TSX Venture Exchange nor its Regulation Services Provider (as that term is defined in the policies of the TSX Venture Exchange) accepts responsibility for the adequacy or accuracy of this release.
Copyright (c) 2019 TheNewswire – All rights reserved.