Register for Our LIVE INVESTOR SUMMIT: Multi-Million Ounce Gold Potential in Idaho (Wed Oct 23rd at 3pm EST)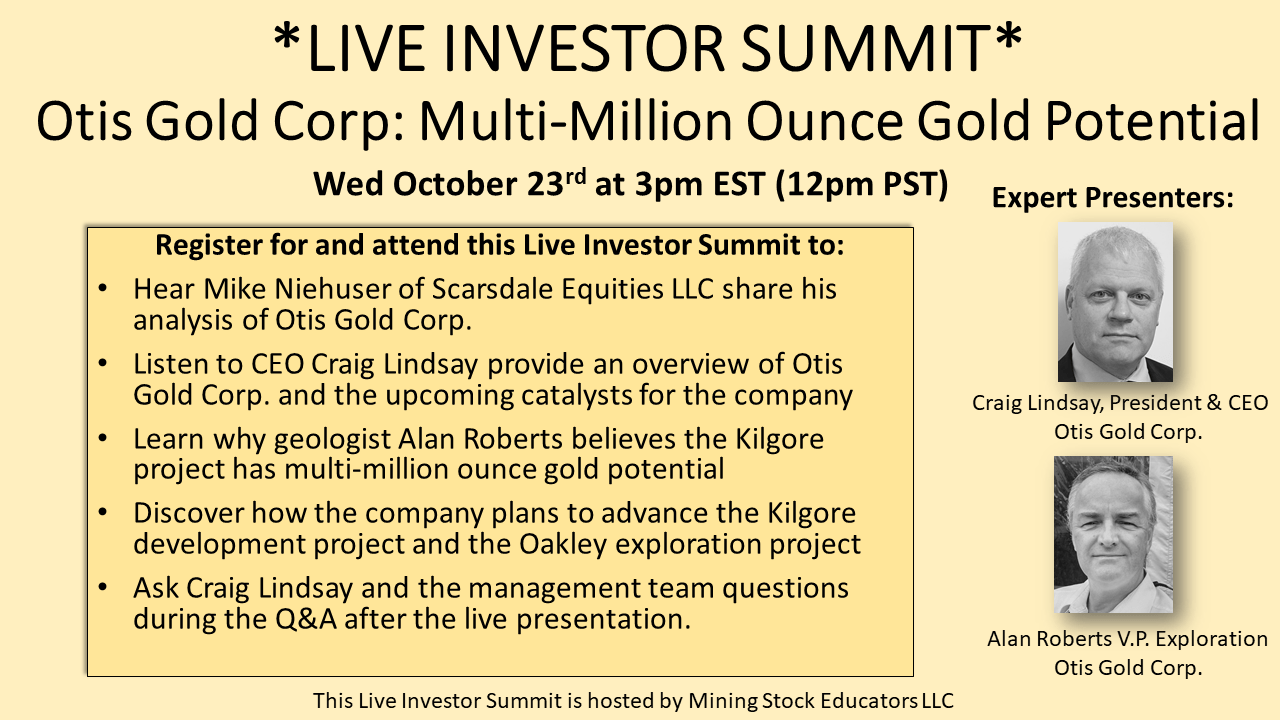 Otis Gold Corp. has a 100% ownership interest in gold and silver projects located in the world-class mining jurisdiction of Idaho. The company is currently focused primarily on the development of its flagship Kilgore project at which drilling is currently underway to expand its existing nearly one-million-ounce gold resource. The Kilgore project PEA has demonstrated an impressive 53% IRR at $1,500/oz gold.
REGISTER AND ATTEND THIS LIVE INVESTOR SUMMIT TO:
• Hear Mike Niehuser of Scarsdale Equities LLC share his analysis of Otis Gold Corp
• Listen to CEO Craig Lindsay provide an overview of Otis Gold Corp. and the upcoming catalysts for the company
• Learn why geologist Alan Roberts believes the Kilgore project has multi-million ounce gold potential
• Discover how the company plans to advance the Kilgore development project and the Oakley exploration project
• Ask Craig Lindsay and the management team questions during the Q&A after the live presentation
ABOUT THE PRESENTERS:
Craig Lindsay is the President and CEO of Otis Gold Corp with over 20-years' corporate finance, investment banking and business development experience in N. America and Asia. Former President and CEO of Magnum Uranium Corp. until its sale to Energy Fuels Inc. A former Vice President in the Corp Finance and Investment Banking Group at PricewaterhouseCoopers LLP.
Alan Roberts is the Vice President of Exploration for Otis Gold Corp and has over 25 years' global experience at various exploration and resource development projects throughout around the world. Most recently, Exploration Project Manager for Newcastle Gold at the Castle Mountain epithermal gold project, California, USA.
Mike Niehuser is an analyst with Scarsdale Equities LLC. He co-founded Beacon Rock Research, LLC, a group producing institutional research on precious, base and industrial metals, oil and gas and alternative energy. Previously a vp/senior equity analyst with the Robins Group, he was also an equity analyst with The RedChip Review.
This Live Investor Summit is hosted by Mining Stock Educators LLC.