Ivan Bebek: 2020 is the Year of Drilling for Auryn Resources
In this interview, Executive Chairman Ivan Bebek provides an update on Auryn Resources' numerous projects in both Peru and Canada. Next year will be a big year of drilling for Auryn as Ivan shared: "2020 is going to be led by drilling, for the most part. That is going to be the number one catalyst. We right now are foreseeing about 18 months' worth of drillable targets. And we've started permits for even more drill targets in the background at Sombrero that should continue after that time. So I think drilling is the main driver for us and that is where the share price will react the most."
0:05 Introduction
1:02 Curibaya project update/overview
4:27 Curibaya permitting, accessibility and infrastructure
5:43 More staking at Sombrero: Macha Machay
7:26 Is Sombrero creating a staking rush?
8:44 Sombrero is on track for February 2020 drill permits
9:11 Committee Bay project update
11:20 Drilling, drilling & more drilling in 2020
13:50 Should the uptick rule be reinstated on the TSXV?
18:40 Analysts' AUG price targets
Ticker: AUG
www.AurynResources.com
TRANSCRIPT:
Bill Powers: So Ivan, thanks for joining me again. And as I looked over your last few press releases, it seems like you're doing a lot at your Curibaya project in Southern Peru.
Ivan Bebek: Yeah, thank you very much. Great to be back. The Curibaya project actually, we acquired four and a half years ago and we had one third of two big land claims that make up an 11,000 hectare property on one of the most prolific belts in Peru. Mines such as Cerro Verde, Toquepala, Quellaveco or Tia Maria's that just got permitted for construction.
Now this is really got some of the biggest mines in Peru, even bigger than Las Bambas on this belt, but again, another world-class trend. What we liked about it originally was the address. If you want to find a big mine, you have to go on these big trends. But when we finally were able to get the other two thirds owned by a Peruvian as well as, I guess a major mining company had surrendered their third because they couldn't get all three, to this Peruvian entity.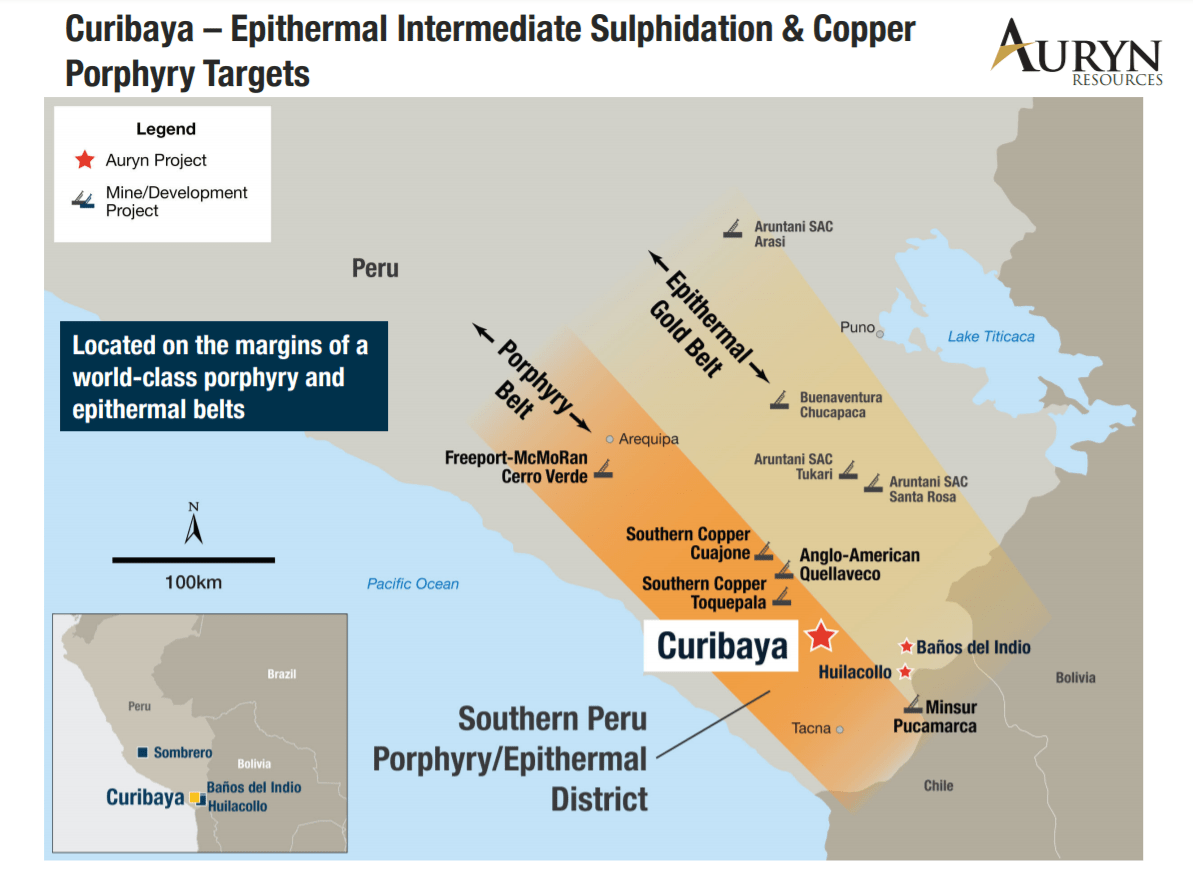 The Peruvian entity actually was an Australian-listed company that ran out of capital for its exploration and became a hearing aid company. So what we did was, we negotiated with the hearing aid company. They wanted a straight purchase, they weren't mining oriented and we came together for a quarter million dollar US purchase in August.
What we saw that we liked on this portion of our position on the belt was, we saw some historical high grades and we thought this is exciting. There's high-grade silver, gold, and copper on this belt of these major mines. And if you looked at our last two press releases, you now see over 55 samples of silver from 200 grams silver to 14 kilos silver with a lot of one to two, three kilos, silver and over a six square kilometer area.
That's truly spectacular from any perspective walking onto a property and getting that as your first look. To go with the silver, we're seeing 1 to 25 gram gold and 40 samples over the same area. And then there's these big structures coming into it from the west that are running from 1% to 14% copper.
So what that means so far and what we do and what we don't know about it is this, is right address. The scale is six square kilometers of ridiculous grade of silver, gold and these big copper structures coming through. We feel strongly that we're either right on top of one of these major porphyries or right beside it. A mine that would be similar to Chucapaca. You see a big gold on top of the porphyry, beside the porphyry.
You could see a nice big precious metal deposit that sits on top or right beside a major porphyry. And so our swing here is quickly becoming competitive to the first targets we're going to drill at Sombrero. And I say that not to take away from Sombrero, but we're sitting back with a massive surprised look on our face to saying, "We can't believe this sampled so well."
And it's got the same theme that not only Sombrero, but Keegan or Cayden, our previous companies had. Each time we send somebody to the project, they come back with a new positive development. And that's how Sombrero started was, we went to see it six times in a row and it got better each of those six times. And now it just keeps getting better on a bigger scale, right?
In terms of Curibaya, we'd been to it twice. There's a whole team that just went to it this week and the guys are already buzzing on how they're really putting the pieces together. So, I think from an investor standpoint, it's a spectacular opportunity that's not just base metals, but has a really nice precious metal start with the best silver grades I've seen in my career to date. And yeah, we're just getting started on it.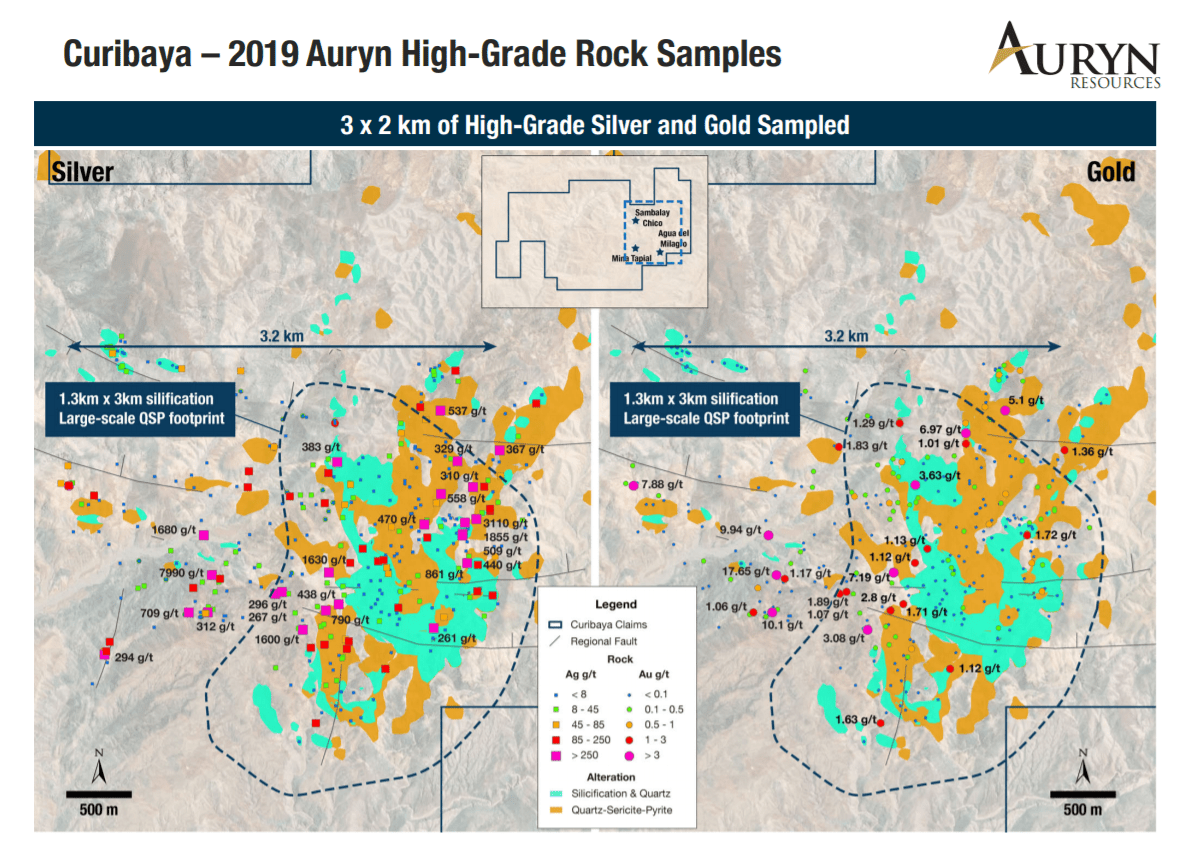 Bill: You have excellent accessibility and infrastructure at your Sombrero project. You're going through permitting there, but before you give us an update on that, how does the Curibaya project compare when it comes to permitting, accessibility and infrastructure?
Ivan: Great question. Permitting, much easier. Huge check mark there. We can apply for a different type of permit in Peru that takes about six months from start to finish. So less arduous process. That is a consequence of a lesser populated area that's a down by the coast.
So it's an easier place to work. You're at reasonable elevation. Topography is working well for us. I don't think any project is as situated as well as Sombrero with power lines that were built on top of the property since we owned it, but it is very accessible that way. Power is not far. It's not as good as Sombrero, but it's still good.
I think the big part there is you've got to look towards the accessibility is really good and the actual permitting is going to be a lot quicker and easier because of where it is. But there's no concerns from an infrastructure standpoint at this time. And there's a lot of options how you'd bring power in and there's definitely access to water. So another really good place in Peru to be, a little bit better because less people are present, makes the permitting easier. But a really, really good place from that perspective.
Bill: So with your Sombrero project, which was already huge, about a month ago, you announced the additional staking of some more land there. Can you tell us about this?
Ivan: Yeah, this is interesting. We're waiting for these permits. Impatiently. I'd say that facetiously, but we're patiently waiting for these permits. And the guys had a few holes in the 7,000 square kilometers that we screened, trying to put together this really optimal land position as first movers on extending that huge belt.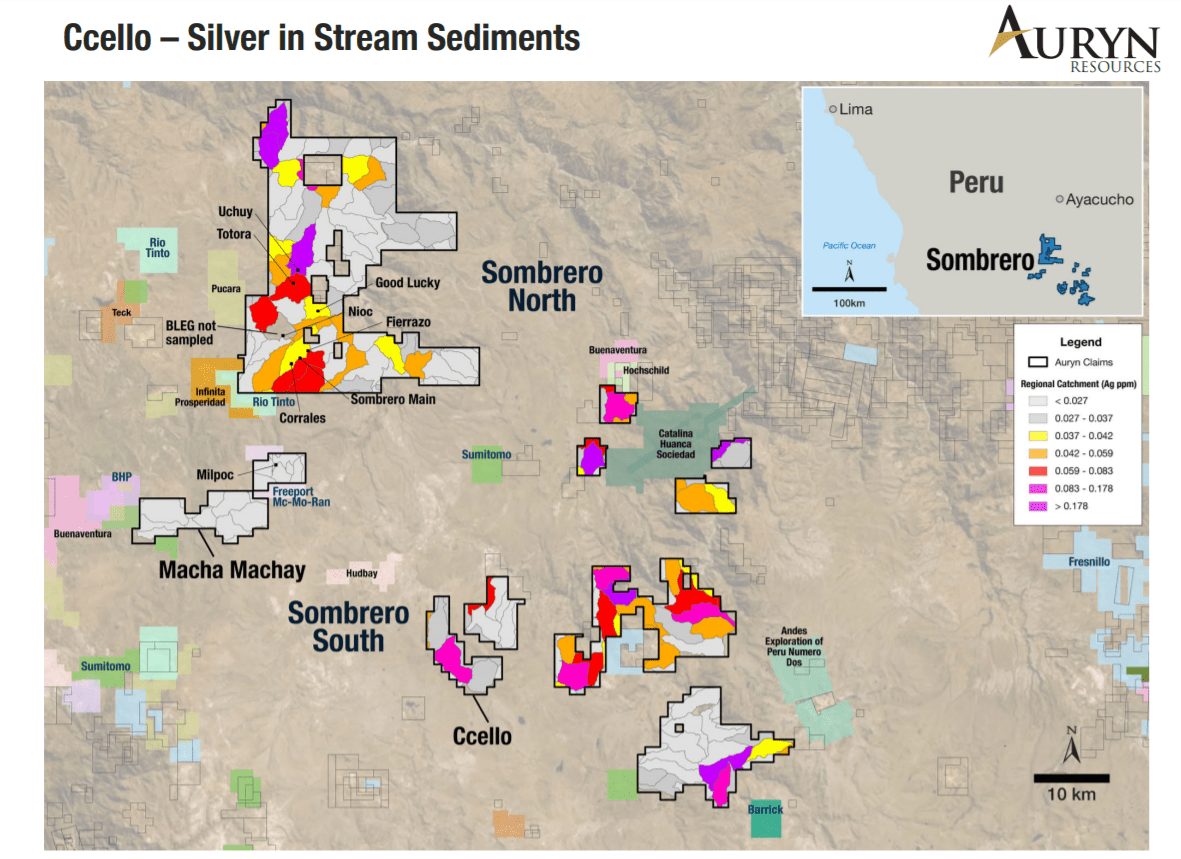 What happened was, we went back to one of these holes at a very low cost and we started screening ground. And doing more of our BLEG sampling, which is going down into the valleys and sampling, basically, the clays or the icing sugar kind of grained sand to get a very representative idea of copper and gold in the regions.
We found our highest grade copper in the entire 7000 square kilometers we sampled. Even much higher than what you see at Sombrero North, where we're about to start drilling that the whole world's excited about. And this is a 72 square kilometer footprint. So it's big, it's really big. And it got the phone ringing from a lot of people on the technical side that follow our progress here.
For us, the second major thing about it, it's within the same community we already have agreements with. So I think you can expect to see us real shortly, if not in the next few weeks, early next year, we'll be sampling it and getting it ready to put it into the drill permitting process system early next year.
But truly spectacular. I mean it's the highest grade we've sampled by the methodology that puts Sombrero together, year to date. And it's over 72 square kilometers, which is truly, it's a size that we look for as an exploration team.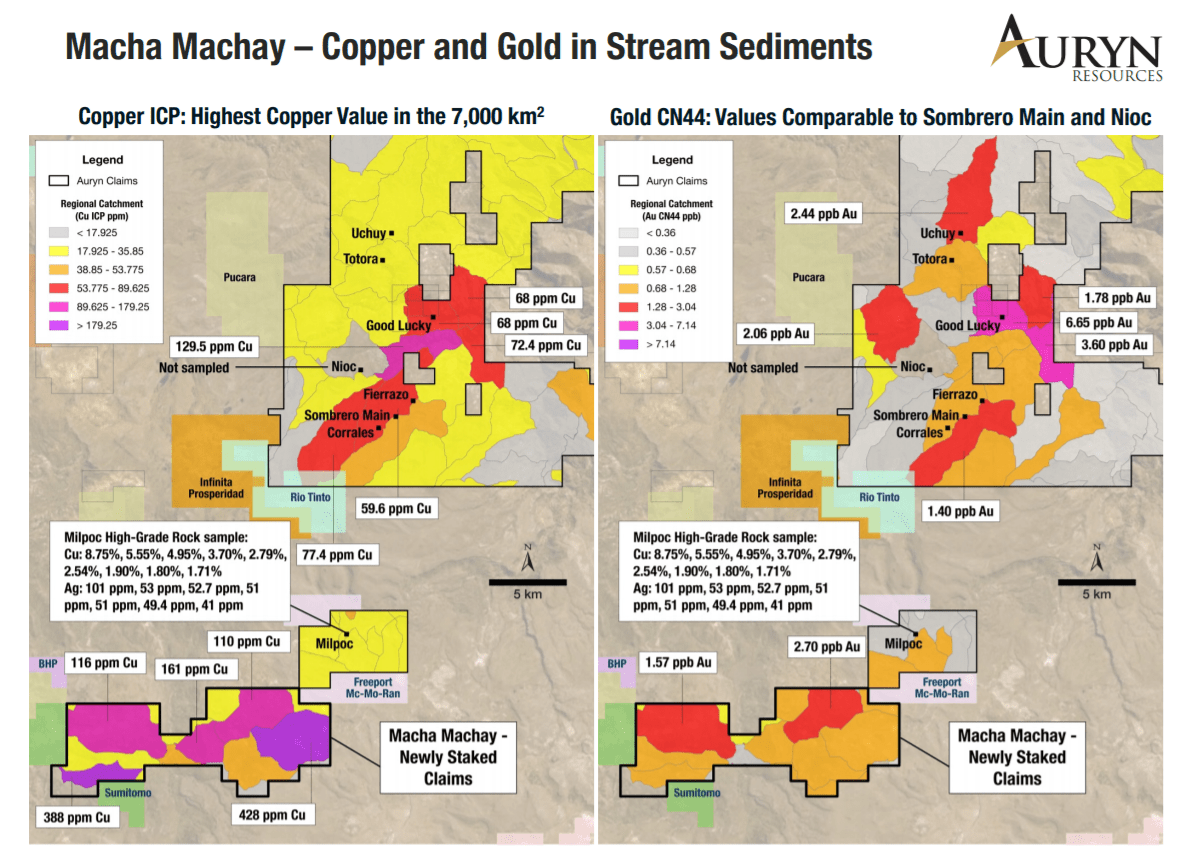 Bill: You've mentioned in past interviews with me that you have confidentiality agreements (CA) signed with some majors because of your Sombrero project and its prospectivity. But with all this additional staking and the results you're bringing forth to the market, is there a staking rush going on around you here?
Ivan: Oh, that's a good question. Not everybody signed confidentiality agreements. And the reason why people do it is so that they can have a look at your raw data. Because we show the high level to the market and it's proprietary information. And it puts the company at risk if you don't have some type of an arrangement, if you're going to show your data.
A lot of the parties that didn't sign CA's, I'm not going to isolate any individual and I'll actually mention all of them because they're on our map. But you see Freeport-McMoRan staking right next to it. You see Rio Tinto. You see Sumitomo. These are three major, major mining companies that didn't sign CAs and they've all got claims adjacent to us now on this belt.
So no question, is there a bit of a staking rush, but there's not a lot left for them to stake, of consequence. Because I have to complement our technical team, they were very thorough and we were very aggressive in putting together the commanding land position for the belt. So I like to think we got most of it, at the very least. And it's nice to see them staking adjacent to us and some of our claims, not just here, but also by Sombrero North.
Bill: Ivan, in our last interview, you had talked about potentially putting the drills there at Sombrero in February. Are we still on track for that?
Ivan: It's not a science or a fixed date that you can rely on, but we're still on track for February, Q1, to have permits to go drill. So that's very much in line. That hasn't changed yet and we look forward to that. If that changes, we'll certainly, we'll update you and the rest of our shareholders. But as of right now, that stays as the time we plan to have our drill permits.
Bill: You also had news from Committee Bay in Northern Canada. Can you give us the highlights of what you announced here in October?
Ivan: Sure. It was the smallest program we did in five years. We've now spent about $60 million trying to figure out on how to find gold underneath cover in one of the more tougher regions in the world to go explore. The good news is the rewards are huge here. The breakthrough we had this year would fall into the technical success category.
We found a signal in our geophysics, that's basically the currents that we put into the ground to see what's underneath the ground. And it was very, very specific to the high grade at Three Bluffs, our deposit of 1.2 million ounces of nearly eight grams per ton. So what the guys have done is, they took all the tens of meters that we've drilled. We've drilled 30, 40 meter widths, which would be mining widths in this part of the world, of lower grade. And they compared the signals on a statistical basis to the high grade.
Needless to say, we now have the signal for high grade. It's the key. I think that's going to be a massive driver for us on making, not just drilling minable widths of gold, which we've done extensively, but to actually go find the high grade portion of these things.
That is something that has come out as a revolutionary discovery for us, technically. And we are now looking at all the data we have along the belt and we're compiling targets and hopefully at some point in Q1, we're going to have a press release, which will show people how many of our targets are currently ready for drilling, from that data. And then how many more we're going to want to go back and do some more work.
But the goal at Committee Bay is really to do what we did a few years ago before Goldcorp invested $36 million. And that's going to be to go up and down the belt and put together 10 or 15 targets that have that high grade signal to go with all the other gold elements we've found. But truly it's a bull market project. We've always said that. We've never shied from it because it is in the Arctic, but it still is one of the premier places on the planet to go find multiple 5 million ounce high-grade discoveries, as they're being found in the Arctic. And mines are being built, such as Amaruq by Agnico Eagle. So it's something you'll see more from in Q1 and it's really exciting for us because we think we finally cracked the way to target high grade up there.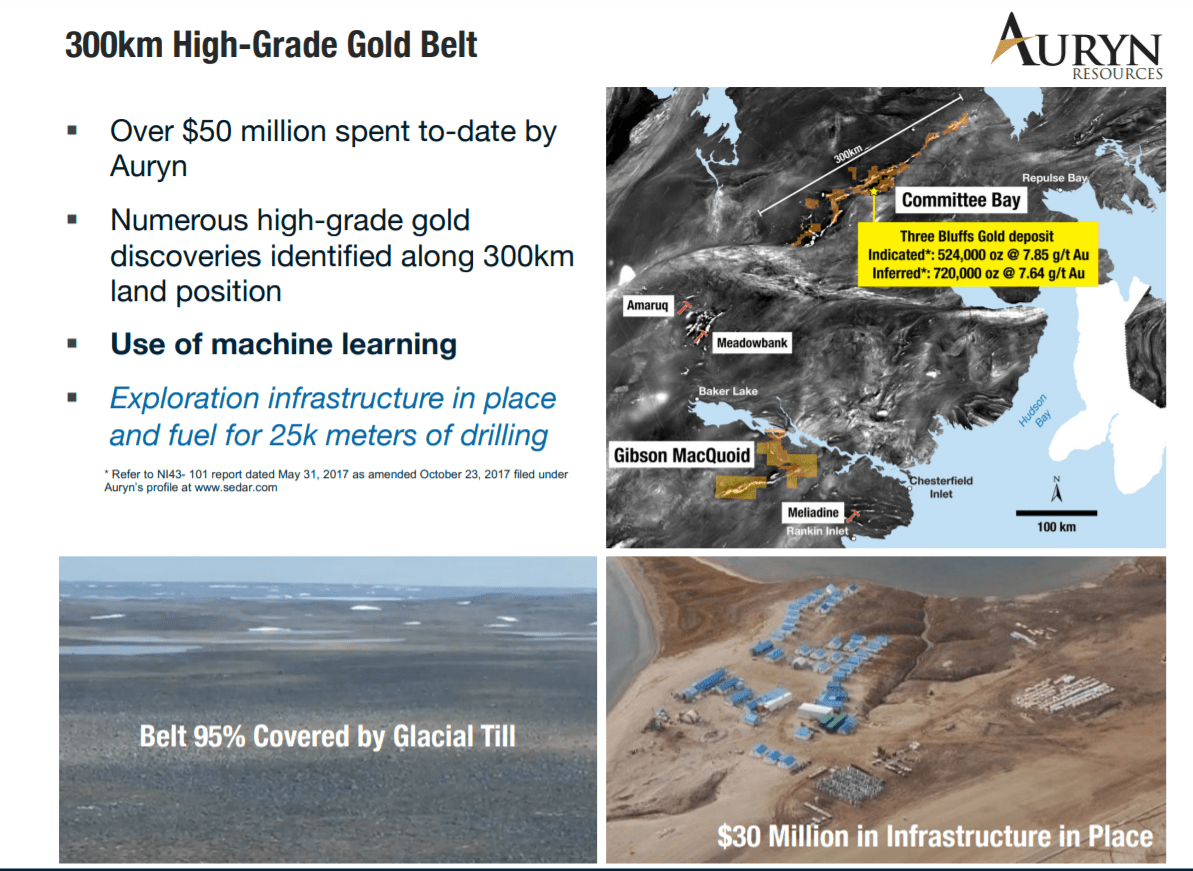 Bill: So could you provide an overview of what speculators should look forward to in 2020 and how are you going to finance this?
Ivan: First of all, 2020 is going to be led by drilling for the most part, that's going to be the number one catalyst. We anticipate, as I mentioned, the drilling for Sombrero North, specifically, Sombrero main targets in the first quarter. And we believe those will be followed by permits to drill in Nioc, our second target, midway through the year. And then the third or the last quarter of the year, we're going to have access to drill Curibaya. So we right now are foreseeing about 18 months worth of drillable targets and we've started permits for even more drill targets in the background. At Sombrero, that should continue after that time. So I think drilling is the main driver for us and that's where the share price will react the most.
Secondly, on the Canadian side, you're just going to see both Homestake and you're going to see the Committee Bay come together with number one, Homestake where we have information to put out there. We've worked on it this summer. We're looking to expand targeting on it as well as to talk a bit more about the value of that project. But on committee Bay, you're going to start to see the platform for major potential gold discoveries on the back of five years of trying to figure out the science there.
So it's going to be a busy year, predominantly led by Peru. We get to drill everything we love in Peru, continuously. Then the Canadian side, it's going to be a bit quieter just because we're going to be focused in Peru and watching our treasury.
You asked me how we're going to finance it. Great question. We financed ourselves this year. We've done three financings, two were with insiders and close friends and family. We've stayed away from doing a market financing because we're looking for a very special type of investor. Somebody substantial on the strategic side that would be more of a deeper-pockets, well-known representative that would upgrade the shareholder registry. And that person is somebody we're patient to wait for while we finance ourselves. If not, potentially a corporate at some point. We may entertain another one like we have in the past at a premium to our share price, should there be interest and the terms be favorable. But we're very anti-dilutive, as you're aware, and we're looking to make sure we're upgrading our registry.
We've been offered money quite a bit this year. And you can tell by our share price performance it's not really that impactful, but we're going to look to do something that's extremely intelligent in terms of upgrading the shareholder registry. And you'll probably see something between now and February, but we don't have any immediate plans to rush anything because we're funded right now through those time periods.
Bill: Ivan, in the junior mining sector news this week, it's been the idea or the re-implementation on the Toronto Venture Exchange of the uptick rule where you can't short a sub-$250 million micro-cap company unless that company is trending upwards. I talked to Rick Rule in a recent interview and he is not for the reinstatement of that. He said let free markets be free markets. His friend Eric Sprott, however, is for the reinstatement of that rule. What's your take here?
Ivan: That's very interesting because they both work with Sprott. So I can imagine what the dinner conversation is like there with them. As a consequence of heavy shorting that we've experienced throughout the year, we've had several investors complain and we have complained to the Toronto Stock Exchange, to the New York Stock Exchange. Because at the last 30 seconds or 50 seconds of the day, you see this downtick that's uncharacteristic to the daily volume. And it's like a manipulation downwards, right? It does not give fair trading representation to the company. If we weren't victim of that kind of treatment and if you were to ask me, the bigger question was, where do you think you guys should be trading today on an opportunity like Sombrero?
Forget everything else that you have and your technical team. And we're describing Sombrero is an analog to Las Bambas, the 10th largest copper mine in the world. Where should speculators be on your share price? I'd say we're grossly undervalued, full stop. And this would be based on third party validations, both from analyst as well as major mining companies. And trusting an extremely intelligent technical team that's formed of global experts from Newmont.
So I find that our busy-ness in our trading and watching our share price, we're putting a lot more money and energy towards making sure our stocks are fair-valued. We have a public float that's not between really good investors that are longterm investors of about 15 million shares. We've traded 70 million shares between Canada and our US exchange from January 1st. I'm quite sure we haven't turned over our investors four or five times this year, as it would represent by the volume. So it's unfair to the average speculator because it takes a lot away from the opportunity that's in front. We don't have an ambition to be 50 cents higher. We don't mind if we're 50 cents lower. What we care about is delivering this tier one discovery to the market.
However, I think some investors get deterred at times when they say, "Hey, Ivan, if it's so good and you have all this confidence in it, you have all this third party validation, why is the stock not performing better?" On good days, we go down and bad days, we go up. You know what I can't explain is, in the last few weeks since we announced Committee Bay, I saw about a 5 million share buy order in our market and I have no idea who that was and where it came from.
Was it short covering? Possibly. Is it some kind of a corporate strategic taking a toe hold in the company? Possibly. I don't know. But because there's so much of this shorting in this, there's no uptick rule, it's really tough for us, as a company, to explain it. So we just try to focus more on the general business of the company.
And this is why we've been so militant about finding the right investors and doing a financing that would not be the typical one that would expose us to where shorts could cover through financings and stuff like that. So, I think it's a big problem. I would side with Eric Sprott for good reason. I think that companies in this state, insiders are buying stock as I bought lots of shares of Auryn to represent my confidence alongside shareholders. I think that it's unfair for companies like this, in turbulent markets because all markets being equal.
And to Rick's point, I don't disagree with that, that a fair trade market environment is completely legitimate. However, I don't agree with the manipulated in market environment either. And we're looking at an industry, which is having a hard time finding capital and raising capital. And we're looking at an industry that it's having also, a hard time finding major deposits, as they're a lot harder to find globally.
So if we cripple the stocks that are trying to go out and raise money. And find these discoveries that are going to be essential towards the future copper demand and the electrification of the planet and clean energy, clean burning or other metals that are used on it, even on an industrial basis, it's going to really put the planet in a unique place. It'll probably make commodity prices go through the roof. But no, it's an industry that's tough enough as it is without that. We're coming out of that bear market now and that's a really exciting thing. And I think eventually this all goes away, but for the time being, it's been tough for the last couple of years for a lot of people. And not so much ourselves, but a lot of other companies.
Bill: Your price on the US exchange right now is about a $1.30 per share for Auryn. And then you have in your presentation on page 31, several analysts that are setting forecasts of US$2.00; US$2.20 and US$3.25. And just as an investor myself, I've always struggled with, on stocks like yours and companies that are built like yours, where the speculators will be rewarded for exploration. How do these analysts even come up with these price targets? Because if you're successful, as you've articulated to me and my audience, your price is going to be a lot higher than US$3.25.
Ivan: You know what? I think this, until the first drill holes come out and we call that the truth machine and it shows the world what's here, I think there's going to be a lot of different opinions at the dinner table, right? Some people are going to say, "Hey look, your analysts are global experts from Newmont. They're legitimate. You've done this twice before and you've rewarded investors incredibly well. We respect the fact that other major mining companies recognize the opportunity and analysts are describing it as is."
If you look at Beacon's most recent report, he was just on a site visit last week. Michael Curran, he is a really well respected analyst and he qualified Sombrero as the right rocks, the right place and the right scale. And everything that we're advertising is being validated.
So, I think that when you start to drill this kind of a project, I think that these analysts, things will change a lot. And I think that you'll see targets that are more representative. The other thing I will caution a lot of your viewers and everyone is some analysts are not geologists. And if you want to speculate properly, look to the analyst who's a geologist and see what he has to say.
I know a lot of people that are not geologists, they're well-educated. They know the marketplace well, but how are they going to understand the geophysics? The geochemistry? The cool sciences that we use to go find these deposits? So, I'm not saying I want higher buy targets today. I'm saying that they will probably allot closer together once things start happening, but look to the analysts that have some sort of technical background. And the ones who've been to the project with that background because they truly are going to be the ones that understand it better.
I've seen analysts, I mean, we have a CAD$5 buy target out of Canaccord. And I mean, who is right? Is it him or is it a US$2 target? I think these targets are all based off of our Canadian assets. I think very few of them have factored much in terms of value for Sombrero and what it might be. If you were to go and say, "What's a fair price? Where do you think this could go if Sombrero's right?" All I can do is say, if we found another Las Bambas, which is what are, what we think we're going to do here in the Northern part of our Sombrero claims, that company sold for $8 billion.
Glencore sold that asset to MMG in 2014. Two billion I believe, was infrastructure. About six billion was the value that was given for the metal content, which is about $50 billion ore body today, gross value. If you take half of that and you take two and a half or $3 billion of the six billion that was given for that part of it, and we're copper gold, not copper moly, you're looking at current dilution, assumed share price. You're looking at around $25, $30 a share is what we'd be hoping to deliver to shareholders. By analogy to something that's right next door, same rocks, same age of rocks, which is critical. And when you're looking to just say you have the same system and same scale of mineralized rocks that we've mapped and sampled so far. So I think there's a lot of room here to create a 10 to 20 time your money investment and that's something we've been chasing for our investors from day one. It is a long road to big returns and there's a lot of risk along the way.
If Sombrero works, and I say "if", and I should say "when", but I'm going to be just, very cautious here. Just because I'm just optimistic and I don't want to pin myself in a corner. But if and when it works and we start to get Sombrero right, I mean, the challenge isn't for us, isn't going to be share price performance. It's going to be holding onto the asset long enough, because I think it's going to be in the wheelhouse of all the major base metal companies in the world. And I think it's going to be quite competitive.
I have not seen somebody go and extend an entire belt and stake the entire belt in the last two decades. And sky's the limit of how many of these things can be found. Right now, we see three years of exploration just in the North, to get through the first targets. Then we come down to Macha Machay and we look at the other claims we have in the belts. I mean, this is truly, probably 10 to 20 years of exploration discovery potential across the belt. And why it's so preserved is because there's a lot of volcanic cover, so you can't see the rocks. But there's ways to apply science to test it.
At Sombrero itself, we're seeing stuff undercover through geophysics, that we haven't even…we're analyzing right now. We haven't announced yet, but we're just seeing more and more big evidences, big clusters of potential other intrusions. So size is the appeal, getting an entire belt as a junior company or even as any company, whether you're a major or junior, is truly a once in a lifetime opportunity. And that, I think, is being missed largely by the marketplace. Yes, we need money, but we're going to take it from a very good place. We are going to do it on our terms, not anyone else's. And we're going to be very careful how we do that.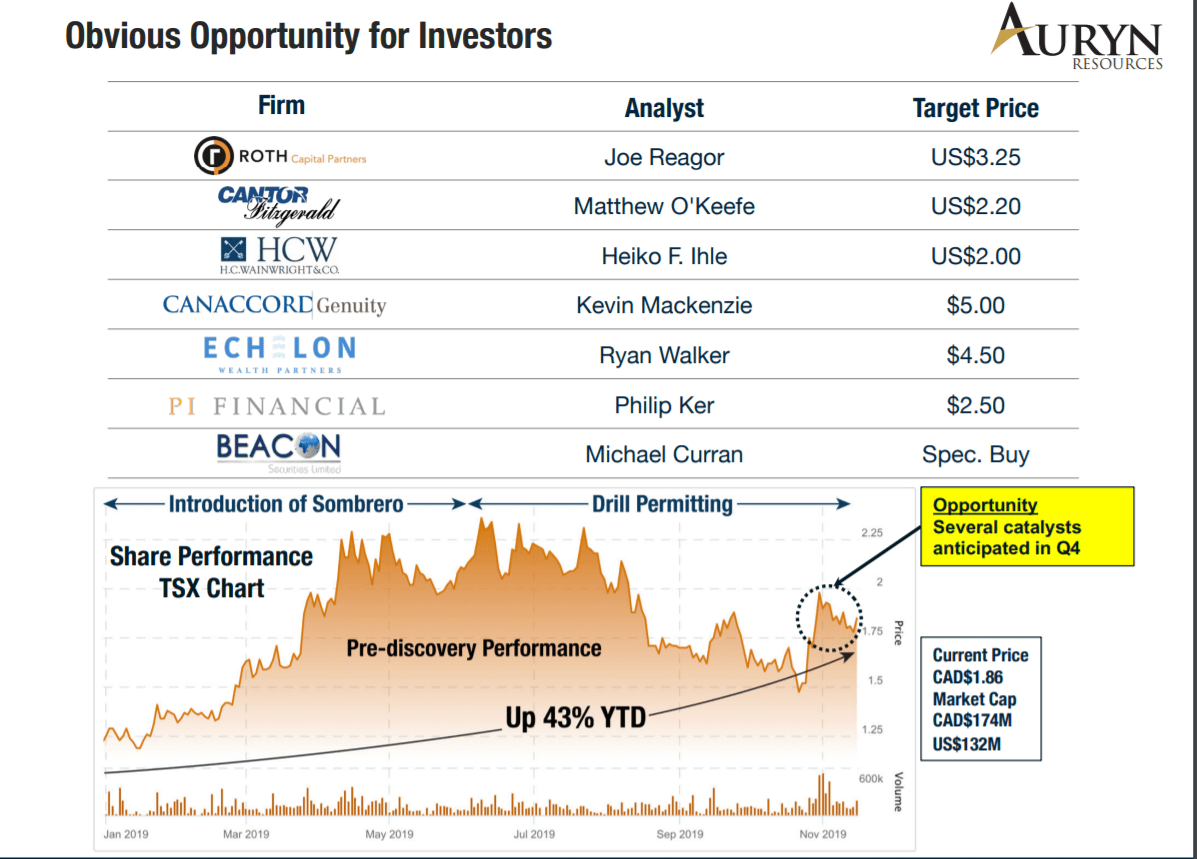 Bill: In a day where many exploration companies struggle just to raise the TSXV listing fees, you can see Auryn is the exact opposite. They're staking new ground. They are preparing permits. Their technical team is reviewing data. They're going to be drilling all in next year. This is a management team that you truly want to follow. Website again is aurynresources.com. Ticker is AUG. Ivan, I look forward to touching base with you in January and getting an update on our progress. Thank you very much.
Ivan: Me as well. Thank you so much.