Kevin Drover: Our High-Grade Silver Mine is Now Attracting Generalist Investors
Aurcana Corporation has 100% ownership of the world's highest-grade silver mine (P&P): the Revenue-Virginius mine in Ouray, Colorado, USA. This fully-permitted mine will also be one of the lowest-cost silver producers in the world at only US$8/oz Ag (AISC) after byproduct credits.  Aurcana is currently in the final stages of securing a debt facility for the the final capex needed to commence production. Production should occur seven months after closing the debt deal.
In this interview, Aurcana CEO Kevin Drover provides an update on the progress of the Revenue-Virginius mine.  Amidst the COVID-19 crisis the company has been busy hiring a mine manager and numerous quality mine workers. There are now about 40 employees at the mine working on its development.  Kevin noted that many generalist investors are looking for quality silver plays and as a result Aurcana's share price is hitting 52-week highs and has tripled in price in the past two months.
Kevin Drover has over 40 years of both domestic and international experience.  He was previously VP Worldwide Operations at Kinross Gold and possesses experience in all aspects of mining industry operations, process re-engineering, project development and corporate management.
0:15 Introduction
1:53 Kevin is in the process of moving to Ouray, CO to oversee mine development
3:29 Any COVID-19 cases in Ouray, CO and community sentiment?
4:20 We've been hiring miners…up to about 40 employees at the mine now.
5:24 Our COO Brian Briggs knows this mine inside and out (6 generations in Ouray)
6:19 We hired expert mine manager Mike Lee (40+yrs exp narrow vein mines)
8:06 Progress made during COVID-19 crisis
9:35 Acquired Blue Grass claim means more development and resource potential
11:17 Last week we started to receive money from exercised warrants
12:05 We have multiple banks offering us debt financing
14:55 Generalist investors are buying Aurcana for exposure to a quality silver play
http://www.aurcana.com/   TSXV:AUN   OTC: AUNFF
January 7th interview: https://www.miningstockeducation.com/2020/01/worlds-highest-grade-silver-mine-targets-q4-2020-production-kevin-drover-interview/
March 5th interview: https://www.miningstockeducation.com/2020/03/kevin-drover-were-on-the-runway-to-2020-silver-production-aurcana-corporation/
Aurcana's Investor Presentation: http://www.aurcana.com/_resources/presentations/Corporate_Presentation.pdf
TRANSCRIPT:
Bill Powers: Thank you for tuning in to another episode of Mining Stock Education, I am your host Bill Powers. Today, we're going to be getting an update from the President and CEO of our Aurcana Corporation. So Kevin, welcome back onto Mining Stock Education. Thank you for joining me. When we spoke at PDAC in Toronto there in March, you had said you were in the process of moving to Ouray, Colorado, to be closer to the mine and oversee its operations and startup. How has that transition been going for you?
Kevin Drover: It's been a little bit slow, given the situation with COVID-19 and the restrictions around all of those things. Virtually all of the US consulates in Canada are closed and makes it very difficult to get the proper paperwork to get into the United States. But we're still trying to get all the paperwork together and as soon as that gets completed, then the idea would be certainly from a temporary basis that my family and I hopefully will be moving to Ouray to basically coordinate the events of the restart of the revenue of Virginia's mine.
Bill: And we hadn't spoke about this in our last two interviews, but the purpose is so that you could be onsite not doing it at a distance from Vancouver, to ensure that all the cost savings measures and everything that needs to be done will be done, in order to bring the mine into production.
Kevin: Yeah, that's pretty much it, you're spending 30 million bucks. You want to be there to see how it's being spent in my opinion. I've got almost 50 years of experience in the mining business. I think I could certainly help out a little bit, in terms of how best to use that money, to get itself all back up and running again.
Bill: What is the sentiment as a result of the virus and the different responses that governments are responding to this virus with? How is the sentiment near the mine, that area in the San Juan mountains?
Kevin: It's been very, very good as a matter of fact, there's been a small amount of COVID-19 activity there. I think there was something like maybe six cases in Ouray County itself. The counties are now starting to reopen again, restaurants and lodging and things like that are reopening back up again.
From our perspective, we've taken all the necessary social distancing, frequent cleaning of surfaces, especially vehicles, things like this, that we're all touching down there and whatnot. But knock on wood, all has been well for us so far. And we've continued to work through this and in fact, hire people throughout April and bring them on and start to work down there.
Bill: So then you've been able to successfully screen potential mine workers and bring more people on?
Kevin: Yes, that's correct. We're probably upwards of 37 to 40 people on site right now. We've been able to attract some really good miner ones and minor twos and threes. And we brought on some mechanical, electrical people to assist with the rebuilds and the maintenance of equipment and whatnot. As you start to get up to speed mining and whatnot, there's always some things that pop out of the woodwork that you hadn't thought about. And certainly, maintaining equipment is one thing that we've got to do a little bit better at. But it's pretty normal for this type of a startup. So we've had to bring these people on, for the most part they've all been budgeted. And so we're making good progress there.
Bill: One thing we haven't talked about in our previous interview that much is Brian Briggs, your Chief Operations Officer, I believe six generations from this area of the country. And he's been working on this mine for, is it about four years already?
Kevin: Yeah. Brian has been here since the fund, Lascaux Resource Capital fund foreclosed on the asset itself. And Brian came in with them to help out doing preliminary economic assessment, doing a pre-feas, a feasibility, updating the feasibility. Brian and his family has been there for six generations. Over those generations, there's been a number of his family that's worked at this mine as a matter of fact, and other mines in the San Juan mountains. So he's got quite a legacy there, and he's been just a fantastic asset to us and getting us to where we are today.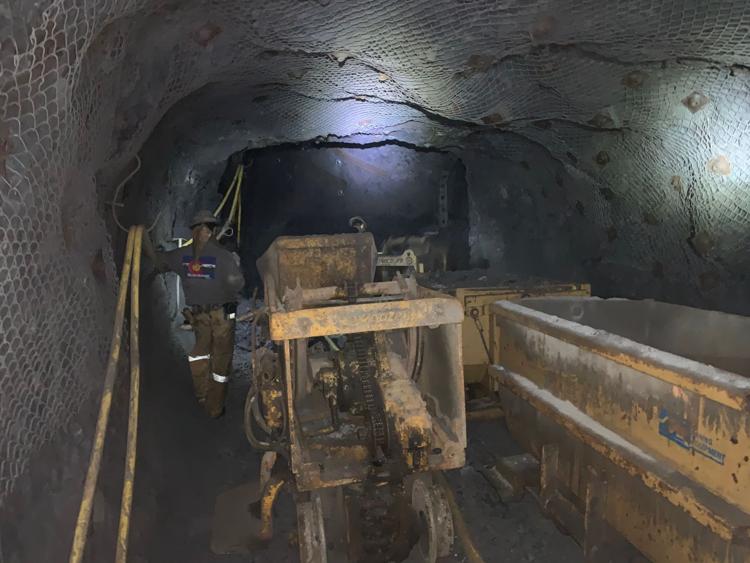 Bill: So Brian knows the community and that mine in particular, very well. And then you recently brought on a general manager, which has about four decades of experience working on narrow vein mines like this.
Kevin: Yeah. Mike Lee joined us in, I think it was late January, and Mike brings a wealth of narrow vein experience to us, which is going to prove invaluable on the startup and go forward kind of thing. Mike has been around narrow vein stuff like up in Idaho, Lucky Friday, Asarco, Coeur d'Alene, Galena mine, these kinds of places. And in addition to that, he's got quite a following of miners, as is typical in the industry. Over those years, you develop a group of people that like to follow you into new places and things like that. So that's proving to be very beneficial to us as well. But Mike brings just a wealth of experience that is going to help make us successful down there.
Bill: One of your recent press releases also seem to indicate that you beefed up the technical focus and expertise on your board with the hire of a Peter Fairfield.
Kevin: Yes, Peter Fairfield is ex-SRK. Peter brings just, again, a wealth of technical experience and practical experience. He's been general manager at mines in Australia and around the world. So we're looking forward to getting him to site and reviewing some of the things and what not that we're doing. And hopefully, at some point in time, when we're able to get back to traveling again. But we're pretty excited about having Peter join the board. I think he's going to be a huge benefit, certainly to me and to the rest of the board and to management in general.
Bill: What more can you share with us about the specifics of how you've been able to still progress the mine development during this crisis?
Kevin: Well, as you know in the press releases that have been put out, on the 2,000 level, which is our main haulage level, we've completed all of the track, the switching, the rehabilitation, all that's done. We've now completed 320 feet of development that's required to position us to get in a location where we can start driving our raises vertically. It was last week, we started driving the vertical raises. So we're now on our way up to the 1,500 and beyond kind of thing, which is very exciting to be able to get there. We're very close to being, in terms of the development itself, versus the budget, we're close to being where we should be. So far, things are going very well.
We have run into a couple of issues with equipment maintenance, but we've now gotten most of our equipment rebuilt. What's not rebuilt is out for rebuild or repairing it ourselves. And that's one of the big keys to improving productivity is getting our equipment in good shape. So we're pretty much there. Very excited that we're off and running here, so far so good.
Bill: And you had a press release indicating you acquired the Blue Grass Claim. And so for investors listening to us, does that mean more potential upside essentially?
Kevin: Absolutely. Bluegrass was a break in our ownership of the Virginia's vein. It was 1,500 feet that we didn't own. We owned to the south of that and to the north of that, but we didn't own that. Now the Blue Grass Claim is contiguous to the Monongahela. And as you know, anybody who's looked at our feasibility study and our tons and grades and whatnot, the Monongahela is a very high grade area. And now with the Blue Grass, of course, being directly next to that, we don't suspect, there are assays and samples that have been taken over the years by others, historic assays that have come out of the Blue Grass area that suggests it could be very high grade similar to the Monongahela.
So, this may be a game changer for us, in terms of where we go next. We, of course, have to do the homework. We have to do the drilling. We have to do the exploration to prove that, because you don't want to be going out and doing crazy things without having a good foundation for that. And that's not what we do.
So come this summer and we're thinking that we may be able to move the drill program that we talked about in our previous press releases. Typically, up in that area, the snows and whatnot take probably into July before you can actually get in there to drill. But from the looks of things down at the site, what the guys are telling me is that we may be able to get in there in June, which means that we may get that drill program on the Blue Grass going sooner than we anticipated. So that's a little bit of good news for us in terms of that. But we got high hopes for the Blue Grass Claim, to be honest with you.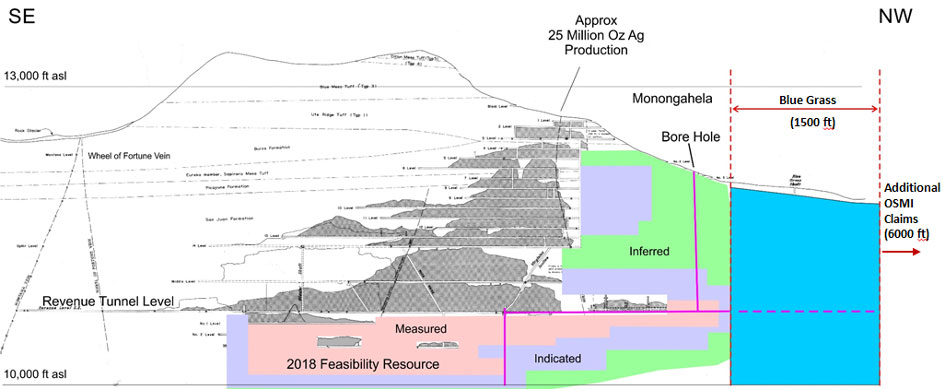 Bill: You raised $2.5 million about a month ago, you announced that on April 17th. Also, with the share price performing so well, it hit the high of, I believe like 67 cents Canadian, but you have warrants that are exercisable at about C$.375. So have you had any warrant money come in recently?
Kevin: Yes, last week, we certainly had a flurry of warrants coming in. So that's a nice surprise as well. And we may get more, certainly coming in, in the foreseeable future, as we see our stock price stay in that 60 cent range and hopefully, we'll get it up higher than that.
Bill: The mine of course is fully permitted. So when investors, particularly cautious investors, are looking at our Aurcana, one of the questions they ask is I want to see the debt facility and the terms before I invest. But now your share price is two and a half, three times what it was when we first started featuring your company this year. But what can you share about the debt facility publicly? I know you haven't made the press release yet, but any developments you can share with us?
Kevin: I really can't say a whole lot about it other than what I've said in the past, Bill, that we are working with a number of different groups, we're progressing with the debt facility. These things take time, the COVID-19 pandemic has certainly cramped our timeline on that, and continues to play havoc with being able to get due diligence, site due diligence completed.
But we're hopeful now that with the counties and Colorado and the US opening up, that we're going to be able to get the required engineering disciplines from the bankers, essentially, to site. So we can complete the final due diligence of people that are interested in funding us here. But it's positive. I guess what I can say at this stage of the game, we're very positive. We think we're on the road to getting that facility in place in the near future.
Bill: And you said in our last interview, that if it's in place by the end of June, we should still be on track for production this year. Is that still a positive statement?
Kevin: Yeah, we'd be shooting certainly to be in production in early January, put it that way I guess. We always said we're seven months to production. So if we're funded in June, that would put us in January for production. And then two months later, positive cash flow.
So that's still the plan. We haven't deviated from that. Right now, we're in the process of doing an internal update, it's been 2018, since we did the updated feasibility study. So most of that work is done already, we're just getting ourselves in a position to review the work that's been done, but we've gone out and rebid, major contracts, things like that, updated unit costs. I re-looked at the mine plan and the work that we've done so far, those kinds of things. So we've been doing a lot of work in the background here, in preparation to get ourselves, once we're funded to get ourselves going quickly.
Bill: One more question on the debt facility. Is it fair to say that you have multiple interested parties that you can negotiate with and talk to regarding who you move forward with?
Kevin: That's correct. Yeah. That's probably the best way to answer that.
Bill: Okay. So what more should we know about at this point in time? I know there are investors, as I indicated with the way I phrased that question are interested and want to see the terms of the debt facility, but what more should investors who are looking and checking out the company know right now?
Kevin: Well, I think we've done a lot of work lately, working with you and some other people and trying to get the message out about Aurcana, about the Revenue Virginia's mine that this is a quality asset, that it does have significant upside potential that is going to be around a very long time. It's very high grade.
And with that little push, that we've recently got into the price of silver, people have started to take a deeper look, I think at what's out there for silver companies that could benefit from the current situation and whatnot that we're in. So I think we're starting to see, I believe we're starting to see another type of investor coming in, more generalist, coming into Aurcana, and hopefully that will continue here in the next little while.
Bill: There's been many things that each of us individually have been disappointed with regarding the restrictions and so forth, that governments have placed upon us because of the COVID-19. I was very disappointed about my son's little league being canceled, but on a professional level, I was most disappointed in not being able to go out and see the mine in April. However, I still have intention to get out there this summer.
And for those of you that have been paying attention to this story through this show, I mentioned the plan was to get out there in early April. Well, for obvious reasons, we couldn't do that, but I still plan to get out there and hope to have a site tour video up sometime this summer. I hope to see you there as well, Kevin, and hopefully that your family can get down there pretty soon.
Kevin: Yeah. Well, we're certainly looking forward to getting there and we're going to there just as soon as we possibly can. That's for sure. So it should be getting exciting Bill from here on in, as we get closer, we get our funding in place and then it will be nothing more important than doing what we do. Get that execution plan going and get us up and running.
Bill: The ticker again is AUN in Toronto and AUNFF in New York. Kevin, thanks for coming on today's show and providing an update.
Kevin: Thanks, Bill. All the best.