Sire Bioscience Inc. Introduces New FUSION Foundation Series to Support Athletic Performance and Overall Health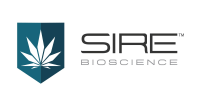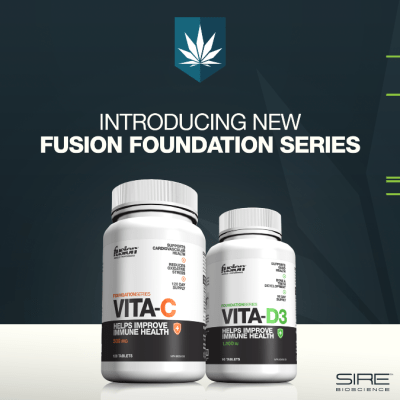 Click Image To View Full Size
Mississauga, Ontario – TheNewswire – August 18, 2020 – Sire Bioscience Inc. (CSE:SIRE) (CNSX:SIRE.CN) (OTC:BLLXF) (FSE:BR1B) ("SIRE" or the "Company"), the parent company of Fusion Nutrition Inc. ("FUSION"), is excited to announce the launch of its Foundation series – a new line of vitamin, mineral, and wellness products. A Canadian-based supplement company with national distribution, FUSION has designed the Foundation series with athletes, bodybuilders, and health & fitness enthusiasts in mind. Foundation will make its debut with its Vita-C and Vita-D3 products, and will later expand to other premium offerings.
"Our company has always stood for more than just aesthetic results," explains Ryan Herniman, FUSION co-founder. "While we love helping people build muscle and get lean, we also care about holistic health. With our new Foundation series, our focus is on maintaining strong, healthy bodies that support all aspects of life – in and out of the gym."
The Timing is Right
In the wake of COVID-19, people are more health-conscious than ever and are proactively looking to vitamins and minerals to support improved well-being. According to ResearchAndMarkets.com, single vitamin sales have seen a 166% growth as consumers strive to improve their immune system. 1 Not surprisingly, vitamin C – known for its immunity-boosting properties – has been especially popular. Meanwhile, quarantine life has significantly increased the demand for vitamin D as people strive to make up for lost time outdoors.
In another survey completed on March 30, 2020, nearly 20% of consumers who "never" used supplements reported an expected increase in supplement usage in the next three months.2
This increased demand shows no sign of slowing; despite rising recessionary pressures in the market, a long-term sales increase is expected in the vitamin/mineral/supplement category.3
VITA-C: Providing Daily Antioxidant Support
FUSION's new Vita-C supplement provides daily antioxidant support to help boost immunity, support cardiovascular health, and reduce oxidative stress. Vitamin C is necessary for the growth, development, and repair of all body tissues, making it a truly foundational supplement.
Research also suggests that vitamin C is especially important for athletes who train vigorously, as it can help prevent the dip in immune function that may occur right after exercise. Along with helping to reduce the effects of muscle damage after hard training, vitamin C can also minimize fatigue while enhancing recovery and results.
VITA-D3: Keeping Your Bones and Body Strong
Adequate vitamin D intake is necessary for bone health, skeletal health, and normal, everyday function. Your body also requires vitamin D to absorb calcium.
FUSION's new Vita-D3 supplement has been formulated to help you meet these requirements.
It keeps your whole body strong; supporting your immune system, healthy bones and teeth, and overall health. While vitamin D can be found in the diet from some natural and fortified foods, we often associate it with sun (UVB) exposure.
As with vitamin C, athletes should take care to get enough vitamin D. Research indicates that it may aid in muscle growth and athletic performance.4 Conversely, sub-optimal levels of vitamin D can negatively impact muscle function.
To learn more about the new FUSION Foundation series, please visit fusionmuscle.com.
###
About Fusion Nutrition Inc.
Founded in 1998, FUSION is a Canadian-based, leading supplement company with national distribution. It currently hosts up to 12 brands, including some of the fastest-growing supplements in Canada and numerous category leaders sold in Canada's top five retailers. FUSION products are developed using the latest research available, with the goal of providing maximum efficacy by supporting the human body in its own natural processes. All FUSION supplements are batch-tested for quality and assurance, ensuring all label claims are true to their word.
About Sire Bioscience Inc.
SIRE's principal business activity is to engage in the investment, production of, and sale of hemp for CBD extraction. SIRE has its wholly-owned facility in Leamington, Ontario. The land parcel includes 50 acres of prime horticultural land, with a 160,000 sq. ft. facility of combined greenhouse and indoor space. SIRE's goal is to become a vertically integrated CPG life science company with its House of Brands offering.
SIRE is headquartered in Mississauga, Ontario and is backed by a group of successful entrepreneurs who have extensive experience in the areas of manufacturing, logistics, and renewable energy.
FOR INFORMATION, CONTACT:
Sire Bioscience Inc.
E: ir@sirebioscience.com
Sources:
1 https://www.businesswire.com/news/home/20200428005557/en/Single-Vitamins-166-Growth-Consumers-Boost-Immunity
2 https://www.lek.com/insights/impact-covid-19-vitamins-minerals-and-supplements
3 https://www.lek.com/insights/impact-covid-19-vitamins-minerals-and-supplements
4 https://www.gssiweb.org/sports-science-exchange/article/sse-148-the-importance-of-vitamin-d-for-athletes
Forward-Looking Information Cautionary Statement
This press release contains certain "forward-looking information" within the meaning of applicable Canadian securities legislation and may also contain statements that may constitute "forward-looking statements" within the meaning of the safe harbor provisions of the U.S. Private Securities Litigation Reform Act of 1995. Such forward-looking information and forward-looking statements are not representative of historical facts or information or current condition, but instead represent only the Company's beliefs regarding future events, plans or objectives, many of which, by their nature, are inherently uncertain and outside of the Company's control. Generally, such forward-looking information or forward-looking statements can be identified by the use of forward-looking terminology such as "plans", "expects" or "does not expect", "is expected", "budget", "scheduled", "estimates", "forecasts", "intends", "anticipates" or "does not anticipate", or "believes", or variations of such words and phrases or may contain statements that certain actions, events or results "may", "could", "would", "might" or "will be taken", "will continue", "will occur" or "will be achieved".
By identifying such information and statements in this manner, the Company is alerting the reader that such information and statements are subject to known and unknown risks, uncertainties and other factors that may cause the actual results, level of activity, performance or achievements of the Company to be materially different from those expressed or implied by such information and statements.
An investment in securities of the Company is speculative and subject to several risks including, without limitation, the risks discussed under the heading "Risks Factors" in the Company's Listing Statement dated August 22, 2019 and filed on the Company's SEDAR profile. Although the Company has attempted to identify important factors that could cause actual results to differ materially from those contained in the forward-looking information and forward-looking statements, there may be other factors that cause results not to be as anticipated, estimated or intended.
In connection with the forward-looking information and forward-looking statements contained in this press release, the Company has made certain assumptions. Although the Company believes that the assumptions and factors used in preparing, and the expectations contained in, the forward-looking information and statements are reasonable, undue reliance should not be placed on such information and statements, and no assurance or guarantee can be given that such forward-looking information and statements will prove to be accurate, as actual results and future events could differ materially from those anticipated in such information and statements. The forward-looking information and forward-looking statements contained in this press release are made as of the date of this press release, and the Company does not undertake to update any forward-looking information and/or forward-looking statements that are contained or referenced herein, except in accordance with applicable securities laws. All subsequent written and oral forward-looking information and statements attributable to the Company or persons acting on its behalf are expressly qualified in their entirety by this notice.
The forward-looking information contained herein may include, but is not limited to, the expected increase and continued increase in usage of supplements by consumers and the expected long-term increase in vitamin/mineral/supplement sales.
Copyright (c) 2020 TheNewswire – All rights reserved.