Gold Terra Launches 12,000m Drill Program Adjacent to 5+M Ounce Gold Mine Explains Gerald Panneton
Gold Terra (TSXV:YGT  OTC:YGTFF  FSE:TX0) just launched a 12,000-metre drill program immediately adjacent to the high-grade former-producing Con Mine (5+M AuOz) just outside the city of Yellowknife in Canada's Northwest Territories.  Gold Terra recently acquired an option on this property from its owner Newmont.  The Con Mine produced approximately 5.1 million ounces of gold between 1946 and 2005 at an amazing grade of 15 g/t, and over widths of up to 100 metres.  In this interview, Executive Chairman Gerald Panneton provides an overview why this up to 20 drill hole program is so prospective as well as discusses the first batch of results from the Crestaurum deposit on the company's Yellowknife City Gold Project.
0:00 Introduction
2:48 Crestaurum deposit first four drill holes
4:40 Crestaurum deposit remaining six drill holes
5:25 Launching 12,000-metre drill program south of Con Mine (5+M AuOz)
9:44 Historical data and targeting of 12,000-metre drill program
11:10 Define success for upcoming drill program
11:45 When to expect back results?
12:40 Drill permits and phase two drilling
13:39 Treasury and future financings
16:23 Additional potential 2021 drilling
Most recent Gold Terra Presentation
Press Releases discussed in this interview:
https://www.miningstockeducation.com/2020/10/gold-terra-reports-first-drill-results-from-crestaurum-on-its-yellowknife-city-gold-project-in-the-northwest-territories/
https://www.miningstockeducation.com/2020/11/gold-terra-announces-phase-1-drilling-program-of-12000-metres-on-newmont-option-claims-following-campbell-shear-compilation-results/
Previous interviews with Gerald:
https://www.miningstockeducation.com/2020/09/newmont-partners-with-gold-terra-in-its-5m-auoz-pursuit-explains-gerald-panneton/
https://www.miningstockeducation.com/2020/07/gold-terras-yellowknife-project-is-more-exciting-than-detour-lake-20m-auoz-says-gerald-panneton/
TRANSCRIPT:
Bill Powers: Thank you for tuning in to Mining Stock Education. I'm Bill Powers, your host. We're going to be getting an update in today's episode from Gerald Panneton. He is the executive chairman of Gold Terra Resource Corp. That ticker symbol is YGT in Toronto. In the States, you can find it under the ticker, YGTFF. If you recall from our previous interviews with Gerald, Gold Terra is pursuing five plus million ounces of high grade gold just outside the City of Yellowknife in Canada's Northwest territories. They're currently engaged in a drill program that they just completed. They're waiting on some assay's from that. They're about to launch on to another 12,000 meter drill program at a different target at this project, just outside of Yellowknife.
There's a lot to talk about, update the market on. I've been buying shares on the OTC under US$.30 on a little share price weakness recently. Gerald, welcome back onto the show. As I mentioned, the share price came down a little, which I saw as a buying opportunity, but perhaps we could start off with you giving a little commentary on what you see going on in the share price action for Gold Terra.
Gerald Panneton: Thank you very much, Bill. Yes. Well, I guess the market is the market. Sometime it is softer and sometime it's a great occasion to buy the stock on weakness. I feel that nothing has changed from our goal of bringing a lot of ounces back into the picture for Gold Terra from the Crestaurum drilling that started in mid-August, which is still running until, approximately, the next couple of weeks. We're going to be moving on before the end of November on to our Campbell Shear target, which basically, was the result of negotiating an agreement with Newmont doing a huge compilation early in 2020 on the Campbell Shear, which is the motherlode of Yellowknife. 13 of the 14 million ounces has been produced on the Campbell Shear between the Giant and the Con mine. Just before we go onto the Campbell Shear, we're going to talk a little bit more about Crestaurum. What would you like me to cover, Bill, on Crestaurum?
Bill: Could you start off with the first four holes that came back? Give us some of the highlights. You're also a geologist. You're not just an executive. What is your interpretation? What do you see going on in these first four holes?
Gerald: I'd like to start, first, by saying that we have already almost a quarter million ounces between surface and not even 150 meters vertical on the Crestaurum deposit. What was missing was, does the deposit extend at depth? Technically, the four holes we release sometime in late October, basically, demonstrate that we were having a technical success getting to the shear zone at 600 and 400 meters vertical elevation, four holes of the structure, but there was not enough quartz vein to, basically, give high-grade mineralization. Are we going to go back in this area? Possibly, one day, but I think what's left is that we were able to extend the deposit to the South. We were able to demonstrate that the combination of the structure plus quartz vein is a high-grade result in the order, like two ounces over five meters, 21 gram over five meters, 10 gram over seven meters. Mainly, from zero to 200 meters. Below 200 meters seems that the quartz veins are not there and the structure is there.
Our potential to find a million ounces at Crestaurum has been somewhat damper from that, but we still believe that there's still room to find more ounces on the deposit itself except, we will not be continuing at greater depth like we were planning. Those four holes, the deposit is way bigger than we think. Those four holes, basically, have been good result, good technical result but not enough to go back nearby.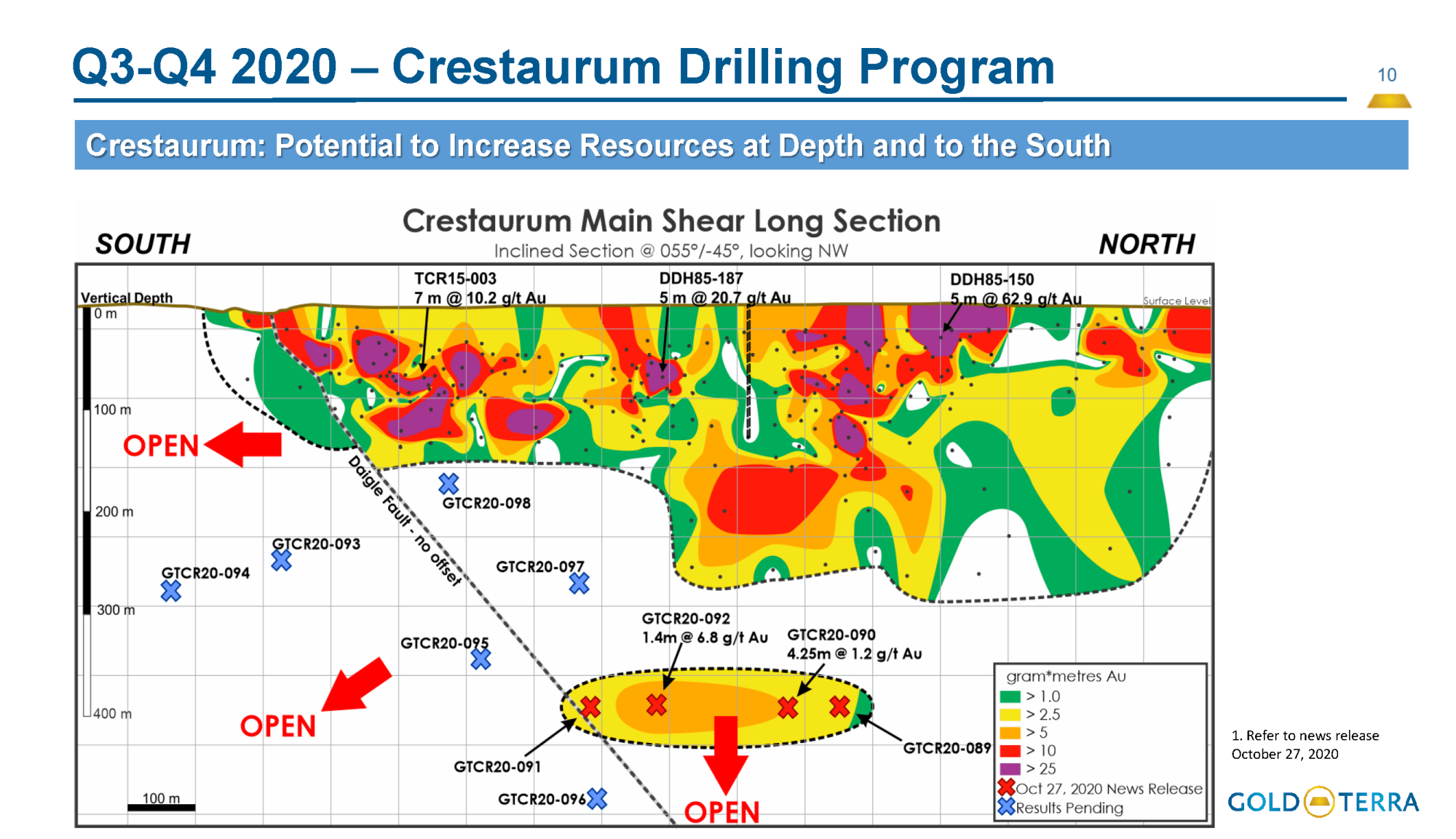 Bill: Is there any potential that the remaining six holes could change your mind? When should we expect those remaining six holes?
Gerald: We should expect those six holes result within the next couple of weeks, three weeks from now. I think we did intersect the structures in every of those hole. The structure is there. If there's quartz vein, there's visible gold, and then we have a better intersection. I think the assay result will demonstrate that as we go along. We feel that it's like, now, Crestaurum, we thought that it could be a million ounces deposit. Maybe it's going to end up being half a million ounces, but very near surface and with very good grade for a small open pit. I think, Crestaurum, at the end of the day, is a great story but not the main story.
Bill: In our last interview, which I'm going to put a link to in the show notes, we talked about that deal that you agreed to with Newmont to acquire some land just South of the Con mine. Now, this is a historic six million ounce gold producer. You've just announced that you're going to be engaged in the 12,000 meter phase one program here. Talk to us about some of the prep work that went into your targeting and what are your expectations to come out of this program?
Gerald: As I said in the news release that we released on November 12th yesterday morning, this was the work of about nine months of negotiation with Newmont to achieve this disagreement South of the Con mine. If you work in an existing gold camp and you are basically knowledgeable and you know the company shouldn't confirm your interpretation that all of the gold produced Yellowknife were produced along a structure called, the Campbell Shear. The Campbell Shear can be from 10 meters to 100 meters in width. Sometime 150 meters in width. Not all of the structure is mineralized with gold, but within that structure, there's a lot of high grade ore shoot. For example, both the Giant and the Con mine Campbell Shear produced gold at between 15 to 22 grams per ton. Roughly, half an ounce to three quarter an ounce per ton. Very, very rich structure.
In all of those years, before I joined a year ago, and the main reason I said in the press release is, "I joined because of the Campbell Shear. I joined because there is potential." There's 20 kilometers, something around 14 miles, that is completely open to the South of the mine that has never been fully tested. It's been explored near surface and with good result. For example, if you refer back to the long section in our presentation on our website, which is page 12, you can see the compilation that generated the nice leapfrog five million ounces deposit with grade varying from 20 to 50 grams per ton to 100 grams per ton in the purple pink, pinkish. You can see those high-grade very steeply plunging to the South. Of course, the deposit got cut off to the South and is being displaced. Some of the early exploration work done up to about, let's say, 2000, has not been explored at all over the last 20 years. Newmont never spent time compiling or exploring the property.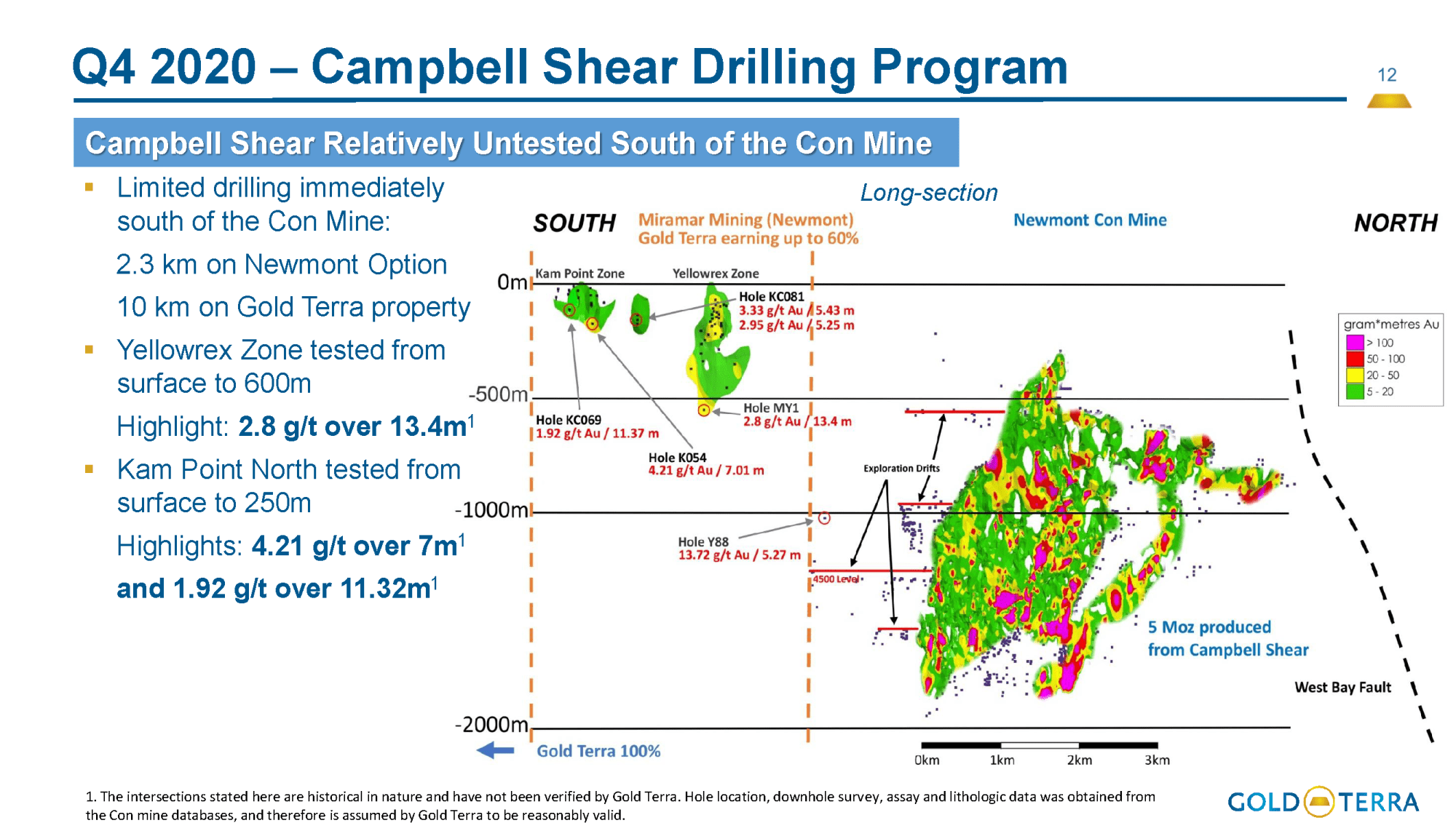 There are true small resources between the Yellowrex zone to Kam Point zone, and another zone further South that show a lot of mineralization. The shear zone is there, 5 meters, 10 meters, 15 meters. We've got intersection four grams over seven meters, even 14 grams over six meters just above some of the exploration working. The potential is there from surface down to 2000 meters. This is not a Crestaurum alike structure. Crestaurum is a very small structure. Campbell Shear is a major district scale structure to which a lot of potential exist. Like we said in the press release, and you can see it on page 13 on our presentation or the long section, we're attacking this project right underneath the known mineralization. It's not like we're going in the boonies. We're just drilling the structure below 200 and 300 meters vertical all the way to 600 meters at first. Eventually, we're going to go deeper. This is just the beginning of an amazing story of drilling.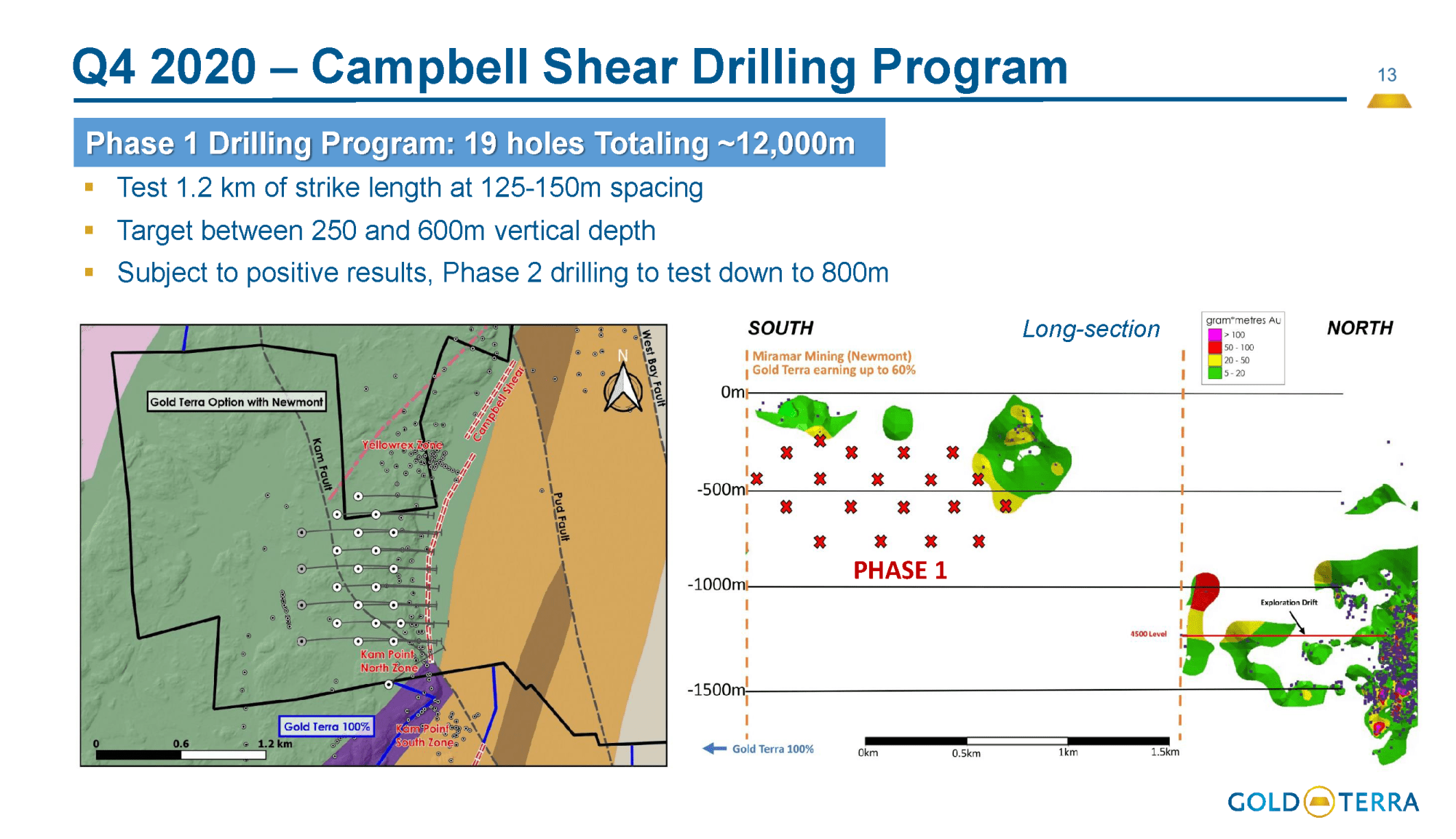 Bill: This will be 19 holes?
Gerald: We were doing about up to about 20 holes. We're going to be starting, most likely, next week, the drill program. When we go in full speed with two rigs after Christmas, we'll do about 12,000 meters. The beauty is that we're we're funded. We don't need to go to the market to drill this program. We have an option to earn 60% of the project. If Newmont, basically … If we find five million ounces, Newmont has a backend right. If we find two or three million ounces, we'll be 60/40. It's a great agreement for both company. At the same time, it gave us all the latitude we need to drill the motherlode Campbell Shear.
Bill: Did this targeting, with the targets that you laid out, did you come up with these solely on the historical data that you were provided with?
Gerald: Because the mines were closed, all the database was kept in Yellowknife. Under a program of compiling, we're able to achieve and obtain all of the information. When you look at the page 12, which is the compilation of the Campbell Shear, we know exactly where the drifts are. We know exactly all the drilling and underground drilling. We have all the belief of understanding the high grade component of the shear zone. Of course, all of the drilling that was done, I partly did some of that compilation myself, looking at all the section from the Con mine all the way for 20 kilometers out. As we release in June, we have an intersection about six, seven kilometers South of the Con mine, which has eight grams over eight meters. This is a public disclosure we did in June, on June 2nd of this year.
The potential to find another two or five million ounces or more South of the Con mine is excellent. If you were looking at people looking to try to find or define a five million ounces, there are discoveries sometimes in the world, but I think in Yellowknife, because people have overlooked at it, there's still an amazing potential. We're just about to start drilling, in my mind, one of the best target of the Yellowknife camp.
Bill: What would be a grade and meterage that would define success for this drill program?
Gerald: Just the 12,000 meters of drilling cover an area, which is about 1.2 kilometer in strike length, about 700 meters in depth. If every hole was successful, you could even even see the potential for almost a million ounces in that program. We're going to spend like 12,000 meters, $200 Canadian per meters, so $2.5 million. We could end up with one million ounces at the end of the program. At the cost of about $2.50 cents, Canadian.
Bill: You're going to be drilling, you said, around Christmas time. Expect these results back early February? Would that be accurate?
Gerald: Well, we're starting in November by the end. The drill is moving to the site next week. We're planning to start the program and complete a few holes before Christmas, and with one rig. After Christmas, we're going to move with an extra drill. We'll have two rigs running from, let's say, January 15 all the way to mid-April. If we are so successful, we're going to find some ways to be able to drill over the summer.
Bill: Water is not an issue here with the drilling through the summer?
Gerald: Not at all because we're drilling from the land, the deposit dip to the West. Access to the land is a bit more difficult in the summer, for sure, because there are no road access as opposed to Crestaurum, but at least, we can plan. We can, actually, also do maybe some barge drilling on the lake as a possibility.
Bill: The phase two of this program. Obviously, we still need to get through phase one, but as you conceptualize phase two, are there permits that you need to obtain for that or are you fully permitted for what you conceptualize as phase two already?
Gerald: No. Phase one is in the process of being permitted to drill the portion. All of the land, the Newmont land, because it's a new agreement with Newmont, we had to go in amendment for our land use permit. This is in the process. By the end of November, early December, we have all our permit. In order to be able to start drilling, we're drilling a few holes. If people can see on the press release, they can see there's a hole that we're drilling from our property onto Newmont's ground to allow us to start drilling right away. That's why we were able to and we filed the land use permit application or the amendment. It's already been accepted as no change are required. We don't see that as a problem as we've been active in Yellowknife for more than seven years.
Bill: When we talked about your previous drill plan, Gerald, before you announced this 12,000 meters, we talked about how you were fully funded considering you just added this 12,000 meters on, what should investors expect about future financing? How far will the capital you have on hand take you?
Gerald: Well, if you were to read through my mind, I would love to start to be a dollar by the spring and then I will raise money at a dollar. As you know, the market is never necessarily there. You have to wait for the right window. Currently, with the fall, US election and everything else, I don't think the window … the window kind of closed by the end of August. It's been very quiet in September, October, and November. That's why there has been weaknesses, not only on Gold Terra but on many other stocks. A lot of people are working, but I think with the target that we have and the money that we have to drill the phase one, I think we should be able to generate sufficient, excellent results in the very near future to allow us. Don't discount Crestaurum. Crestaurum, still, can deliver a lot of very good result over the next couple of weeks.
I think, of course, my favorite target is the Campbell Shear, but Crestaurum can still deliver a nice resource, high grade surface mineralization. I think it's still there. This hasn't gone away. I think, with the result of the phase one program, starting before Christmas on the Campbell Shear, we should have a double edge to generate good result. If we need to raise money at some point in 2021, we will, but of course, I'm always very price sensitive. I'm very knowledgeable about dilution. It's not like my Detour Gold days wherein the stock was like 28, $20 or $30 US. We have to live with a stock, which is at 30 cents US, but we do our best to avoid dilution, raise money for what we need to do and generate value for our shareholders in the company.
Bill: When you do raise money, your history is to do it without warrants, primarily, isn't it?
Gerald: Correct. We do without warrants. We don't like putting a ceiling on the stock. What warrants do, eventually is, basically, putting a ceiling because people … This is common knowledge in the industry. A lot of people would love to have a private placement with warrants. They participate. They have the warrants as an edge. They basically flush the stock as soon as they bought it. I've avoided doing warrants at detour for many years, from 2006 to 2013. When I came to Gold Terra, I said, "The practice of warrant is not good." Why would you give somebody a ceiling when the stock can just fly? Let it fly.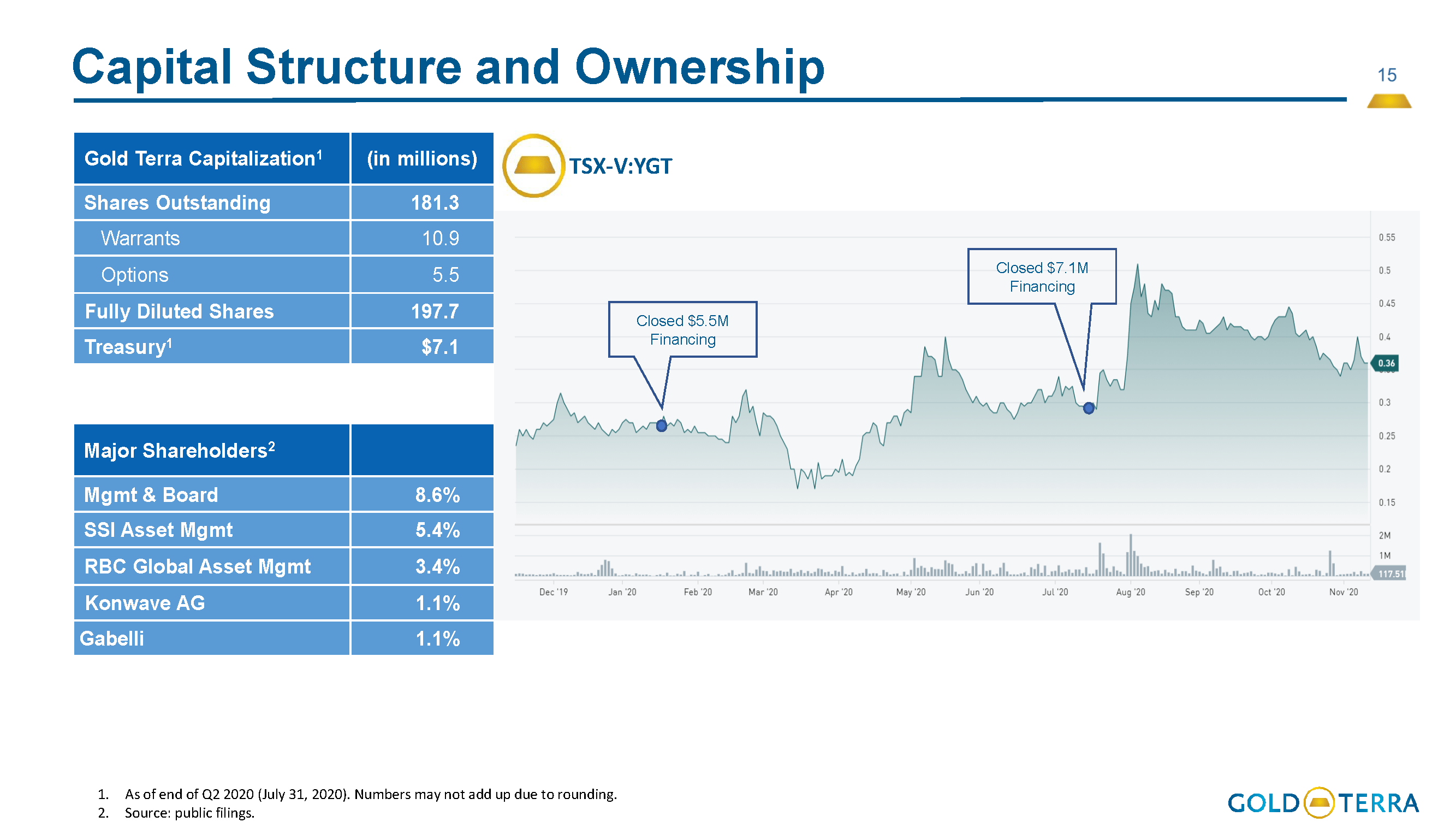 Bill: For 2021, as investors look for drill programs in potential catalyst, obviously, you said your focus is here on the Campbell Shear, South of the Con mine, but perhaps would there be another target other than Crestaurum that you could also end up drilling next year?
Gerald: We're going to be carrying on the Campbell Shear, South of the Con mine on 100% Southbelt. This program could start before the winter, before the end of the winter, sometime in March or April, depending on access, ice bridge and things like this. I think that people will really, really, once we've secured what we are looking for in terms of the land, we will be able to generate a lot more targets south of the mine, again, along the Campbell Shear. The Campbell Shear also continues north of the Giant mine. This is part of some of the program we may be able to do North of the Giant mine. We recently acquired some claim that became open, which are right along the strike. There's still a lot of potential, which basically, is the Northern quadrant of the Northbelt, between Crestaurum and Sam Otto. There's still a lot of potential in this area, but those targets needs a bit more work. It's not going to be a full fledged, 10,000 meters of drilling. Maybe we're going to go there and drill maybe two or 3,000 meters with one rig going around and testing some area. The main target to generate ounces right in front of us is the Campbell Shear, South of the Con mine. On the Newmont claim and then onto the Southbelt claims