High-Grade Gold in a Premier Mining District with Trillium Gold Mine's CEO Russell Starr
Trillium Gold Mines (TSX.V:TGM — OTCQX:TGLDF) has previously seen bonanza gold grades up to an astonishing 139 g/t at its 100% owned flagship Newman Todd project in the premier Red Lake mining district in Canada. Of the project's historic 109 drill holes 41% intersected >10 g/t gold.  The most-recent drill results (January 12, 2021) saw visible gold in three out of five holes and had drilling intersects of 16.1 g/t gold over 3.9m, 124.66 g/t gold over 0.24m, and 49.56 g/t gold over 0.3m.  There are still four holes from 2020 drilling that remain at the assay labs and the company is embarking upon a massive 25,000 – 35,000 metre drilling program. Newman Todd has only been drilled to depth of 400m, while high grade gold resources in the Red Lake Camp extend well beyond 2,000 metres. Therefore, Trillium expects the exploration success they have experienced thus far at Newman Todd to continue and become even more impressive.
Trillium Gold is also targeting a 2,000-metre drill program at its 80% owned Gold Centre project. This close-ology play is just 300 metres from Evolution Mining's Campbell-Red Lake Mine, which has produced 23.8M oz of gold at greater than 16 g/t. The upcoming Gold Centre drill program seeks to show that the Red Lake Mine's gold mineralization continues onto Trillium's property. If successful this would immediately add tremendous value and the project would become the envy of Evolution Mining.  CEO Russell Starr believes a suitable comparable to the Gold Centre project is Gold Eagle Mines which sold for C$1.5B to Goldcorp over a decade ago.  Trillium's market cap is under C$60 currently.
Although cashed-up after raising over C$13M in October 2020, Trillium Gold also is seeking to acquire a cash-flowing gold producer within the next three to six months to further fund its aggressive exploration. CEO Russell Starr stated: "I want to run a business. I want it to be profitable. And clearly exploration is not profitable. It's a consumer. So, we want to get to a point where we can have these world-class properties, plus some production to finance the exploration. And then, you get a really appealing investment opportunity for retail and institutional, because quite bluntly, it hasn't been done in decades."
In this interview, CEO Russell Star sets forth Trillium Gold Mines' investment value proposition.  Russell Starr is an entrepreneur and financial professional, focused on private and public mining & exploration, corporate advisory, corporate development, and M&A. Mr. Starr has over 20 years of corporate finance, M&A, investment and business development experience. Mr. Starr held senior positions and advisory roles with financial institutions including RBC Capital Markets, Scotia Capital, Orion Securities, Blackmont, Lawrence and Company, where he helped raise over a billion dollars for junior and mid-tier companies. Mr. Starr is also a co-founder and part owner of Echelon Wealth Partners, a large Canadian investment dealer. After leaving Bay Street, he held executive positions at Cayden Resources and Auryn Resources. As Senior Vice President with Cayden Resources, and board member, Russell was integral in the marketing, financing, development and ultimate sale of Cayden for CAD$205 million to Agnico Eagle.
0:00 Introduction
1:44 CEO Russell Starr's background
4:45 Technical Team with 100 yrs combined experience in Red Lake
7:03 Flagship Newman Todd high-grade gold project
8:34 100% owned Newman Todd Southwest Extension (formerly Rivard)
11:21 Gold Centre project adjacent to Evolution's Red Lake mine
13:18 Cashed up treasury & engaged in massive drill program
14:55 Recent & coming drill results
17:40 Business plan and Trillium's current valuation
20:00 Pursuing near-term cashflow via acquisition
23:50 "You need to hold management accountable"
24:30 Russell's "skin in the game"
25:25 Management & insiders' ownership
TRANSCRIPT:
Bill: Share your experience and why you're qualified to lead Trillium Gold Mines.
Russell: I'm like your Bay Street TV show profile, one of the good guys though. I spent a little bit more time in university though, than your typical Bay Street executive. I have a master's in Economics. I have an MBA and I started my PhD in Economics. Basically, the head of the Economics program at McGill was also the Chief Economist at RBC and I managed to slip in through the back door and get an interview for the Prestigious Dealer Training program. Landed on Bay Street. Basically, worked as an institutional salesperson, institutional trader, corporate finance, funded and helped start literally, Echelon Wealth Management, which is a very large Canadian broker dealer, still own a small portion of that. But basically got tired after about 15 years of just being an intermediary and trying to clip a coupon or a commission from a trade or a deal and I wanted to try and build something.
It was right at the time that Ivan Bebek, the Guerrero Gold Belt was actually quite prestigious at that time, and Cayden Resources had the property there and we didn't even have the El Barqueňo project. So, I joined Ivan, and honestly, I'd credit Ivan for most of what I know on the corporate side now. But as many children need to do, they grow up. Not that I am a child, but I grew up a little bit and Ivan and I are still great friends. I'm obviously following Fury Gold Mines and Tier One Silver and Sombrero Resources very, very closely. I had been with Auryn Resources for five years. But I found this amazing company with great share structure. Red Lake, as many of your readers probably know, there are Tier one jurisdictions, Tier two, Tier three and Canada and Red Lake are one of the Tier one global jurisdictions.
A friend of mine, a broker of mine was like, "Look, man, we have this asset that in 2013 was trading at a C$200 million market cap, 55,000 metres of drilling, high grade everywhere, 18 kilometres away from the Red Lake Mine by road. Our market cap now is like C$20 million. Do you have any interest in being the CEO?" So, yeah, I stepped into it and that was only six months ago. Since then, we've built what I like to think is a very, very credible near-term production and exploration company in Red Lake, but we have grander visions. So, that's a bit of the background and we can get into any of the specifics you want.
Bill: How about touch on your technical team, because one of the things that stood out is that they have a lot of experience working in this area already.
Russell: So, Bill Paterson is our Head Geologist or our Chief Technical Officer, if you want to call them that. Bill has basically spent the majority of his career in Red Lake. His wife is Evolution Mining's Land Manager. I think he joked the other day that we have about 150 years of combined experience in Red Lake in our technical team. We literally have just brought on, and he's consulting right now, but I think it was the fourth or fifth employee of Leapfrog. For anyone who's really deep into the geek side of building an asset or building a mine, Leapfrog is basically the modeling software that all the majors and the relevant juniors use to understand what they're looking at underneath the surface based on drill holes.
So, we're really, in my opinion, I said this to you earlier, again, I would have learned this, but learned it from Ivan Bebek. You have to act like a major or a mid-tier, you have to build a team like a major or a mid-tier to actually really get the attention of a major. There are companies that had a great drill hole and one thing leads to another and they're taken out and those are the one-percenters or the point-one-percenters. But when you're actually trying to build that credible critical momentum, you need to surround yourself with people who are better than you are. That's what I've done with this technical team. They're top-notch, they're Red Lake born and bred. They understand the structures, what occurs in the jurisdiction.
Very interestingly, Bill Paterson had spent the last probably seven years while the mining sector had been crushed or underneath the thumb of the rest of the world, he spent his time with the Ministry of Mines. So, he understands where all of the dead bodies lie, but he also understands where all of those big opportunities are. And so, him combined with me, plus all the rest of our team, we've managed to bring in this really exciting portfolio of assets.
Bill: Key to that is your flagship Newman Todd project. You referenced already that, that this asset alone, when you only owned half of it via 50:50 JV drove up a market cap multiples of where you're at now. Now you own 100%, walk us through this project.
Russell: So, 2010 to 2013, it's interesting, Bob Singh, who is the driller for Great Bear was the driller for Red Star. And that was the 50:50 JV between Confederation Minerals and Red Star. To complicate matters, Red Star's now known as Heliostar Metals and we're known as Trillium Gold, but we're basically the same company. It's just changed names and obviously changed people. But it was a market darling. It was a 50:50 JV. Both companies had $100 million market caps. They were hitting, I mean, you can find it on our website, but 30m of 12g/t Au, 10m of 15g/t Au, these were world-class intercepts by anyone's standard at the Newman Todd project. So, when I came on board, we'd actually earned into close to 83.5%. But again, when you're dealing with an asset that's laden with gold, you never want to have a JV really, you want to own 100% of it.
So, we're now sitting today with 100%. If you go look through our press releases, you'll see the deal that we actually did and successfully closed with Heliostar, and we own 100% of that. Then, we also picked up the neighboring property, which is called Rivard. And two of the very interesting characteristics for Newman Todd and Rivard are 99% of all the drill holes were from surface down to 400 metres. For anyone who understands the Red Lake camp, you get big blowouts of mineralization down a kilometre. So, you're really only scratching the surface at Newman Todd. They did put a couple of deep drill holes in, I believe one was down a kilometre and it intersected three times greater than 10 grams per ton. But like I said, 99% was from surface down to 400 metres.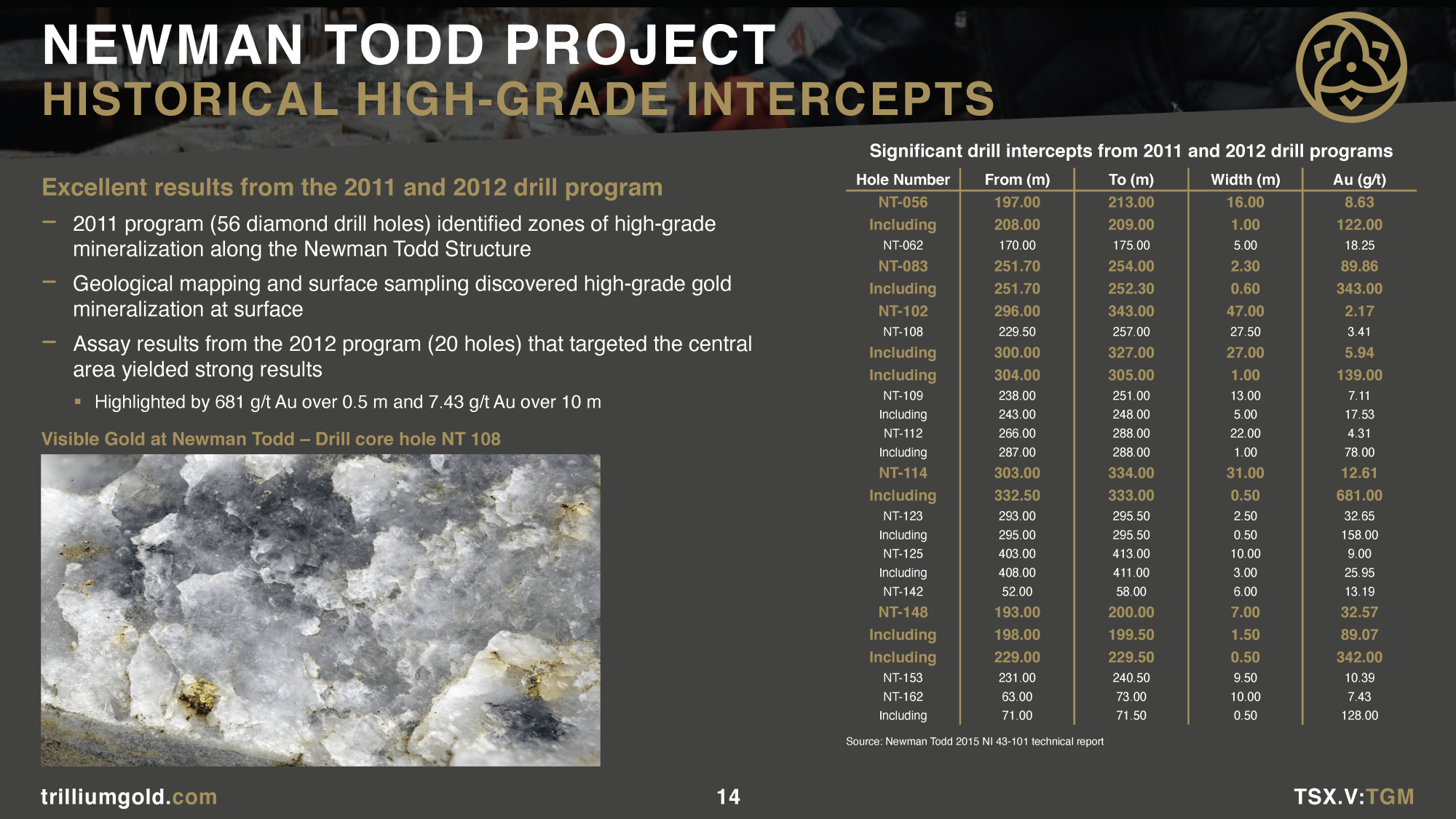 Just to give your listeners context, I think I was told before I joined, that 41% of all drill holes hit greater than 10 grams per ton. So, there are very few assets in the world that can actually say that or suggest that. Rivard, our neighbor was owned by the Rivard family and this is truly, a North American success story. It was a family who owned it, there's visible gold (VG) everywhere. I was on the property, there's a video out of me standing on it and there are Quartz veins the trend from Rivard into the Newman Todd structure. The Rivard family would walk around with augers and dynamite, drill a hole, blast it, recover the VG, literally VG. It's almost like a gold rush type story. Then they'd pour doré bars and sell it.
They did that for three decades, but no one had ever really drilled at depth there. So, the analogy I always use is, okay, you've got the Newman Todd structure, consider that to be the Usain Bolt of 100 metre runners in a gold structure. Then you've got these Rivard veins and I would call them the world's number one super model. Where the Rivard veins intersect with the Newman Todd structure, what's their child going to look like? What's Usain Bolt and the number one supermodel in the world's child going to like. It's almost like Tom Brady and Gisele Bündchen. You're basically looking at an opportunity to see where blowout high grade VG intercepts with a very large disseminated breccia structure.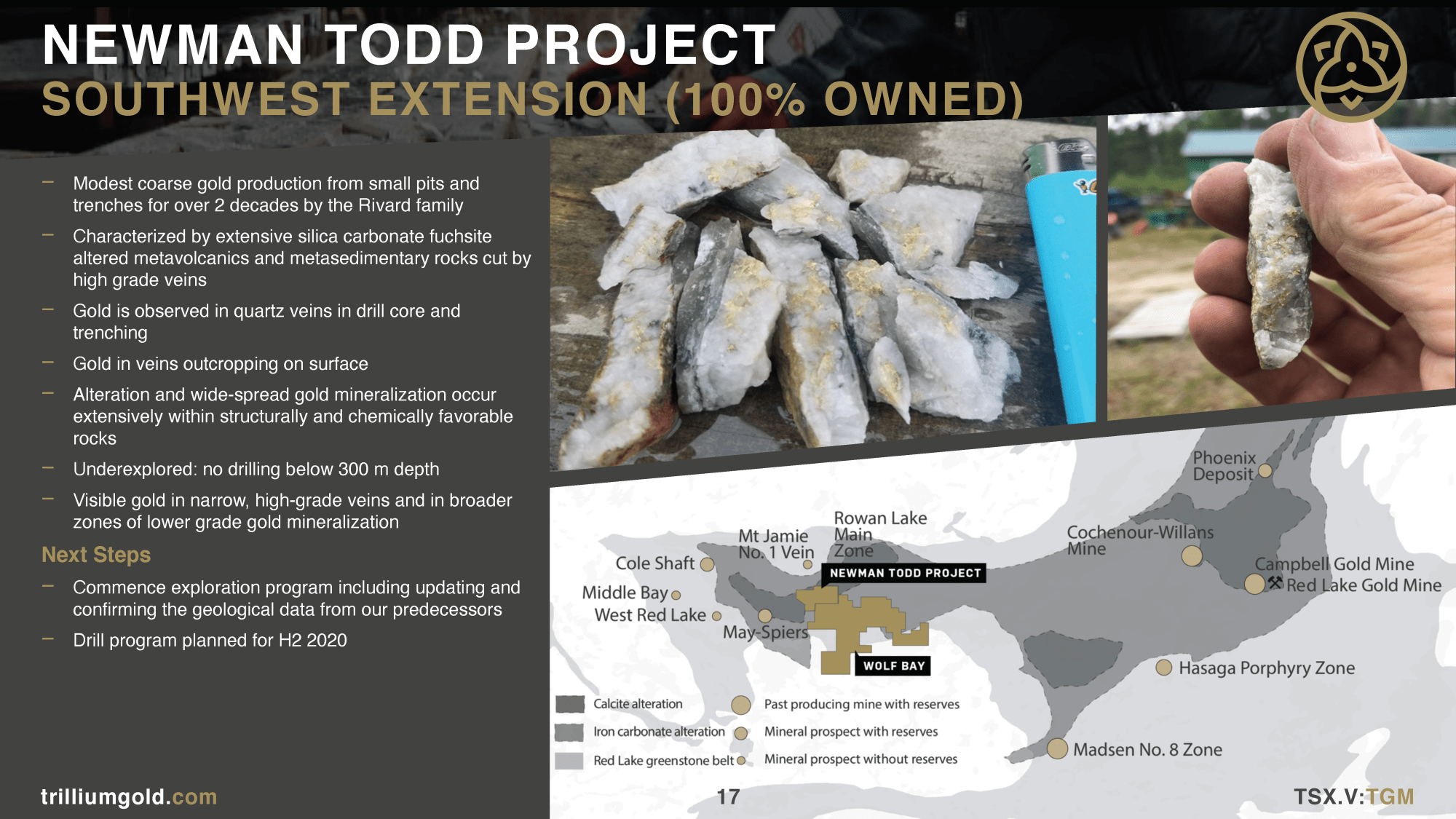 We just got the permit for Rivard. It's going to be very, very exciting right now because not only do we have the one drill that'll be turning on Newman Todd. Now we have the Leapfrog expert basically modeling out where we should be looking and better controls, better understanding of the structures. But we also have another drill that we can run at Newman Todd, to try to chase these high grade VG veins. Then the, call it fraternal or maternal twin is Gold Centre. I don't talk about it as much because there's really being no drilling in it. But I was pointing out to you, Evolution Mining's, Red Lake Mine or the famous Goldcorp Red Lake Mine. Evolution's on the record for wanting to explore more at depth in specific areas to increase their production profile.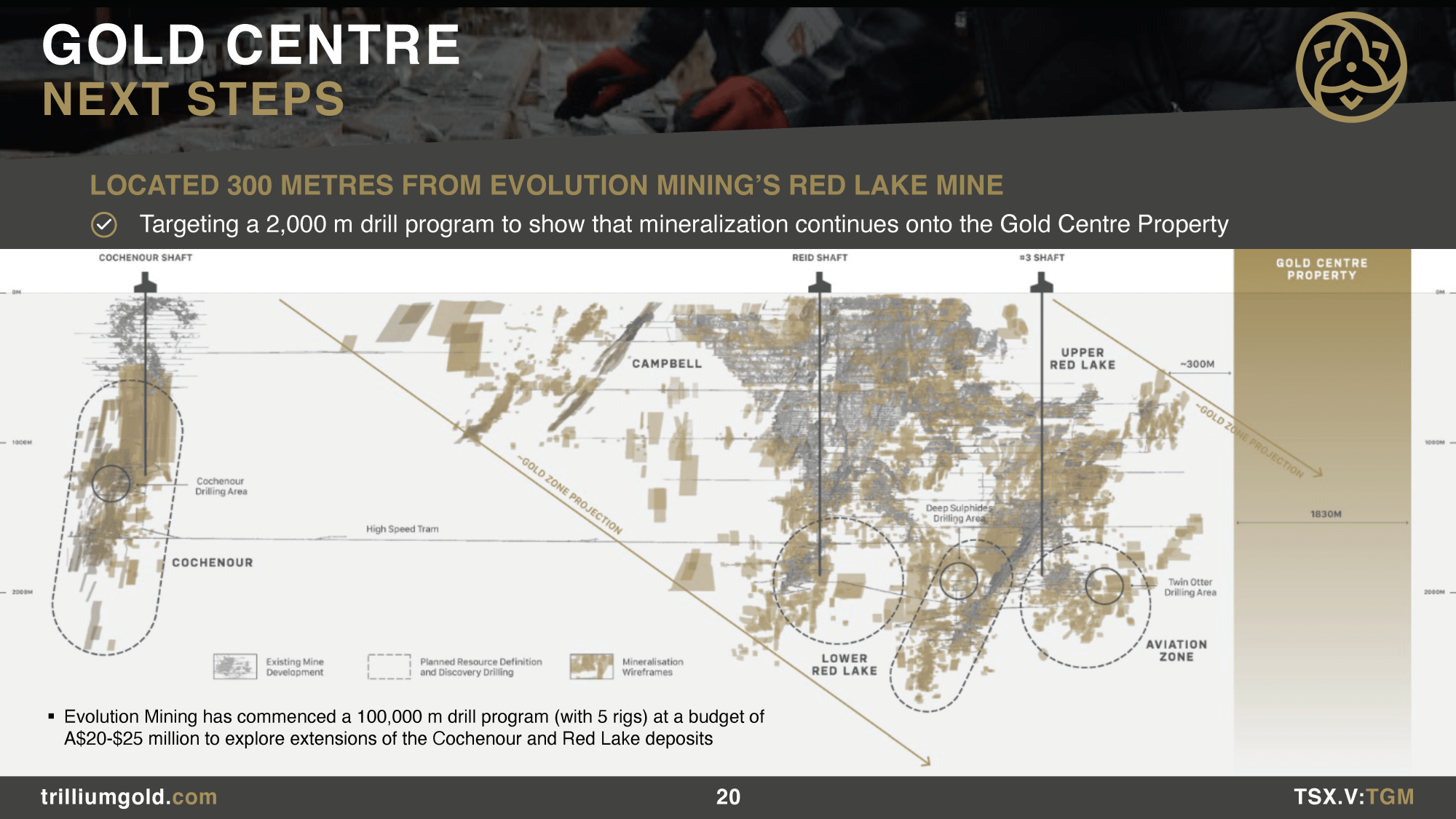 Because anytime you have a mill that's running at less than 100%, you're missing out on cashflow and profits. Literally, where they're exploring in mining is 250 metres away from our property boundary. So, you have this once in a lifetime opportunity to sink a couple of drill holes and do what really legitimately, there's no hyperbole here, legitimately could be the continuation of the Red Lake Mine. So, people maybe scratch their heads a bit on, I think it was our acquisition that just occurred. There were a few Quebec properties and some properties further to the North on that Birch-Uchi trend, but the reality is, our focus is Newman Todd, Rivard, Gold Centre and bringing those to near-term production.
Because a lot of people don't even understand, you've got four mills running at less than full capacity in Red Lake with gold all over the place. If you can bring an asset that's 18 kilometres away from a profitable producing mine where they're exploring, but still not at 100% capacity, you instantly create cash flowing opportunity for shareholders where you don't have to put up any infrastructure. That's huge. Your costs are substantially lower and your upside is substantially higher. So, it's a great exploration properties, but in our perspective, very near term opportunities from a catalytic perspective.
Bill: And you are engaged in the current drill program already, your treasury is cashed up. So, bring us up to speed for those that aren't familiar with the story.
Russell: So, we raised 13 million, maybe four or five months ago. All Long only funds, very, very supportive shareholders. The benefit of having been on Bay Street, Wall Street and having covered Hedge funds and Long only funds, as you kind of discern and understand what the trading strategies are. So, we're cashed up. We have enough cash to last us until December. So, a full year's worth of drilling, we originally press released 25,000 to 35,000 metres, but because the gold market's improving, we're going to do more. We could probably do upwards of 60,000 metres to be honest. But what we press released recently was 30,000 to 40,000 metres between Newman Todd and Rivard. And then, that other incremental drill program would obviously go to Gold Centre. We are running artificial intelligence (A.I.) programs on our other exploration properties. We're trying to be efficient. This is another thing that Auryn really taught me about with their world-class technical team is, the gold industry is not being very efficient. There haven't been a lot of technological advances. One of the ones that you can use is A.I..
And so, we're running A.I. Across that entire Confederation greenstone belt to try to hone in on areas we should focus on without spending millions of dollars on people walking up and down and just getting that early stage advantage for particular opportunities on it.
Bill: So, Russell, the near-term catalysts would be these drill results, right? From these three projects. What's the timeframe for seeing when those are going to come in?
Russell: Well, we've already had drill results from Newman Todd. It can be nothing short of being considered a huge success. Our initial drill program, we're up to an additional 7,000 metres that we drilled on top of that 55,000 metres. And our first, I think, it was three holes or four holes. We hit a 100 grams per ton gold intersection, seven metres of 15 grams per ton gold and what looks to be a new structure on the Newman Todd project. We just press released our most recent drill holes. We still have four by the way, in the assay lab that we're waiting on. We've just press released at least five holes, where we hit visible gold on three out of five. And we had 0.3 metres of, I think it was 126 grams per ton. Finding gold is not going to be hard on Newman Todd. So, continuation of our drill program on Newman Todd and now this tense but excitement of what is Rivard going to give, because it's never been drilled to depth.
There were some drill holes back in, I think, 2003 by a company called E energy or maybe 2006, but no one's ever really sat down and said, "Okay, Newman Todd, Rivard how do these fit together?" So, we're going to be the first company who's able to test that. So, that's hugely exciting and that's occurring literally right now. So, four holes in the assay lab, one drill rig turning at Newman Todd, the other one's starting at Rivard next week. So, investors should be expecting drill results in the next four to six weeks, basically, continuing for the entire year. And then of course, we're going to have to figure out… Well, we've applied for the permit for Gold Centre and we anticipate we'll get it probably in the next 30 days. And then, it's going to be, are we drilling from Evolution Mining's property and their underground workings?
We're going to have to talk to them. I'm not saying that, that's going to happen. We have the utmost respect for them. They're a world-class company or are we going to be drilling really deep holes off of our property. And we just don't know the outcome of that yet, but even that's a bit exciting for investors. What's going to come about? Are we going to be able to get to a really friendly outcome with Evolution? And one of the bonuses of that 150 years of experience is in Bill Paterson and they all know each other. So, it's friendly. It's like, "Hey man, this is what we'd like to do. Are you interested?" So, it's not one of those contentious situations.
Bill: Your share price has done well in the last six months, but you also look at where you're going and you look at your valuation relative to other drill stories. So, I think your market capitalization is about $60 million Canadian now, but there are drill plays out there that are over a half billion dollars that don't have a resource. So talk about how you see the valuation of the company relative to what you have and what you plan to have.
Russell: Look, we're clearly trading below what I believe is our reasonable market value. And you don't have to go too far back to figure it out. 2013 in a worse gold environment, Newman Todd alone had a valuation of $200 million. So, $200 million, in my opinion, is a low end target of what we're shooting for. But then, you add in our Leo property, which is eight kilometres away from Great Bear's Dixie project, which is now a billion dollar company. And then, we own a good chunk of the Confederation Greenstone belt, which is what Dixie sits on. And then, we've added in some of those Larder Lake properties. And we also have more properties up in the Birch-Uchi area where I know quietly, some mid tiers are starting to sniff around. So, look, you add value to shareholders through the drill bit and through discovery but our goals and our view on where we should be and what we should be doing.
And quite frankly, what the industry should be doing is, there's a severe shortage of mid-tiers. There's a severe shortage of creativity. Why now and what I would view as probably the best opportunistic gold market we've seen in 20 years, why aren't we building another Kinross? Why aren't we building another Eldorado? And so, it's a lofty vision, but you always have to have a vision and you always have to own a lot of your company and you always should have a tight share structure. And these are things that the world has just forgotten about because no one cared about really, truly mining precious metals or base metals for almost a decade. But these are the things we need to move countries and economies forward. And we're finally seeing inflation. And so, it's lofty, but in my opinion, with Newman Todd and Gold Centre, we can drive a tremendous amount of value.
And then, if we do our jobs right, there are a lot of interesting near-term cashflow opportunities that had their share structures blown out. There's a bunch that aren't that far from us that sit on the Red Lake structure, who maybe need some consolidation. And so, what we're trying to do is reach out to people and say, "Look, I get it. We're an exploration story, but check out our near term production, checkout our proximity to a producing mine." And saying, look, we need to reinvigorate this climate, this investing climate. We can't just keep doing it where you're raising a million or 2 million bucks or 3 million bucks and you're drilling six drill holes, praying that you're going to hit, basically, Bonanza grade and your share price is going to go to the moon so that you can raise even more to try to do it again.
Those are not business plans. Those are not visions. Those are prayers. I want to run a business. I want it to be profitable. And clearly exploration is not profitable. It's a consumer. So, we want to get to a point where we can have these world-class properties, plus some production to finance the exploration. And then, you get a really appealing investment opportunity for retail and institutional, because quite bluntly, it hasn't been done in decades-
Bill: And what's the time frame? Three to five years for a plan like that?
Russell: Look, if I wait three to five years, I think the gold price is at three to 5,000 and I've probably missed the boat. So, my goal is three to six months to pick up some production.
Bill: Wow. So, you're moving fast. And that would be via a share for share transaction?
Russell: Yeah. You don't want to use your cash for that type of stuff. And quite frankly, we don't have enough cash to do it. I mean, maybe there's a world where we could identify a transaction and a banker viewed it as an incredible opportunity. And you could do a concurrent financing and the acquisition, but I think a better way to do it is to try to find management teams that see the world as I see it. Forward-thinking who are maybe understanding that their share structure is blown out or that they've been trying to do it for a while or maybe I just mark it better or… Basically, a one plus one equals three type opportunity. It's not going to be easy. Like I said, there's a bunch in Canada that we're going to reach out to and have reached out to. And it's not going to be easy, but it's a goal.
And it's something that I am communicating to investors. And it's something that I want people to know because you need to hold management accountable at all times. We have to do what we tell you. So, for example, I said to you, our cash should last us until Christmas of next year. That's great, but waiting until your cash runs out is the worst time to raise money. So, if we get a really bullish gold environment in the next six months, which I think is going to happen, clearly I'm going to tap the market for some money because we've got to keep on exploring. But in that perfect world scenario, if you can marry a little bit of production with this world-class exploration and near-term production portfolio, you immediately become relevant. You are then on the radar screen. And that's our goal.
Bill: Russell, you mentioned you were recruited into this position. How'd you acquire your shares and what skin in the game do you have?
Russell: Well, just check the insider buys, anytime I'm not restricted, I buy. So, I typically go into the market for between two to 5,000 shares on a very regular basis. And then, every now and then, I'll pick up 15,000 or 20,000 shares. I own 2 million shares, 500,000 warrants and 400,000 options. So, I'm almost at 3 million. So, the 2 million I bought and then of course you get warrants on the odd financing, which I have some. And then, you also get some options, but I don't have a lot of options. You want to incent your team. You don't want to be the guy who is hoarding the options when you're running a company.
Bill: And what percentage of the company does the management own?
Russell: Management and insiders are really quite high. 38% of the company is owned by management and insiders. 38% is owned by retail and of that 38% of retail, about 50% of it is very close and friendly shareholders. And then, 22% is owned by institutions, which we just brought in on that financing in… I think, it was September and it closed in October.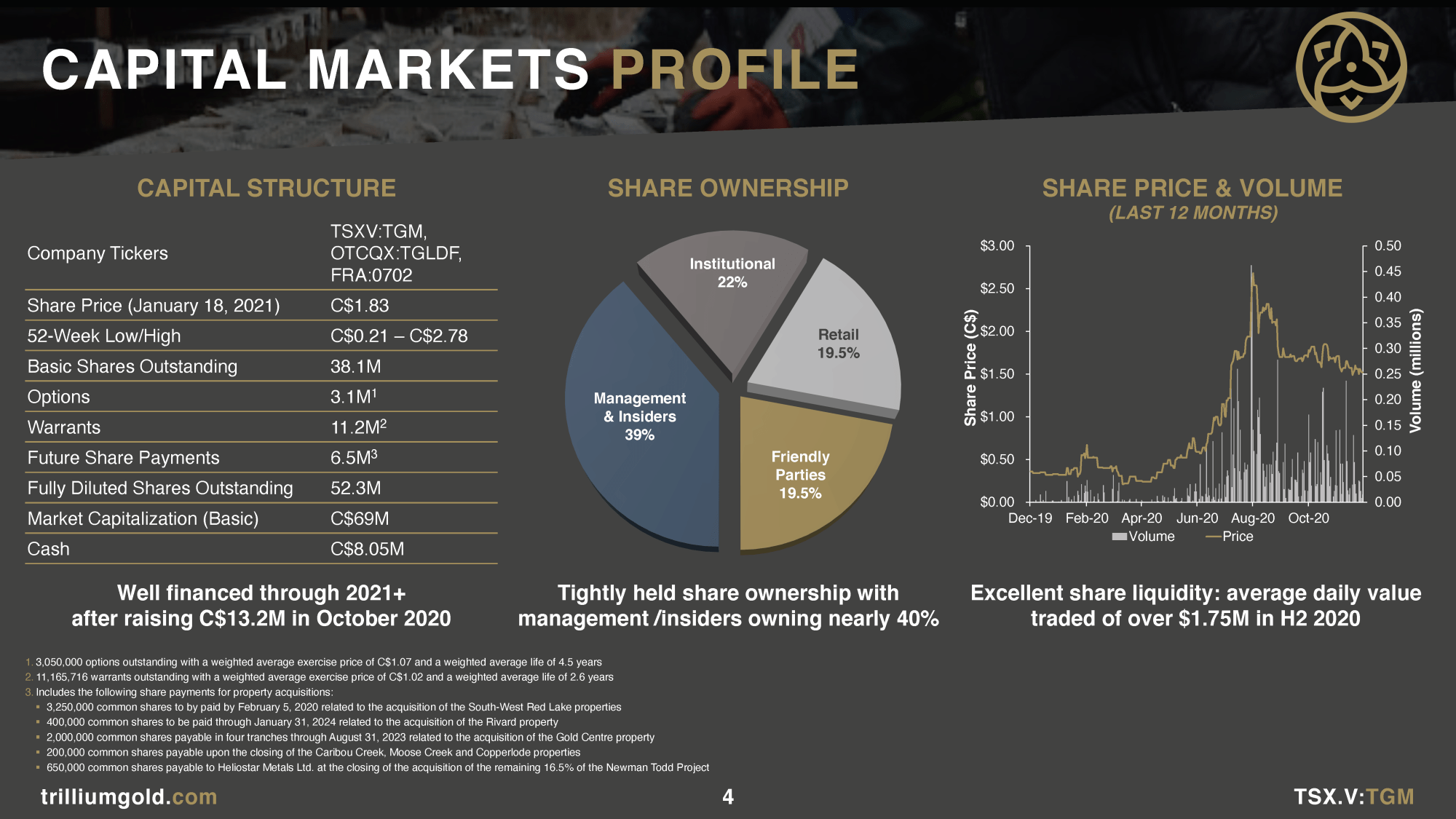 Bill: Are there any final thoughts with which you'd like to end?
Russell: Look, hold management accountable. I have a few adages in terms of how I look at investing. Make sure management has a large proportionate ownership, because I think, often you find management that owns a lot acting in your best interest. And yeah, like I said, hold me accountable. And if for whatever reason you see that there's something that I haven't followed through on. Merging with another company, you can't hold me to because that's not super easy, but you can hold me accountable to drilling and trying to generate as much value as possible for shareholders.